2003 Chevrolet Tahoe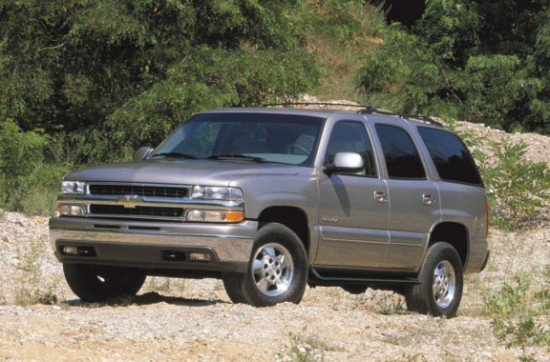 As companies around the world scramble to create so-called crossover vehicles, it's refreshing to see a truck that doesn't pretend to be something else.
     Chevrolet spits in the face of wimpy SUVs by flaunting the gruff truckness of its full-size Tahoe, a vehicle that feels at home towing a boat, driving on trails or simply picking up groceries. It's the real thing, baby.
     While its interior has the refinement and comfort you'd expect in a high-end sedan, everything else about the Tahoe looks like a truck, feels like a truck, sounds like a truck, and if you have the guts to lick it, probably tastes like a truck, too. That's because the Tahoe is rugged and versatile, a format that made it the best-selling full-size SUV in the country by beating the Ford Expedition and Dodge Durango in a battle of domestic brutes.
     More than anything else, versatility made the Tahoe a winner, as it can be configured to suit nearly any need. It has over 104 cubic feet of cargo space with the second-row seats folded forward, and an optional third-row seat means it can accommodate up to nine passengers if you stick with benches.
     Two powerful V8 engines (4.8-liter or 5.3-liter Vortec varieties) provide enough zip for the 5,050-pound vehicle to accelerate briskly on freeway ramps, and with proper equipment they can tow up to 7,700 pounds. The big V8s act like frat boys at a keg party, though, as they wildly chug gas. Expect 18 miles per gallon on the highway and a pathetic 14 mpg in town with the 5.3-liter motor.
     While it's nice to have the capability to drive off the pavement and tow big payloads, most buyers will keep their SUV on smooth roads without a trailer. With this in mind, Chevy made the Tahoe comfortable and fairly easy to drive around town, but its poor steering feedback, mushy suspension feel and less-than-stellar side visibility emphasize the obvious — it's a truck.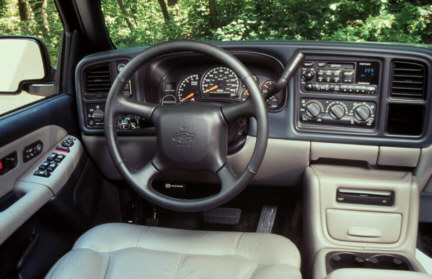 Inside, though, is a completely different story. Nice materials, a great sense of spaciousness and a surprisingly quiet cabin make it a terrific place to spend long trips on the highway, and several key changes helped refine the Tahoe for 2003.
     Among them:
— StabiliTrak, a stability enhancement system, improves performance on slick surfaces or for emergency maneuvers. When it detects a loss of traction, it automatically adjusts engine torque and brake pressure to keep the vehicle pointed where the driver wants it to go.
— Safety is enhanced with new dual-level air bags and sensors that determine who, if anyone, is riding in the passenger seat. The passenger side airbag will deploy less forcefully if it detects a child in the seat, and both front air bags deploy more gently in low-speed wrecks.
— Electronic throttle control makes the bulky engine feel more lively, improving response when you mash the accelerator.
— Tri-zone climate control means the driver¹s side, passenger side and rear part of the vehicle get individual controls.
     A couple of fun additions this year are optional XM Satellite Radio and a rear-seat DVD player. The satellite radio is a great option for people who frequently go on long trips, since it keeps a perfectly clear signal with 100 channels no matter where you drive. The DVD player is perfect for families, as its roof-mounted screen flips down and wireless headphones keep the kids content.
     The Tahoe truly is a do-it-all vehicle whether hauling a family to the Grand Canyon or carrying sweaty workers to a job site. It¹s ideal for people who need real versatility in a rugged package, but only if they can live with the compromises that come with driving an authentic truck.