2003 Buick Park Avenue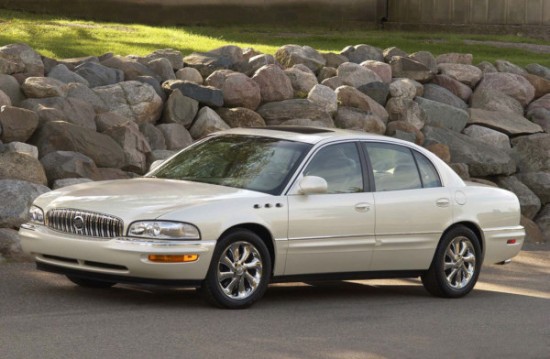 Mix two quarts of chrome with a cup of luxury and a pinch of performance, and what do you get? The Buick Park Avenue Ultra.
     It's a recipe that adds some much needed flavor to this stale Buick — it's been around since 1971 — as the revamped Ultra model offers surprising spiciness with a sporty suspension and powerful supercharged engine. Essentially, it's Buick's version of Cajun gumbo, lively enough to interest the youngsters but not so hot as to injure Grandma's delicate digestive tract.
     The Park Avenue gingerly tip-toes across potholes even with the Ultra model's souped-up suspension, something Grandma should enjoy. It also has Buick's typical plush, stylish interior filled with doo-dads that range from gimmicky to brilliant, something the whole family should love.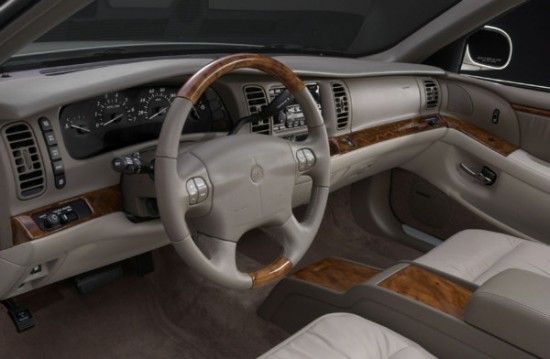 Soft leather seats are deep and recliner-like to provide a great vantage point for admiring the Park Avenue's wood trim and classy interior, while the back seat is comfortable and roomy. Uniquely styled gauges are easy to read, and controls are all simple to operate.
     One of the most thoughtful features is dual-zone climate control with a knob on the passenger-side dash to control the temperature, replacing the normal center console adjustment. It's great for right-handed passengers who don't want to contort their torsos to adjust the temperature on their side of the car.
     Other luxury features include an air filtration system, built-in garage door opener, power seats, and moisture-sensing wipers.
     The biggest news for 2003 is the Ultra model's improved handling, thanks to a specially tuned "Gran Touring" suspension and rear stabilizer bar. It eliminates much of the base model's wallowing and excessive body roll, but it still feels soft and comfortable on the highway.
     A supercharged 3.8-liter V6 engine on the Ultra sends a rubber-burning 240 horsepower to the front wheels, which is more than enough for spirited driving and jackrabbit starts. The base Park Avenue still has a competent V6 that makes 205 horsepower.
     Outside, the Park Avenue reflects this sporty demeanor with a sculpted hood, large wheels and low-profile tires. Designers opened their styling vault by taking cues from classic Buicks, including portholes on the front fender, a chrome grille with classy vertical bars, and miles of chrome trim.
     The overall look is one of classic American style, with clean lines and no tacked-on, frivolous ornaments. It's a great design that avoids styling excesses, opting instead for a very conservative appearance that's timeless, not trendy.
     All in all, there's a lot to like about the Park Avenue. It shows that big sedans can be fun and stylish while still providing comfort and practicality — and that's a recipe for success.