2003 Cadillac Escalade EXT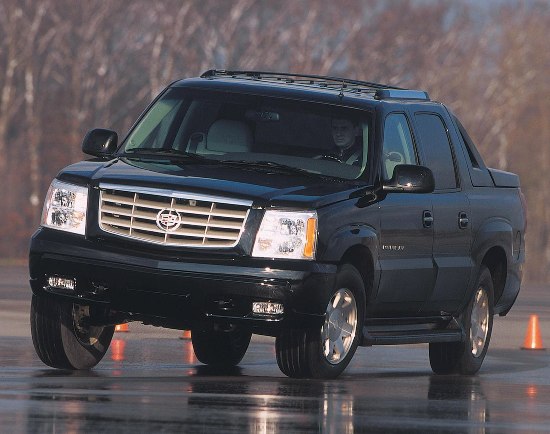 Imagine, if you will, stepping back to 1982 — the year when headbands became high fashion, "E.T." was a box-office hit and "Bette Davis Eyes" won a Grammy — when someone proclaims, "Cadillac will build a pickup truck in 20 years, and people will love it!"
     The public's most likely response: "What herb have you been smokin'?"
     Well, the unthinkable happened, and Cadillac actually made that truck in the crazy automotive year of 2002. We'll probably look back at luxury SUVs someday with about the same respect as those awful headbands, but there's no mistaking one thing — the Cadillac truck was a success. It even beat General Motors' lofty prediction of selling 12,000 units in its first year and forced Lincoln's rival Blackwood into extinction.
     Based on the extremely popular Chevrolet Avalanche, the Escalade EXT offers everything buyers of luxury SUVs are looking for — comfort, prestige, and road-hogging size — along with the nice addition of a pickup bed in back. But, there were a couple of drawbacks in the first year, both of which were addressed by Cadillac for 2003.
     The first was in the interior, where cheap-looking materials and flimsy plastic were disappointing to see in a vehicle costing north of $50,000. Cadillac fixed this, at least in part, by redesigning the instrument cluster and center portion of the dash to give it a more premium look and feel, although it's still not on par with Lincoln's redesigned 2003 Navigator.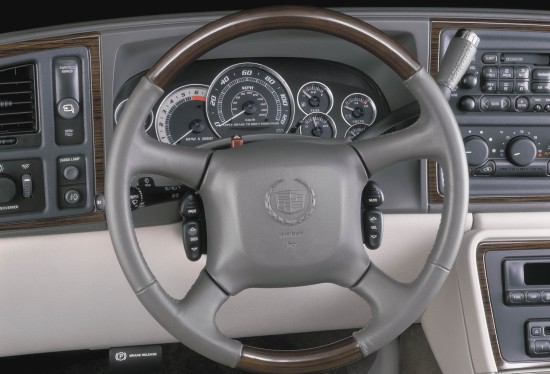 The new instrument cluster looks cleaner and more refined with tasteful chrome trim and a style that matches knobs throughout the cabin, and an analog clock designed by Italian luxury brand Bulgari is a nice touch. The center console also is greatly improved thanks to a single-piece design that looks more upscale and feels more solid.
     The second complaint, while not quite as noticeable as the dash layout, was a braking system on 2002 models that felt mushy at the pedal and didn't seem strong enough for stopping a three-ton vehicle. The brakes are greatly improved for 2003, and Cadillac says they're quieter, too.
      A class-leading, 6.0-liter engine cranks out 345 horsepower — the same as last year and the most you can find in any SUV — without making much of a ruckus. In fact, even at highway speed, the cabin is virtually silent.
      Its ride is still the stuff of highway-cruising legend, with Cadillac's famous feeling of floating over potholes and bumps. A couple of new options are must-haves for those who travel often, including XM Satellite Radio and a rear-seat DVD player to keep the kids happy.
     Other refinements to the 2003 model include:
— Improved stability enhancement system.
— New seat safety features, including early compliance to 2005 federal standards.
— Dual-level and passenger-sensing air bags.
— High intensity discharge headlamps.
— Optional second-row bucket seats.
— New steering wheel with eight-button steering wheel controls.
— Enhanced Bose audio system.
     With so many improvements after its first year, it's hard to find any major flaws in this Caddy brute. The dash is pleasant and good looking, the seats are comfortable, and the one-of-a-kind styling definitely gets attention. Even its $50,000 price tag is right on par with the competition, which includes tricked-out pickups and luxury SUVs.
     If this trend continues, don't be surprised to see Cadillac 18-wheelers parked in driveways across America in 20 years.
     You may laugh now, but it could happen.