2003 Dodge Grand Caravan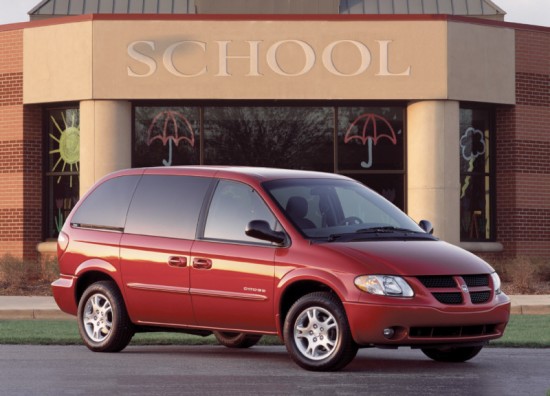 While sport-utility vehicles line the driveways of style-conscious suburban moms and dads across the country, the unabashed practicality of minivans makes them the best type of family vehicle on the road.
   A great example is the Dodge Caravan, a vehicle that faded from the automotive limelight years ago when SUVs took over with their truck-like looks and off-road presence that grunts, "I can run you over! Get outta my way!"
   Instead of beefing up its body panels to look tough, the Caravan has continued to add more refinement and features through the years to make it a practical, logical alternative to the poor manners of SUVs. Compared with the usefulness of an average sport-utility vehicle, the Caravan wins in every way. Consider:
   — It gets better gas mileage.
   — It has more available cargo space.
   — It rides closer to the ground, which improves its safety, handling, and ease of entry.
   — It has a better ride.
   — It's easier to park.
   — It can have all-wheel drive and a towing package that handles up to 3,500 pounds.
   The only thing missing is style, as the Caravan is not nearly as exciting to look at as the tough-guy SUVs. Still, the look is much improved after a 2001 redesign that gave it a sleeker appearance with a sloping windshield, aggressive grille and clean lines.
   The Caravan's strength is its family-friendly design, not its body. It's packed with features that make family road trips pleasant, and with a base price of $19,875, it also can fit in most families' budgets.
   Eight flavors of Caravan are available, ranging from the stripped to the luxurious, in either standard- (Caravan) or long-wheelbase (Grand Caravan) versions. The Caravan comes in either SE or Sport trim, while the Grand Caravan comes in SE, Sport, EX, and ES. All-wheel drive is available on the Grand Caravan EX and ES models.
   The Grand Caravan ES AWD tops Dodge's minivan lineup at $34,625 and includes three-zone climate control, power up and down rear liftgate, four-wheel disc brakes and traction control. Power sliding doors are available on one or both sides, and they can be opened and closed with buttons on a key fob, switches on the dash, or a switch on the B-pillar. They automatically reverse if they hit an object while closing.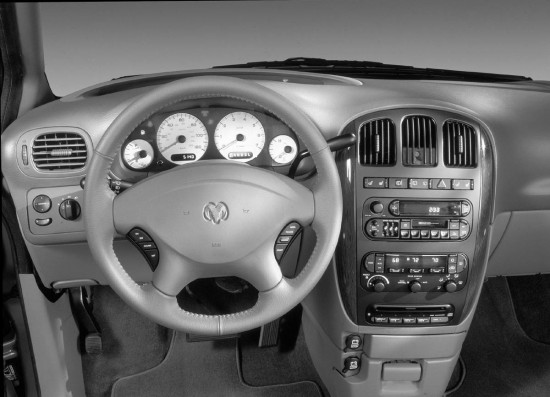 If you want to keep kids entertained on long trips, consider the optional built-in DVD player. It can come with wireless headphones so parents won't be bothered by cartoon sounds.
   Other convenient features include ample cupholders peppered throughout the cabin, hooks to hang plastic grocery bags, cargo nets, and an easily removable bench seat.
   When it comes to driving dynamics, the Caravan has acceptable performance and a great ride with its available 3.8-liter V6 engine. Its steering feels tight, acceleration is more than acceptable, and highway ride is supple and quiet. It's also easy to maneuver in and out of tight parking spaces.
   In fact, the Caravan is so comfortable and practical, it leaves only one question: Why doesn't every family own one?