2004 Cadillac Escalade ESV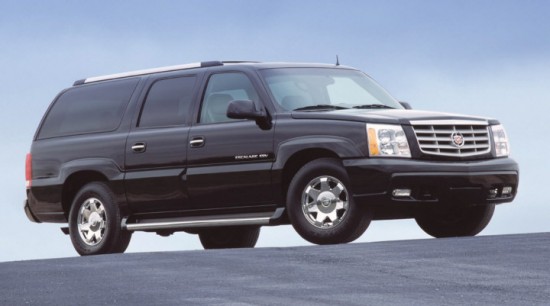 If Cadillac's mammoth Escalade isn't big enough for you, take a look at this brute.
     It's the giant Escalade ESV, one of the most overindulgent vehicles available today in terms of size, power, and electronic gadgets. It has the same fabulous engine and luxurious amenities as the regular Escalade, but those three magic letters — ESV — make a world of difference in roominess.
     The Escalade ESV is actually based on the tried-and-true Chevy Suburban instead of following the smaller Escalade's Tahoe roots, meaning it has a huge back seat and enough cargo capacity to carry a week's worth of breakfasts for Pavarotti. Well, maybe not quite that much.
     In any case, the Escalade ESV is more than two inches longer than the Suburban and a full 22.5 inches longer than the standard 'Sclade, making it one of the biggest vehicles on the highway, assuming you don't count Mack trucks and school buses.
     Obviously, its enormous size makes its cabin big enough for Kobe Bryant, his legal defense team, and his ego, so most families should have room to spare.
     In terms of luxury, the ESV doesn't disappoint. So many fancy gadgets surround the driver's seat that it could make George Jetson jealous, including rear parking assist (it beeps before you smash something), XM Satellite Radio, a premium Bose audio system, and a Bulgari-brand analog clock. Options include a rear-seat DVD player and a navigation system that provides turn-by-turn directions to wherever you're going.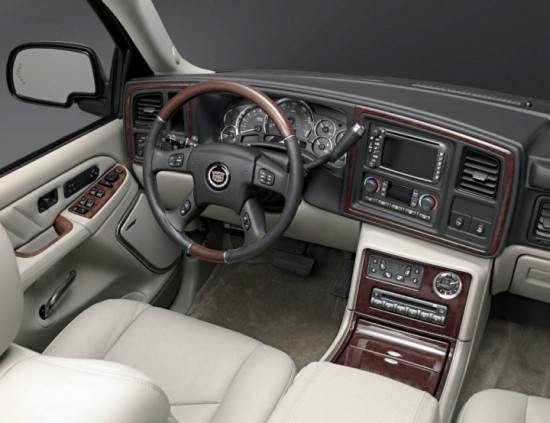 While its leather-swathed seats are soft and wide like a cozy recliner, the Escalade ESV suffers from the same cheap-feeling interior materials as its smaller Cadillac counterpart. The plastic-covered dash feels hollow and brittle, and most of the compartment lids seem flimsy and inexpensive. Some $16,000 Volkswagens have better materials than this Caddy.
     For a vehicle with a sticker price over $56,000, that's awful.
     Assuming you can ignore the low-grade plastics, that hefty price buys some very nice features. One of the most impressive is a 345-horsepower engine, the most powerful powerplant available in a full-size SUV.
     Not only is the engine brawny — it feels like it could tow a mountain, or maybe even your mother-in-law — but it's also relatively quiet and smooth. It pulls the giant Cadillac up hills and into freeway traffic with ease.
     But the very best part — the part that makes you actually want to give up $56,000 — is the incredible highway ride that's as soft as a Labrador puppy on Grandma's down comforter. Even after 10 hours on the road from Dallas to San Antonio and back, the ESV's fabulous ride and comfy seats left me refreshed and ready for more time behind the wheel.
     Can we say "road trip?"
     Despite its great highway manners, the giant Caddy isn't fun to drive in the city. Its sheer size makes it unwieldy when changing lanes or turning on tight city streets, and parking the beast is a huge pain. It could benefit immensely from GM's four-wheel steering system, not to mention better in-town fuel economy (it averages 12 miles per gallon in the city, 16 on the highway).
     But for families that need lots of space and want the prestige of a Cadillac badge — and the comfort that goes along with it — perfection is spelled with three letters: ESV.