2004 Mazda RX-8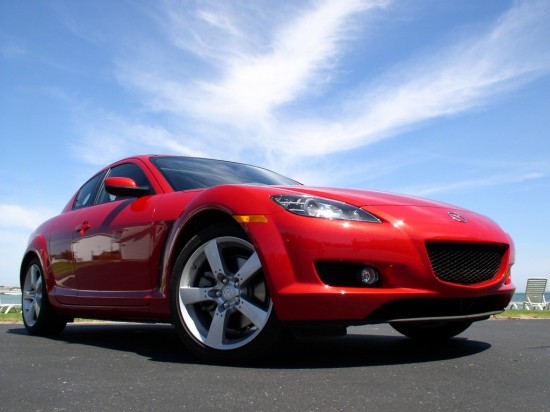 Finally A Sports Car For Full Nesters     
     Not everyone has bags of disposable cash sitting around after their kids have moved out to pursue family, fame and fortune. Some people have responsibilities at home in the form of children, who are more interested in passing next week's spelling test than working up the corporate ladder. And unfortunately—due to the need to transport their respective bundles of joy—mom and pop's inner enthusiast just isn't being satisfied by the sport-package equipped minivan. It would be nice if there were a sports car that could seat more than two people and be affordable at the same time. Nevertheless there are rules to the world we live in and that anomaly just doesn't exist—does it? Well we're happy to report it does, and it's available at your local Mazda dealer for less than most minivans.
     Watch five seconds of any Mazda television advertisement and you'll know the company builds its cars for the curves. The RX-8 is a stunning embodiment of that philosophy and Mazda has turned out one of the best handling cars available today—at any price. This athleticism can be attributed to several factors. First, and perhaps most importantly, is the Rotary engine itself. The motor is significantly smaller—not to mention lighter—than a traditional cylinder engine which allows the engineers to place it well back in the chassis behind the center axle and as low to the ground as possible. Secondly, the use of aluminum in key areas, such as the hood, keeps the RX-8 to a respectable 3,029 pounds—150 to 200 pounds less than Nissan's 350Z. The RX-8's low weight is apparent to the driver during the first set of switchbacks. The car is agile, with very little body roll and it never feels ponderous during quick maneuvers.
     It never feels slow either, and for that we can thank the 1.3-liter Rotary engine. It's mated to one of the best 6-speed manuals in the world and together they spin out 238hp at 8,500 rpm and 159lb-ft of torque at 5,500 rpm. With power residing that far up the tachometer you need to keep the engine on the boil. Fortunately, that's an easy thing to do with the free-revving Rotary and that wonderful manual. We loved shifting up and down between second, third, and fourth gear while running hard through the tight curves that snake their way along Lake Michigan. This two-rotor motor benefits from improved engineering in the area of emissions—a famous downfall of the Rotary engine. And while sports cars aren't usually known for their stellar fuel economy, the RX-8 delivered a downright dismal 16mpg during a daylong 700 mile flog through Northern Michigan. True, there were 100 miles of hard driving in there but there was also plenty of highway miles and in any case, we never saw anything approaching the suggested 18-mpg city and 24-mpg highway.
     What you notice upon seeing the RX-8 in person is far more body detail than is evident in pictures. This is particularly true with the front fenders, which flare further in than you might think, and the length of the car, which can come off as stubby in pictures but is actually borderline longish. The rest of the car is well proportioned with clean flanks, heavily stylized head and tail lamps, and large 18" wheels wrapped in low profile Z-rated tires. The truck lid is short, which makes for a small opening, limiting what can be stored in its 7.6 cubic feet, but it is necessary to maintain the proportions of the car. Twin bright-tipped exhaust outlets finish the rear and a slightly double-bubble roof remind you this is a highly stylized vehicle with sporting intentions. Overall, the RX-8 has a slightly exotic appearance that keeps heads spinning wherever you go.
     Swing open the RX-8's doors—all four of them—and you'll find a snug cockpit split by a full-length center consol that provides great cup holders to both front and rear seat passengers as well as front and rear covered wells for hidden storage of various small knickknacks. The dash and doors are finished with black lacquer trim pieces that look great but show dust and lint like no other. Frequent wipe downs are necessary. The center stack houses the radio and climate controls, both featuring large, easy to read controls. Mazda equips the RX-8 with an appropriately thick-rimmed, leather covered steering wheel with audio and cruise controls. Like most Mazdas the instruments in the RX-8 are highly legible and attractive electroluminescent units. The seats are wonderfully sculpted and supportive making 700 miles feel more like 70. Our press vehicle came with the optional Grand Touring Package which for $4,000 adds a strong BOSE audio system, leather seats with power adjustments on the driver's side, Homelink, moonroof, heated mirrors, xenon headlamps, heated seats, fog lamps, and Dynamic Stability Control. Problem areas in the RX-8's interior are few but the screen that displays radio and climate control settings can get washed out in direct light and adults most likely will not fit in the back, pre-teens however could be accommodated better than in most any other sports car. High quality materials cover the rest of the well-designed interior.
     What we have here is a car that can satisfy the most demanding enthusiast urges of mom and dad while seating their little responsibilities in comfort and safety. With a base price of $26,680 and an as-tested price of $31,200 do yourself a favor and take a good look at Mazda's RX-8. You'll be passing minivans by the dozen in the first sports car for full nesters.
The Good:
Sweet engine, transmission among the best available at any price, superb handling, great seats.
 
The Bad:
Uses gas and oil like they're going out of style, not a lot of headroom, lacking for power down low.
The Verdict:
An entertaining sports car at a price that won't break the bank.
Photos by Jason Muxlow