2004 Suzuki Reno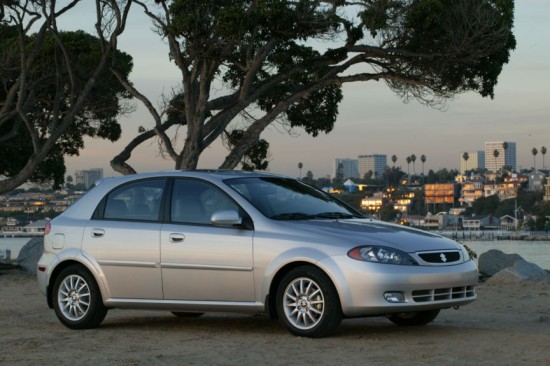 Remember Daewoo? It was the Korean carmaker that tried selling low-priced cars here for about three years before going kaput.
     Or so we thought.
     Thanks to the global tentacles of General Motors, Daewoo is undergoing a resurrection of sorts in the United States, only not under its own name. Chevrolet sells one Daewoo model as the entry-level Aveo, Suzuki sells another as the midsize Verona, and now Suzuki is selling a third Daewoo derivative called the Reno. All three are decent cars with incredible price tags.
     The subject of this week's review — the 2005 Suzuki Reno — is a downright steal. It drives just like a good economy car should, with a quiet cabin, soft suspension and respectable acceleration, all for under $14,000.
     That's no surprise. Carmakers have followed that formula for decades now.
     What's really surprising is how good the Reno looks. The famous Italdesign studio — the same studio responsible for some of Europe's most stunning cars — was tapped to style this little Suzuki, and the results are outstanding.
     While most economy cars are either scaled-down versions of bland sedans or ugly chunks of plastic meant to look hip, the Reno has a subtle sophistication that few cars in its price range can match. Its clean-looking, four-door hatchback body would look perfectly at home with a Saab badge — or maybe even as an entry-level BMW if you stretch your imagination — but its price is less than what a decent Saab or BMW would cost used.
     The good-looking body leaves more interior room than you'd expect in a low-priced car, but you won't confuse it for a Camry or Accord. The back seat is pretty small for adult passengers, although it can be folded down to create a surprisingly big cargo area with 45.4 cubic feet of space.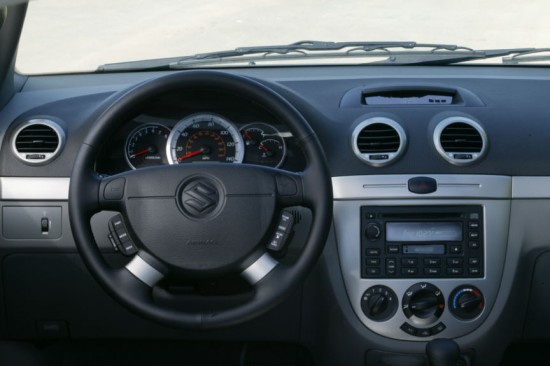 It also comes with plenty of amenities at the bargain price, including a CD player with seven-speaker stereo, a tilt steering wheel with integrated controls, automatic climate control, and even an air filter. All those could only be found in luxury cars a few years ago.
     Driving the Reno isn't anything special. Still, it would make a great commuter car.
     Steering and braking feel perfectly competent, and acceleration from the 2.0-liter engine (126 horsepower) never seems unsafe. It can climb hills and merge onto freeways without much of a fuss, but it's certainly not intended to win drag races.
     From behind the wheel, the only thing that really stands out is the Reno's soft ride. While most low-priced cars have fairly rough suspensions — sometimes used in the guise of "sportiness" — the Suzuki's suspension has a remarkably soft feel. It's a little skittish in corners, but bumps in the road are comfortably absorbed.
     Perhaps the best comfort, though, is the Reno's warranty, which Suzuki claims is the best in America. It has a seven-year, 100,000-mile powertrain warranty on top of the regular three-year, 36,000-mile warranty.
     The Reno's greatest downside may be the fact that it's built in Korea. Although Korean-built cars don't have the same reputation for quality as Japanese and American cars, the Korean companies have made great inroads in the past couple of years to change that. Whether the improvement is enough to keep them on par with the Japanese competition is yet to be seen, but the solid warranty provides some peace of mind.
     Regardless, the Reno is a good looking car with an even better looking price. How picky can you be for $14,000?