2004 Volkswagen Touareg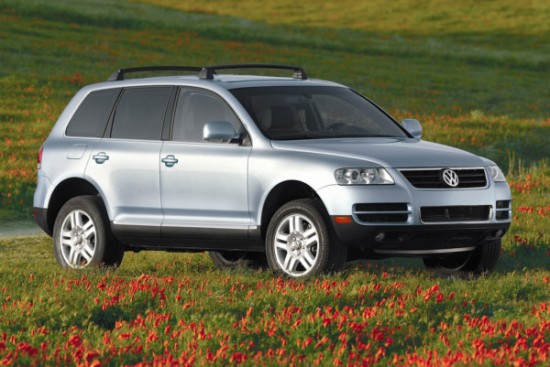 Well, the folks at Volkswagen have finally gone off the deep end.
     Or maybe they're just marketing geniuses, because the new Touareg — the largest, most expensive vehicle ever to wear the VW badge — represents one of the biggest strategy shifts in automotive history. It's quite a gamble for this German company, which for decades made nothing but low-priced economy cars and faces an uphill battle to change its public image.
     Think about it. Volkswagen making luxury vehicles is like Ferrari making cheap hatchbacks, Kia making limousines, or Porsche making SUVs.
     Well, perhaps it doesn't sound so strange after all.
     In any case, Volkswagen has a lot riding on the Touareg's success because it must have spent a fortune on its development, judging from the absolutely breathtaking interior, supple yet taut ride, and jawdropping electronic gadgets. Plus, Touareg must pave the way for Volkswagen's Phaeton superluxury sedan, which is supposed to fight the BMW 7-series and Mercedes-Benz S-Class when it arrives at dealerships next year.
     Aside from the funky name — it's pronounced "tour-egg" after a nomadic tribe in Africa, VW says — several innovative features make it capable of serious off-road performance and surprising on-road comfort. Among the most unique is a dial to adjust the Touareg's ride height based on driving conditions, meaning the whole vehicle can be raised several inches for forging streams or climbing boulders, or it can be lowered for excellent handling on the highway.
     Both 3.2-liter V6 and 4.2-liter V8 engines are available. The V6 can feels merely adequate as it pulls the 4,900-pound vehicle up hills, so we'd opt for the 310-horsepower V8. We're hoping Volkswagen will offer the majestic, highly praised, diesel-powered V10 here in the 'States sometime soon, as it's only available in Europe right now.
     An independent suspension is the key to the Touareg's soft, refined ride. It soaks up bumps like a luxury car, yet it provides enough control and road feedback to feel surprisingly sporty, almost like — dare I say it — a sports sedan. Yes, it can be flingable like a large BMW on its lowest ride height, helped by its tight turning radius that makes parking a thing of beauty.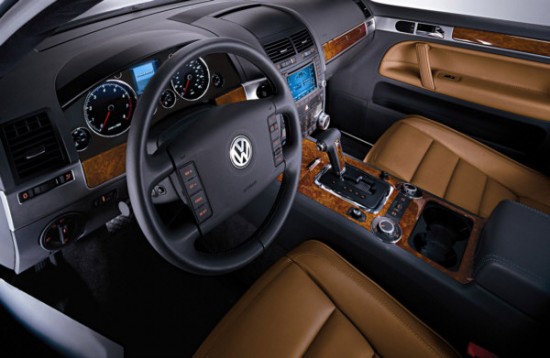 Speaking of beauty, the Touareg's body is a real looker, as far as SUVs go. It's a giant caricature of a Passat or Jetta, with a finely sculpted front end and curvy fenders that make it look much smaller than it really is. It's the opposite of most SUVs' intent to look big and mean, no matter how small and dinky they are in reality.
     Inside is where Volkswagen truly shows off its investment. Just a glance at the Touareg's chrome-ringed, chronograph-like gauges, gorgeous wood trim, and soft, rich leather is enough to leave most drivers drooling. For the technologically savvy, there are two LCD computer displays — one on the center console and another behind the steering wheel — that can control everything from the navigation system to air conditioning to lights in the footwell.
     Technology in the Touareg is among the best we've seen, especially when it comes to ease of use. While some computerized systems take multiple button pushes just to change the radio station, Volkswagen's is simple and intuitive. After a few minutes of use, it's second nature.
     Quality is seen everywhere in the cabin, from the fabulous materials to the tight, rattle-free construction. Even its little switches and buttons seem carefully selected and engineered for their precise clicks and solid feel. Seats are nothing short of amazing, as they can quickly and easily be adjusted for optimum comfort in virtually unlimited positions. For passengers who like to nap on the road, the seat folds almost flat like a bed.
     In fact, strange as it may seem, this Volkswagen is among the best five-passenger SUVs in the world, bar none. When it comes to content, the only thing it lacks is the all-important third-row seat for families, and its $35,000 base price is significantly cheaper than the competition.
     But, add some high-priced options, and the Touareg can reach the $50,000 mark, which is uncharted territory for what used to be the lowly Volkswagen.
     VW is hoping there are enough buyers who care about quality — not a brand name — to make the Touareg a success. If you can ignore its badge, it's one of the best SUVs available at any price, and that's something any company should be proud of.