2006 Mazda MX-5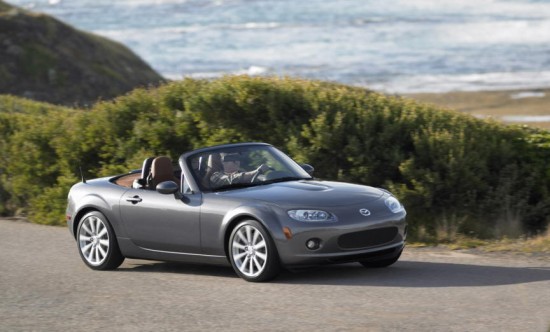 Ivory Soap used to advertise that its product was 99 and 44/100ths-percent pure.
     Mazda could have said the same thing about the Miata when it was introduced in 1989. The first Miata was about as pure as sports cars could get, offering only the bare necessities of transportation so that it could focus on its core mission: fun for the driver.
     It was inexpensive, extremely lightweight and engineered with a superbly balanced engine-transmission-suspension combination that earned it a rabid, cult-like following among driving enthusiasts that persists today.
     It was also as comfortable as a basement cell at Guantanamo. The noise of driving it on the freeway should be banned under the Geneva Convention.
     That didn't pose a problem for buyers like me, though. I've owned two first-generation Miatas and made my wife jealous by the amount of time I spent caressing them, admiring their curves and taking them places on weekends when we were newlyweds. They were my babies before I had babies.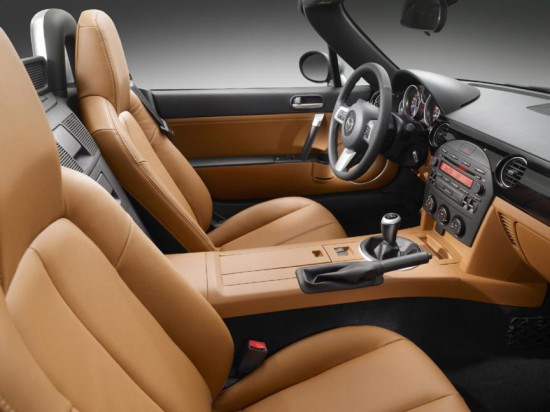 I obviously never bought a Miata because it was roomy, quiet or luxurious, and thousands of other Miata fans feel the same way. I doubt there's anyone on the planet who bought a Miata because it was comfortable.
     That's why I'm baffled by Mazda's decision to make the third-generation model bigger, more comfortable and more luxurious than ever.
     If the first generation was 99 and 44/100ths percent pure sports car — which is why so many people loved it — then this new one is only around 96 percent pure. It has more contaminants that make it more comfortable but less true to its mission, like fancy soaps that have softeners to keep your skin silky but don't get you quite as clean as plain ol' Ivory.
     This all-new Miata, introduced for the 2006 model year, still feels like a Miata should. It's ultra-responsive, sounds like a proper British sports car, looks gorgeous in sunlight and corners like it has tires made of Super Glue. From behind the wheel, it feels like you're not driving a car at all because the linkage between driver and road is so transparent. It's a car that you wear, not one that you ride in.
     Only this Miata fits a bit less snugly than the last.
     On the outside, the new Miata is three inches wider in front and two inches wider in back than the 2005 model, allowing a bit more room for the driver and passenger. There's an additional 1.4 inches in hip room, along with slightly more headroom, leg room and space in the trunk.
     It also is more bearable for highway trips thanks to a quieter cabin and a new suspension that feels a tiny bit softer than the '05 Miata. While the early Miatas were bumpy enough to knock your teeth out of their sockets, this one only loosens your fillings.
     Standard features for all models, including the entry level Club Sport, are power mirrors and windows, 16-inch aluminum wheels, a CD player, antilock brakes and side airbags. The MX-5 adds air conditioning and a leather-covered steering wheel, while higher-end models can add everything from a six-speed manual transmission to leather seats, keyless entry and a Bose seven-speaker stereo.
     Performance is definitely on par with what a Miata should deliver, which is decent acceleration and outstanding handling. It's still geared more for speed in corners than straight-line drag races, but the 170-horsepower engine is no slouch. It redlines at 6,700 RPM and offers 90 percent of its torque as early as the 2,500 RPM mark, making it easy to drive around town.
     Best of all, despite the car's larger dimensions and increased level of standard equipment, it only weighs 22 pounds more than the car it replaces. That's a remarkable engineering achievement and shows that Mazda wants to keep the Miata true to its lightweight roots.
     On the other hand, this begs a question. What would the new Miata have been like if the engineers had used the weight savings to increase performance rather than increase comfort? What if, like the first Miata, it was almost 100 percent pure sports car rather than 96 or 97 percent?
     We may never know. But I do know Mazda dealers won't have buyers clamoring to test drive that sports car on the showroom floor because it's roomy and comfortable.
     They'll ask to drive the Miata because it's fun, pure and simple. That's something this car will always be about.