2011 Toyota Venza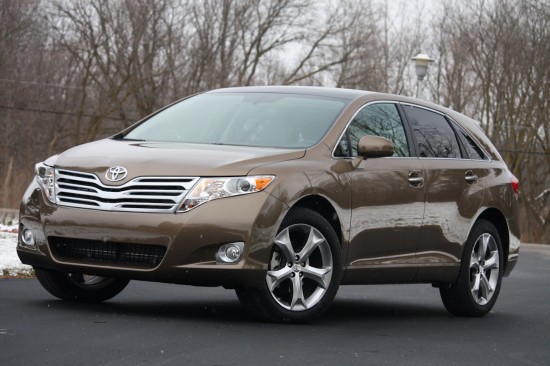 Disappointments Tarnish an Attractive Package
     The Venza had a lot going for it heading into this review. My colleagues and I had already determined that its bold grille, modern crossover proportions and over-the-top 20" wheels made it the best looking Toyota among the current crop. Not exactly a hard fought victory, we realize, but bonus points nonetheless. Plus we knew our particular model would be powered by the optional V6 that has been praised in everything from the RAV4 to the Camry, so we expected that to help seal the deal. Add in the fact that this particular crossover isn't even tall enough to adversely affect handling  all that much and we were fully expecting to write a review praising Toyota's family hauler. And then over the course of a week we found ourselves distracted by some glaring faults and by the end we were left questioning, of all things, Toyota's hard-earned and long-held reputation for unbeatable interior execution.
     But let's start with what worked. The engine came up for frequent praise in the notebook, as we expected it would since the 3.5-liter V6 in the Venza is a slightly less powerful version of the engine we tried and liked in last year's Lexus RX 350. It possesses the same eagerness to rev and rewards with a superb engine note past 3,000 rpm. In Venza duty the all-aluminum mill is rated at 268 hp and 246 lb-ft of torque. With power flowing seamlessly through a 6-speed automatic transmission acceleration was quite potent by crossover standards, and that, plus our desire to hear that great engine note, probably contributed to our slightly disappointing 20.3 mpg observed fuel economy. The EPA bestows the Venza with 18 mpg city and 25 mpg highway ratings. These days we expect higher power figures out of a modern V6 this size, but from behind the wheel you don't feel shortchanged.
     Our Venza was equipped with all-wheel drive, which will add $1,450 to your loan principal and pile on another 175 pounds, but will increase your capability in snowy climates. We're not sure if the all-wheel drive hardware contributed or if the 20" wheels are to blame, but we experienced a skittish ride on several seemingly smooth sections of road. We'd be cruising down a 2-lane highway and notice our heads start involuntarily shaking like we had a nervous tick. We call this the bobble head syndrome and we'd like Toyota to make some suspension revisions and eradicate it pronto. Outside of that quibble we actually found the handling commendably responsive with limited body roll and a generally very car-like driving dynamic. Toyota does have room for some dynamic improvement thanks to a soft brake pedal and completely numb electric power steering. These things won't turnoff your average crossover shopper, but much of the competition does them better, and if you're like us you want to enjoy driving regardless of what body style your vehicle is.
     As a crossover, the interior is really the crucial aspect of the Venza since we know a vehicle like this is destined to see primary duty as a passenger shuttle. The second row needs to be suitable for kids and comfortable enough for adults since a Venza owner could be taking the kids to school and another couple out to dinner in the same day. We had mostly good things to say about the Toyota's people hauling abilities thanks to great room in both rows and truly comfortable seats that also recline in the second row. That's become a make or break feature on our checklist of modern crossover must-haves.
     The rest of the interior is bright and airy thanks to an optional panoramic glass roof and light colored cloth seats. We liked the optional powerful HID headlamps, but the accompanying automatic high beam system was more easily confused than similar systems we've experienced recently. The touchscreen nav system has a dated user interface and is a bit slow compared to the latest competitors' systems. That system is bundled with Bluetooth and the "premium" 13-speaker JBL audio system that our ears weren't convinced was actually that premium. We would advise you to save your $2,580 and use Google Maps on your smartphone. On more than one occasion an editor bumped the shifter while reaching for the climate controls and questioned the location of the dash-mounted selector, but the result is a superb center console design. The entire panel that houses the great cupholders slides back to reveal a vast storage area with connections for smartphones and mp3 players. It's a very slick setup and what we're used to seeing from Toyota.
     What we're not used to seeing in a Toyota are the truly subpar materials that make up the bulk of our Venza's cabin. We weren't exactly impressed from the moment we slid into the driver's seat since we knew our tester stickered at $36,385 and yet we had a hard black plastic steering wheel to interact with as our number one touch point. Considering Chevrolet includes a leather helm on the $11,000 cheaper Equinox LT we felt this was a small travesty on a vehicle with nav, 13 speakers, backup camera, keyless start and a power liftgate. Next we noticed the oddly grained hard plastic that covers the doors and dash. A knuckle tap on this returns the kind of cheap hollow noise we haven't heard since the Cavalier went out of production. It was a sore point that would stick with us for the rest of our time in the Venza.
     In the end the disappointing interior materials weren't enough to turn us completely against the good looking Venza, but it certainly soured the idealistic impression we had created before accepting the keys. If Toyota could improve the real-world fuel economy, refine the ride quality and spring for a leather steering wheel in the next update we'd be happy to pen some more praise for the Venza. Unfortunately, in the here and now disappointments have tarnished an otherwise attractive package.
The Good:
Sharp sheetmetal, comfy seats, great engine note, lots of interior storage, composed handling.
The Bad:
Outdated and overpriced nav system, a little wind noise around the A-pillars/side mirrors, D-pillar creates a blind spot, un-Toyota-like interior materials, plastic steering wheel in a $36k vehicle!
The Verdict:
Far from an embarrassment, but far from our favorite.  
 Photos by Jason Muxlow