2002 Mazda Truck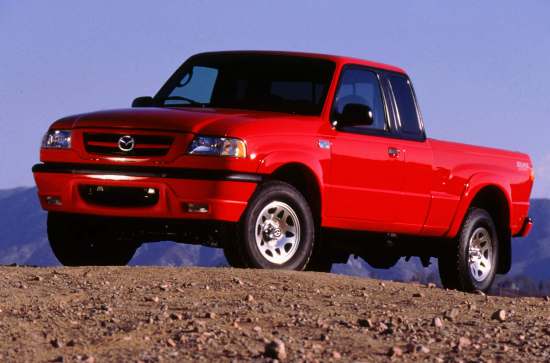 How's this for a no-nonsense name: the Mazda Truck.
    Mazda stopped naming its pickups the B-series this year, instead opting for the strangely simple "Truck" moniker. It's a straightforward, surprisingly plain and almost cool approach — just like the truck itself.

    Based on the Ford Ranger, Mazda's Truck offers an automotive buffet of options and packages that range from cheap and stripped-down to fancy and powerful. You can get two- or four-wheel drive, a regular cab or four-door Cab Plus, and a choice of three engines. It's perfect if you like your trucks a la carte.
    Strangely enough, Mazda's still hanging onto those B-series numbers in a small way. It's designated each package with a different name, beginning with the base-model B-2300 Truck.
    Starting just under $13,000, the two-wheel drive B-2300 comes with a 2.3-liter four-cylinder engine, five-speed manual transmission and the bare essentials. You can upgrade to air conditioning, cloth seats, stylish wheels, carpeting and a CD player for around $1,600 .
    The B-3000 Dual Sport, still two-wheel drive, steps up to a 3.0-liter V6 engine and nicer suspension. Air conditioning, color-matched bumpers and a terrific stereo come standard in either regular cab (around $15,500) and Cab Plus (just under $18,000) varieties.
    Mazda's top two-wheel drive model, the B-4000 Dual Sport, shares a class-leading 4.0-liter V6 engine with the Ranger to make a gaudy 206 horsepower. The $19,685 package only comes with a four-door cabin, but it includes a larger fuel tank and a trailer hitch.
    Four-wheel drive is offered in the two-door B-3000 and the B-4000, which tops the lineup at roughly $22,500.
    The Truck's performance and comfort depend largely on which version you choose, but there was little to complain about in my four-wheel drive B-4000 test model. It was as quiet and refined as anyone could expect in a bred-for-battle truck with a rugged frame and big engine.
    That top-of-the-line powerplant is more than adequate for both highway acceleration and off-road torque on demand. Its dual overhead cam design produces smooth power and a pleasant sound, while the four-wheel drive system could engage with the flick of a switch for those really tough situations.
    Style-wise, the simple-looking Truck doesn't have the intimidating presence of a pro football linebacker like some of its competitors, including the brawny Toyota Tacoma and wild-child Nissan Frontier. Instead, it looks more smooth and refined like the big American trucks, with sweeping curves and subdued bulges.
    The Truck has a nice interior with a three-person bench seat in regular-cab models, while Cab Plus versions come with two small, sideways-facing, foldaway seats in the back. Controls are simple to operate and read.
    Overall, the Truck builds on the success of Ford's Ranger while adding a unique style and nice variety of options to fit many budgets and uses. It also offers class-leading power for heavy-duty hauling in a small truck, or simply for bragging rights.
    Just like its new name, the Truck does its job without any fluff.