Because the A4 has Grown Up
Automakers, especially the luxury marques, are downsizing in a big way. Their once compact "entry"-level sedans have all grown up. And now they are introducing a new breed of "compacts" to fill the voids. As we've discussed before, this sort of activity can sometimes dilute a brand's pedigree. Nevertheless, these compacts have proven themselves to be lucrative assets time and again. Enter the A3, Audi's response to the A4 ballooning in all directions. This latest generation loses the hatchback (unless you wait for the plug-in hybrid variant of course) body in favor of America's more traditional preference: the sedan. Compare the A3 to the A4 of ten years ago and you'll find a car that fills the vacancy within a mere 100 lbs and with similar size and equipment. Even the engines are familiar; the base engine being a 1.8T and the upgraded 2.0T standing in for the old A4′s V6 with matching horsepower and more torque. Watch and tell us if you agree. Read more…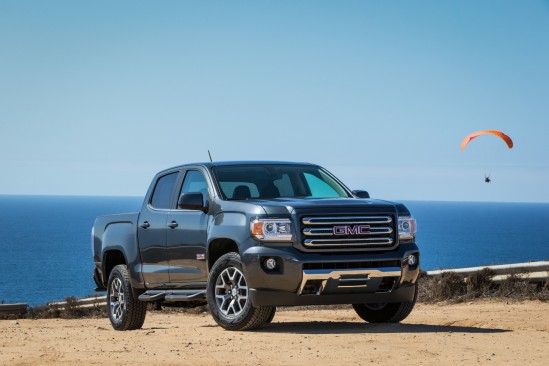 "All New!  Sensibly Sized!" 
It happens to nearly every automaker. It begins by offering a successful car in a relatively standard package. When it comes time to replace that model in the automaker's lineup the call goes out to make the next model have more interior space, more cargo room and more power. That newer model becomes more successful than the first. Subsequent generations continue the pursuit of 'more is better'. Then, gradually and almost without notice, buyers start to wonder "what if there were a vehicle just a bit smaller, more nimble, more compact, and more efficient than this?" The automaker responds with an "All New!  Sensibly Sized!" new model that slots in where the original model was once targeted. This is the story of the 2015 GMC Canyon and its near twin, the Chevrolet Colorado.  Read more…
The Audi S5 has been a success since debuting way back in 2007, and Audi has done nothing but polish the edges each year since, so it's no surprise that any contender in the large Sports Coupe segment will have to dethrone the S5 first. Considering the design is holding up so well even eight years on, we're not sure anybody can beat the slinky two-door on looks. Read more…
Minivans do not garner much favor around the Automotive Trends garage. We will agree that they serve a very practical purpose shuttling around that which is most important to us: our families. But the fact of the matter is the minivan was the first vehicle to supplant and displace our dearly beloved station wagons. And that is a sin to which there is just no atonement for. Read more…
The GTI has been rewarding drivers with a hard-to-beat combination of performance and practicality since day one and we are thrilled to report that the new seventh-generation polishes the package to near perfection. The turbo four now makes 258 lb-ft of torque starting at just 1,500 rpm so the car provides a smooth and refined punch away from every stop. Add in the Performance Pack hardware like a trick electronically controlled differential and larger brakes and the GTI is a very willing dance partner when the back road traffic disappears. The interior has been bumped up a level to shame anything else in the sub-$30k class and you can still order your hot hatch with a true clutch pedal six-speed manual. Volkswagen truly has the GTI formula figured out. We're hoping they never change it.
Three blokes just talking about cars. And tonight we talk about one other bloke in particular…Jeremy Clarkson. Jeremy, YOU BIG OAF!! We are saddened for all that took place and saddened that it appears to be the end of an era with regards to the great British motoring show: Top Gear. But the show must go on. Read more…
 The big news for the Challenger is the 2015 SRT Hellcat. The supercharged Hemi that lurks beneath the Hellcat's hood is every bit as mind blowing as one would expect, producing 707 hp. Certainly Dodge has decided its too-big-to-be-a-ponycar needed to take the brute force approach since its size distances it from being the relatively agile cars that the Mustang and Camaro are. Fortunately for Challenger fans the dated interior has been ditched in favor of a newly sculpted dash and various color combinations that make the Challenger less of dreary chamber. Sadly, the pistol grip shifter has been returned to the parts bin. Other available engines include the 3.6L Pentastar V6 (finally coupled to an 8-speed automatic), 5.7L Hemi V8, and 6.2L Hemi V8. Unlike the Chevy and Ford, a manual transmission is offered only with the V8′s. And, setting itself apart from stalemate Charger Hellcat, the Challenger actually lets you shift through the gears with a manual transmission as you attempt to make use of those 707 supercharged horses.
Renegade. The name may come from Jeep's past, but it just as well could describe the nature of the brand's newest and smallest offering.  The first Jeep to be imported to the United States, rather than built here, the Renegade dares to take the brand into new places. The Renegade's base engine is a turbocharged 1.4L 4-cylinder coupled to a manual transmission. A larger 2.4L and a 9-speed automatic are also available. Hard core Jeep fans may scoff at the origins and FIAT-based architecture, but others may find the Trailhawk version appealing for its off road capability with a 4WD low setting as well as snow, sand, mud, and rock selectable terrain settings. Experience open air freedom with the Renegades two-piece removable 'My Sky' roof panels.
We know and love the FIAT 500 minicab in most of its iterations whether it be in frugal Pop trim or hot hatch Abarth guise. Problem is the brand's dealerships have, up until now, had to make do with that lovable car and the awkward and clumsy 500L. In an effort to remedy this issue FIAT is bringing us the 500X. Marketed at as crossover (really, does simply offering AWD and hatch qualify this to fit that category?) this 4 door hatch is much prettier than the 500L and truer to the original 500′s character. The 500X offers a 1.4L turbo as standard and, unlike other crossovers like the Chevy Traxx and the Mazda CX-3, allows the buyer to opt to shift their own gears and push a clutch pedal. We suspect most customers will choose the 2.4L Tigershark mated with a 9-speed automatic. It should be interesting if this bigger spin on the 500X will increase traffic at FIAT 'studios'.
We could have setup a full camera crew and spent a day at the Volvo display diving into the impressive details of the upcoming XC90 crossover SUV, but that will have to wait until this fall when we can get our hands on one of these stunning luxury rides from Volvo. If it seems like Swedish manufacturer has been a bit quiet these past few years you're not alone, and we can hardly blame them considering the challenges of new ownership and the inability to borrow from a corporate parts bin for any aspect of their new XC90. But after our first chance to sit in and poke around the tastefully restrained yet modern design, we can confidently say Volvo fans are in for a treat. Beautiful textures, materials and technology make up possibly the most inviting cabin we've seen come along in years–certainly at the sub-$60k starting price. Couple that to impressive advancements in powertrain offerings, including a 2-liter four cylinder that is both turbocharged and supercharged and can be paired with a plug-in hybrid system to produce 400hp, and you'll see why Volvo might have been too busy to draw attention to itself the past few years. Color us impressed and put this on your must watch list this year.