There should be a plaque on the dash of every Chevy Spark that the driver would have to recite before turning the key. It would be an adaption of Chief Joseph's great surrender speech and it would read "I will pass no more forever". This would put the driver in an appropriate state of mind since you are surrendering driving fun every time you set off in a mini car powered by a 1.25-liter I4 that musters 84 hp. We thanked our lucky stars for the standard 5-speed manual since the optional 4-speed automatic must be positively glacial in its acceleration. Of course once we got used to the lack of power the Spark surprised us with what it does offer. Our loaded 2LT trim came with power windows locks and mirrors, 10 airbags, 15" aluminum wheels, OnStar, even heated seats, satellite radio and a 7" touch screen with MyLink smartphone integration for Pandora, navigation and Bluetooth audio! To say we were a bit surprised at what Chevy has included for $15,795 is an understatement. Of course, compared to even the next class up you should be prepared for a noticeable increase in wind, road and engine noise and other refinement issues like small vibrations coming transmitting through the steering wheel. Still, the car offered a fine ride, 38 mpg on the highway and more than enough room up front—although back seat passengers should be small and cargo room with the 2nd row up is very tight. As for style, the Spark should catch the eye of young, first time buyers who care more about features than foot-pounds of torque and as for us, it's safe to say we were pleasantly surprised with Chevy's first mini car in the US.
      Roll the calendar back a handful of years and the Audi S4 used to be a bonafide sport sedan with a boisterous 4.2-liter V8 making 340 hp that put it well above its contemporaries in power and performance.  We're a bit disappointed to report that in 2010 Audi retired the V8 in favor of a mildly tuned 3.0-liter supercharged V6 that achieves only 333 hp. During the same period progress has brought the class average up significantly with today's competition like the Cadillac ATS offering 321 hp and the Infiniti G37 offering 328 hp from their naturally aspirated V6s. So does the S4 still feel like a special sport sedan? We'd argue that by today's standards it'd probably take more like 400 hp to achieve that distinction. What it does feel like is a great top trim in the A4 lineup for customers who want a bit more juice than the 2.0-liter turbo four offers. Regardless, we like the S4 because it still offers a pleasing 6-speed manual, supportive sport seats, Audi's customizable Drive Select system and, of course, all-wheel drive traction for year round fun that makes the S4 a great partner for those of us in the Motor City. And we like the price range of $48k-$54k that keeps the S4 feeling like a bit of a value. What Audi needs to work on is the lifeless steering, bland interior design and getting that supercharger to pay a few more dividends in the power ratings. If they can do that and maintain price the S4 would be back to sport sedan status faster than you can say, "What V8?!". Read more…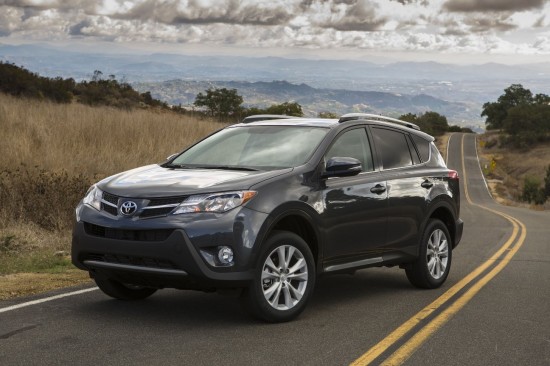 The Crossover that Created the Segment Enters 2013 Better Than Ever
If you're not a fan of the crossovers that today fill every soccer field parking lot and school unloading zone, you can direct your displeasure squarely at Toyota. The company created the segment back in the mid-90's when the car-based RAV4 burst onto the scene with a spare tire hanging off the back and a promise to ride and drive more civilized than any other SUV of the time. Since then, the little people mover has expanded to dealerships in more than 150 countries and found more than 171,000 buyers in the US last year. But competition in the segment is relentless with major players releasing all-new or significantly improved offerings in the last year, including the Ford Escape, Mazda CX-5 and Honda CR-V. While developing its all-new 2013 model Toyota is also taking the opportunity to bring this 4th Generation RAV4 back to its roots after watching the model expand away from its core to offer a third row of seats and a V6 engine option that clearly trespassed on the Highlander's turf. We recently flew to Arizona to drive the new RAV4 and came away impressed with the value Toyota is offering in the crossover that started it all. Read more…
      It isn't everyday that we use the latest out of Toyota to provide a benchmark for a vehicle class, but we're going to go ahead and say it's safe to declare that is exactly what we're doing with the Scion FR-S. The Subaru and Toyota tie-up has yielded a car that far exceeds all expectations. Greater than the sum of its parts you might say, the Scion FR-S (and its sister cars: the Subaru BRZ and Toyota GT86 [not sold in the US]) has stolen the torch away from Mazda and its Miata as the bar to which affordable driving fun is measured. Read more…

     The Lexus IS has been languishing for a while and has recently found itself a tad smaller than the class average set by cars like the BMW 3-Series, Cadillac ATS and Mercedes C-Class. Of course the simple fix is to increase the dimensions while improving the packaging, and that's exactly what Lexus has done with the 2014 IS. A very significant 3 inches of additional rear seat legroom will improve the sedan's usability while the great 8-speed automatic from the IS F now trickles down to improve the IS's performance. Both 2.5-liter and 3.5-liter V6 engines will power the IS and the styling will be sure to turn a few heads. We can handle just about everything including the most extreme variation of the new corporate grille we've yet seen, but the two piece headlamps are going to take a while to adjust to. At least they look way cool when illuminated. We'll be lamenting the lack of a manual transmission, but an IS F Sport is now available and places a big emphasis on rewarding handling so we'd be willing to bet a drive of that will help ease the pain. Lexus is prepping the 2014 IS for a summer on-sale date. Read more…

     We know that Ford also used its NAIAS spotlight to roll out an all new line of full-size Transit and smaller Transit Connect commercial vans, but believe us, the assembled press was much more excited about the biggest surprise of the show when an early peak at the 2015 F-150 descended from the ceiling of Joe Louis Arena. Called the Atlas Concept, Ford tipped its hand on a few details that could make the next F-150 the pickup to beat. Active wheel shutters, grille shutters and an automatically deploying chin spoiler help improve aerodynamics and a next-generation EcoBoost engine with start-stop technology would return substantial fuel economy improvements over today's trucks. Unfortunately, no specifics were released about the engine but some other technologies like a 360-degree camera system and LED lighting are sure to make it to production trucks before long. The styling is also an unqualified home run and should allow Ford to steal the truck talk at this year's Detroit Auto Show. Read more…

     Kia unveiled its new large front-wheel drive sedan, called the Cadenza. No, Kia did not name the car after a piece of furniture; that would be a credenza so have no fear of a companion model named the Davenport. Rather, Kia's newest member of their ever-more-stylish lineup takes a musical theme originally introduced by the small Forte. Now that we've gotten the nomenclature out of the way, we can say that this attractive large sedan fills the spot left by the forgettable Amanti sedan that vacated the Kia lineup after 2010. The Cadenza is regarded as Kia's premium sedan. On sale in other markets since 2009 this updated model debuts in America in the 2nd quarter of 2013 as a 2014 model. As a premium vehicle the Cadenza features standard equipment such as leather seating, dual zone automatic climate control with rear seat ventilation, Smart Key keyless entry, 10-way power adjustable driver's seat and Bluetooth wireless technology. Available features include a full-length panoramic sunroof with power retractable sunshade, HID headlamps, Nappa leather seats, a memory enabled 12-way ventilated driver's seat, adaptive cruise control, Blind Spot Detection system and a Lane Departure Warning System. Powered by a 293 hp 3.3-liter V6 with 255 lb-ft of torque mated to a 6 speed automatic, the Cadenza joins a competitive premium sedan segment but doesn't promise to lead the pack from the stoplight. Regardless, with its successful track record with the Forte and Optima we are eager to get behind the wheel of this stylish sedan and see just how much this car carries on the Kia family heritage. Read more…

     The future of Nissan's crossover lineup should be bright if the Resonance concept is allowed to inspire their styling. We like the profile a lot and when toned down for production the front and rear should make a great next-generation Murano. The interior is also a beautiful exercise with a light and airy design and technology overload. The concept is said to be powered by a hybrid all-wheel drive powertrain with a CVT doing the shifting duties like in many Nissans so it's probably safe to assume we'll see a hybrid Murano in the near future. As long as it looks as good as the Resonance we won't care what powers it. Read more…

     Cadillac showed us the Converj concept a couple years back in the anticipation that the luxury brand would find a way to incorporate the extended range electric vehicle capabilities of the Chevrolet Volt into a sporty and luxurious coupe. Cadillac has shown us photos over that time, in both publicity shots as well as deliberate 'spy' photos. The 3-letter nomenclature proliferating the Cadillac line (save the Escalade) meant revising the name into ELR. Overall, the proportions of the ELR have changed somewhat from the Converj, but the overall effect is very true to the concept. Rather than referring to the ELR's extended range powertrain as the Voltec, Cadillac uses the EREV (Extended Range Electric Vehicle) designation. Cadillac claims it is the first full-line luxury automaker to incorporate such technology, using a gas engine generator to recharge the batteries on any drive longer than 35 miles. The 35 miles is about 3 miles shorter than Chevrolet claims with the Volt, likely due to the slightly more aggressive nature of the ELR, which packs an electric drive unit capable of 295 lb-ft of instant torque. Cadillac neglected to announce pricing, but we would expect it to be significantly higher than the Volt's $39,145 base price before $7,500 federal tax credit.

     Because the NSX remains two years away, Acura used the rest of its NAIAS time to show the assembled press the 2014 MDX Prototype that strongly hints at the production version which will get its own debut soon. Like springtime soon. Which means basically everything you see here will be available in showrooms later this year. This prototype did not have an interior so we can't comment on that but the MDX remains powered by the 3.5-liter V6 but should get a bump in the power ratings. Super Handling All Wheel Drive will be offered but a front wheel drive MDX will now be available for those in warm climates. A longer wheelbase will allow for more second row legroom and improve ride quality. We like the handsome, refined lines of the new look and we'll be sure to bring you the full report when we drive the production MDX later this year. Read more…