2003 Ford Mustang Mach 1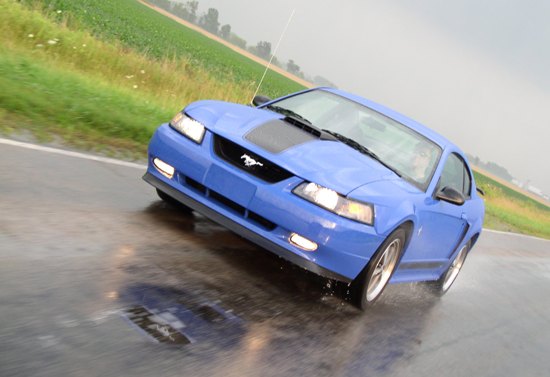 The Muscle Car Lives
     We have discovered a fail-proof litmus test of automotive enthusiasm. If you sit behind the wheel of a Mustang Mach 1 while you blip the aluminum throttle pedal, watch the shaker hood torque to the right, listen to the burly exhaust note, and the hair on your neck does not stand up, you are dead–or might as well be. That result means you are one of the millions who prefer a Camry to a Camaro and there's no point in you reading the rest of this review because you'll just dismiss the Mustang as cramped and loud. Now we're the first to admit the Camry is as near to perfection in automotive transportation as you can get, but we are part of that ever-shrinking minority that will trade off a good chunk of perfection for a big dose of muscular styling and a throaty V8 to back it up. Call us old-fashioned, but we'll take a Mustang over a pocket-rocket any day of the week-especially a Mustang this good.
     Muscle cars are about two things-style and power. The Mach 1 has both of those and more. Our test car was painted an impossible-to-miss Azure blue and featured flat black on the rear wing and hood. Some would have rather seen a more traditional red in place of our car's bright blue, but all agreed the Mustang looked tough and displayed the no-nonsense attitude necessary for street credibility. Further drawing attention to the Mach 1 are 17″ Heritage style alloy wheels wrapped in low profile 245/45ZR Goodyear rubber and twin chromed exhaust tips playing a wonderfully noticeable and deeply tuned growl. Undoubtedly the coolest feature on the Mach 1 and one that never failed to raise the pulse of fellow enthusiasts was the ram air shaker hood. It simply doesn't get much more retro than that.
     Retro touches can be found inside the Mach 1 as well. The numbering found on the gauges are from the original Mach 1s and the seats are covered in "comfortweave" leather. The chairs themselves are well bolstered and comfortable, especially the driver's seat with its power operation and lumbar support. The steering wheel features cruise controls and is wrapped in seat-matching dark charcoal leather. Climate controls are operated by an easy to understand 3-knob setup. All Mach 1s come with a 6-disc in-dash CD changer and Mach speakers. The system was easy to operate and plenty punchy though it was a bit of a reach even for long-armed 6 footers like me. Our particular car had the optional $295 interior upgrade kit, which basically consists of aluminum pedals. Below the stereo is the button to turn the traction control system off, which allows for smile-inducing burnouts in traditional muscle car fashion. The trunk has a small opening but is actually quite sizeable, plus the rear seats fold down to accommodate long items. We were disappointed with certain materials in the Mustang cabin. For instance, the interior door pulls could not have been finished in a cheaper feeling plastic. You'd expect Ford to make a surface that is touched every time you open or close the door feel a little more like it belongs in a $30,000 car. We suspect Ford will up the interior materials a notch or five on the quality pole for the new Mustang set to debut next year.
     There maybe room for improvement inside but under the hood things are just about perfect. The modified 4.6-liter 32-valve DOHC V8 puts out a strong stream of power across the entire rev range. It is rated at 305hp at 5,800rpm and 320lb-ft of torque at 4,200rpm. The 281 cubic inch all-aluminum V8 features a dual-bore 57mm throttle body and new cylinder heads as well as new exhaust manifolds. The rear axle has also been upgraded with a high torque differential and 3.55 rear end gear ratio. The Mach 1 is available with either a 5-speed manual or 4-speed heavy duty automatic. Being automotive journalists who often place a heavy emphasis on performance, we were certain our press car would feature the standard manual transmission. Imagine our surprise when we picked up the car to find out it featured the optional $815 slushbox. The entire AT staff, including your author, directed harsh words at Ford for installing the anti-fun transmission in our car. At least a manual is available-you'll have an extra $815 in your pocket too.
     On the road the car immediately impressed us with its sharp handling and surprisingly good ride quality. Compared to the GT the Mach 1 features stiffer springs, better Tokico shocks and a solid rear stabilizer bar, all of which drop the ride height ½ inch. We will also sing praises about the Mach 1's brakes. The pedal was firm and modulation was linear and braking felt extremely strong. No doubt the 13″ front discs squeezed by twin piston Brembo calipers are to thank for this. We certainly hope this setup makes its way to the next Mustang.
     For a car based on a chassis that debuted more than two decades ago, this latest special edition Mustang impressed us. Only 6,500 Mach 1 Mustangs were built and by now, most, if not all, are probably comfortably covered in loving garages across the country. We can tell you that if we had an extra $30,105 sitting around we'd certainly put one in our garage. Sure, the Mach 1 is cramped, and yes, it is loud, but we wouldn't have it any other way. Thanks to Ford, the muscle car lives. 
The Good:
You gotta love that shaker hood, true muscle car power, great exhaust music, powerful stereo.
 
The Bad:
4-speed AUTOMATIC transmission, Interior would be unacceptable in 1993, did we mention it had an automatic transmission?!
The Verdict:
Ford proves that the muscle car lives.