2003 Mercedes-Benz CLK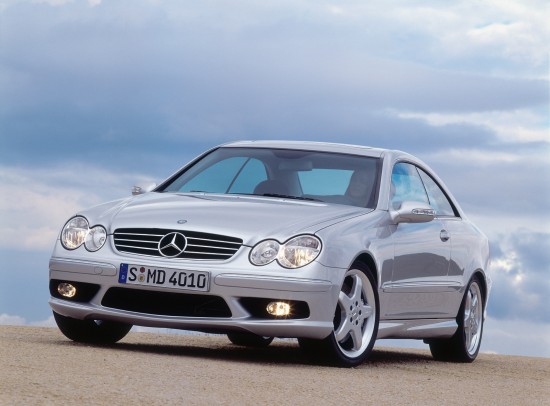 Want a Mercedes CL-class dream coupe but don't want to pay $100,000 for one? Then take a close look at the CLK.
     While it's still expensive at over $52,000 for the V8-powered model, the CLK offers much of the same technology, style, performance, and comfort as its ultra-high-class brother, the CL. In that light, the $44,000 V6 CLK looks like a bargain for people who want the prestigious look and feel of driving a first-rate Mercedes without the outrageous price.
     Despite its comparatively low cost, the CLK offers high-tech features that make it seem more like the super-swanky Mercedes cars than the cheaper C-class baby Benzes, including adaptive cruise control and rain-sensing windshield wipers. Its magnificent cabin materials, buttery driving feel, and brisk performance seem to constantly exclaim, "You've arrived."
     Too bad we couldn't keep it. After a weeklong test drive, it seemed to taunt, "Maybe someday you'll deserve me."
     SMOOTH PERFORMANCE
     The CLK driving experience is best described as responsive and silky. Acceleration with the 5.0-liter V8 is thrilling and flawlessly smooth, and handling feels composed even during high-speed cornering. The V6-powered CLK 320 feels similarly velvety, but the eight cylinders in the CLK 500 make it a more balanced and impressive driving machine.
     On the highway, the ride is supple and remarkably soft no matter which engine you choose, exactly as a Mercedes should be. Brakes have a sports-car-like firmness, and wide, low-profile tires keep a firm grip on the pavement.
     HIGH-TECH LUXURY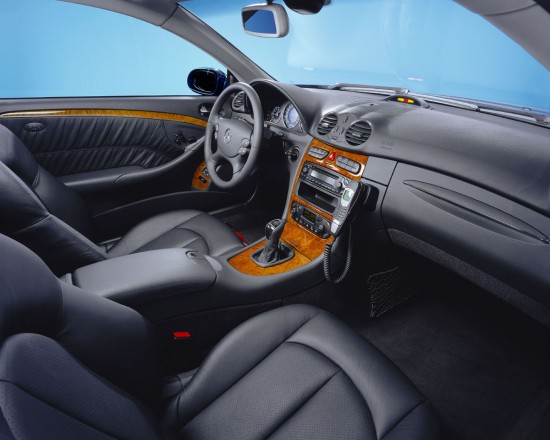 Inside, the CLK's unabashedly luxurious cabin is a mixture of brand-new technology and old-world class as it perfectly melds the sterile look of a computer with the warm feeling of soft leather and rich wood trim.
     A large computer screen that combines controls for the navigation, audio, and climate control systems dominates the dash. It's surrounded by buttons that operate the car's many bells and whistles, like fold-down rear headrests, heated seats, power rear sunshade, and park assist feature.
     Mercedes pays remarkable attention to detail in making the CLK's interior a comfortable and inviting place to spend time, although the learning curve for its computer controls can be a steep one for some drivers. Little conveniences, however — including arm-like seatbelt "extenders" that motor forward when you turn on the car, saving you from uncomfortably contorting your body sideways when bucking up — make up for the quirky electronic controls.
     SOPHISTICATED STYLE
     Of course, driving a Mercedes coupe is not just about comfort and performance. It's also about looking good.
     Thankfully, the CLK looks strikingly similar to the ultra-expensive CL class. The casual observer would have a hard time telling the difference between a $42,000 CLK 320 and a $120,000 CL 600, both of which have athletic lines, a graceful roofline, a sporty front grille, and the cachet of Mercedes' three-pointed star on the hood.
     One feature that sets the CLK apart from most other sports coupes is its pillarless roof, which lets you roll down the windows for an open-air experience almost like that in a convertible. It also adds to the car's elegant look.
     ONE OF A KIND
     Because it's packed full of fancy technology and consequently has a fairly hefty price tag, the CLK occupies unique territory that sets it apart from more mundane sports coupes.
     For the time being, no other two-door car offers its combination of features, prestige, and performance, although we can expect more competition from BMW after the introduction of its 6-series coupe next year. Additional sporty cars from Germany can't be bad, of course.
     But for now, the CLK is truly like nothing else on the road.