2004 Audi A8 L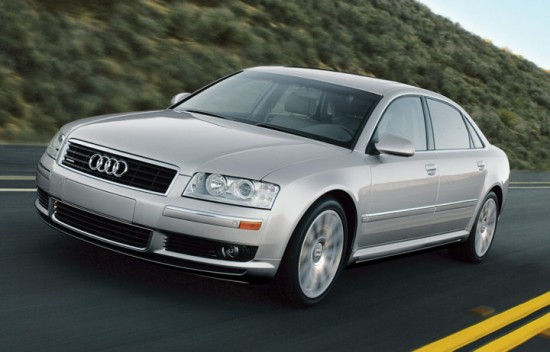 Automotive perfection is hard to define. Is it the latest technological wizardry, a smooth ride and a quiet cabin? Is it breathtaking performance? Is it a style that makes your friends and neighbors envious every time they see you drive by?
     Or, as Audi contends, is it the synthesis of all these things?
 Audi's flagship luxury car, the A8 L, seamlessly blends all these traits into a sophisticated, refined, attractive package that excels in every respect. While other high-end luxury cars may beat it in one specific area — like the performance of a BMW, the style of a Mercedes, or the smoothness of a Lexus — none blend these various luxuries as splendidly and perfectly as the Audi.
     "L," in case you were wondering, stands for "long wheelbase." A standard-wheelbase A8 will be available in the United States this summer starting at $66,590, about $2,000 less than the long-wheelbase version shown here.
     The A8 L was completely redesigned for 2004 with the extensive use of aluminum, a more powerful V8 engine, and some of the latest technology available. All the changes contribute to the car's silent cockpit, super-smooth ride, and inspiring performance.
     But before you have a chance to test how the car drives, you'll already be impressed by the quality of its interior. Step inside the roomy cabin, shut the rock-solid door, and it's like you've entered the palatial world of royalty, multimillionaires, and movie stars.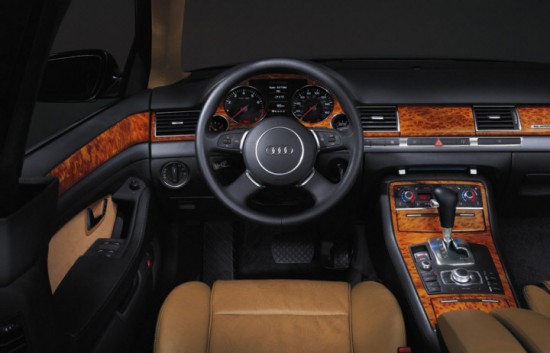 Swaths of wood trim are everywhere, including the elegant and well-constructed dash, the wide center console, and the neatly trimmed door panels. Leather surfaces are wonderfully soft and smooth, and the buttons that operate its many features are seamlessly integrated with the old-world look of wood and leather. You'd be hard pressed to find a more luxurious and inviting interior.
     At the center of it all is something new and foreign, however. It's what Audi calls MMI, or MultiMedia Interface, which is the computer system that controls all the car's basic functions, including the radio, climate control, navigation system, and comfort preferences.
     Unlike BMW's oft-criticized iDrive, MMI is intuitive and learned easily after just a few minutes of practice. Using either a console-mounted button or a switch on the steering wheel, changes to the car's many settings are literally at your fingertips. You can see the changes on either a large computer screen or a smaller screen just behind the steering wheel, so your eyes seldom have to leave the road.
     Of course, the A8 L also comes with all the trappings of a proper luxury car, like heated power seats, power sunroof, built-in garage door opener, dual-zone climate control, and a fantastic stereo system.
     Despite the car's spacious, technology-laden interior — which, of course, is wrapped by a huge body — it feels surprisingly nimble as it drives around town. There's very little body roll in corners, and it's easy to maneuver in parking lots and tight city traffic.
     This is because of two factors: One, Audi's insistence on using lightweight aluminum for the frame and, two, an incredibly well designed suspension system.
     Audi calls it an "adaptive air suspension," and it replaces the traditional steel suspension used on the previous-generation A8. It uses sensors to constantly adjust the firmness or smoothness of the ride, giving it the remarkable ability to corner like a sports car yet float down the highway in the manner of a traditional luxury car. It's agile when you want it to be and smooth when you don't.
     Acceleration, as expected in this high-priced class, is quiet, refined, and more than adequate. Audi picked the same 4.2-liter V8 engine from the older A8, but engineers increased its output by 20 horsepower to 330. It's a perfect fit for this car, especially with a new Tiptronic six-speed automatic transmission.
     In typical Audi style, the A8's body styling is gracefully understated. It doesn't scream for attention, but it simultaneously refuses to blend in with the masses. The overall look is simple, sporty and majestic all at the same time, a rare mixture indeed.
     All in all, the A8 L is everything that a tasteful luxury car should be. It's stylish without being gaudy, athletic without being childish, and prestigious without being snobby.
     That, in my book, is perfection.