2004 Audi allroad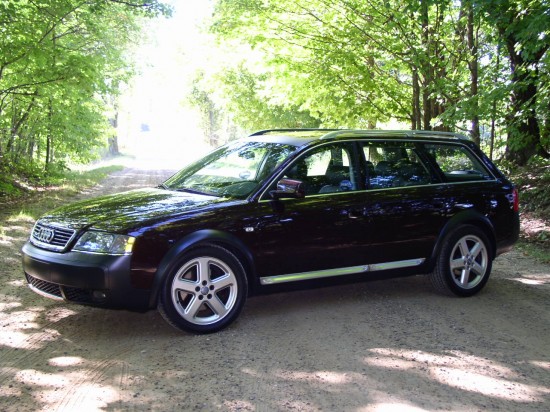 Soft-Roading
     Logically, one would not even consider putting an Audi in a cornfield. But photographers don't exactly adhere to the same brain patterns when logical thinking is involved. Thus, we tread many a dirt road and cattle path in pursuit of photog satisfaction. Is the allroad (not a typo, Audi is case sensitive) capable of traversing lightly beaten paths while coddling passengers listening to classical music with the A/C purring away? Yeah, something like that, but you will have to read on to find out.
     Upon receiving our Burgundy Red Pearl allroad we noticed that there were 20,000+ miles on the odometer. A quick red light flashed on in our mind and it wasn't hard to figure out that this particular model was up for retirement soon. Let me just point something out to the new readers real quick; press vehicles live hard lives. So when 20K is present on the odometer you can expect the car has been through about 40K to 60K real world miles. Our allroad was feeling some age, but not yet in need of a walker. Nevertheless, our well-seasoned mule impressed by performing beautifully in every task we asked of it.
     Under the hood resided the newly available for '04 4.2-liter V8 weighing in at 300 hp and 280 ft-lbs of torque funneled through a 5-speed Tiptronic. Throttle response was excellent and we didn't get one complaint about the sweet sound of the V8 exhaust note. No complaints were filed about the engine's power either as this is one of the best motors in this class; smooth and torquey regardless of how many rpms are on the tach. Audi's quattro all-wheel drive system, included in the mix for all-weather dependability and the occasional off-road endeavor, was incredibly responsive and worked seamlessly on the highway. Only when we were scurrying along some dusty trails did we feel the front wheels dig a little extra. Another of the allroad's many tricks is the air ride adjustable suspension. With the simple push of a button the body raises to allow up to 8.2 inches of daylight underneath or lowers to 5.2 inches of clearance for maximum road holding. But don't expect to barrel down the highway with the suspension jacked up to Monster Truck heights. Each height level is governed to a certain velocity for safety and efficiency. Max height, for instance, only remains until you surpass 22 miles an hour. Under body skid plates are in place to guard against unwanted rock incidents, while the front bumper receives a 1.45-inch tuck to allow for a greater approach angles vs. the A6 Avant. The black plastic does give it a more rough and tumble look; but it detracts from the elegance of the Audi shape. That detail has been amended for '05. High performance 18" tires make for excellent road adhesion, but will only withstand so much corn stubble before they show signs of protest. The 5-spoke wheels that were mounted on our car were among Audi's least appealing (and that is the nicest way I can put Executive Editor Dye's actual comment). The bright metallic trim, clear Xenon headlamps and dual chrome tipped exhaust helped to further dress up the allroad's already graceful lines.
     If you think the exterior is tricked out, just step inside for the real treats. The interior is typical Audi when it comes to the clean dash layout and elegant touches of wood and metal accents with features abundant. Sure you have your standard dual-zone and automatic climate controls and your multi-memory multi-adjustable two-tone leather seating with lumbar support. And don't forget your leather covered and powered everything else. But those are just the standard fare goodies. Our allroad came equipped with Audi's navigation system, the infotainment package (including a spectacular Bose stereo, Sirius satellite radio, and Onstar), and the premium package (sunroof and auto dimming mirrors with compass). The navigation system was logically located in the typical line of sight next to the tach and speedo, but it is among the least user friendly being limited to text directions sans any graphics. Both warm and cold packages were selected on the options sheet. Heated front and rear seats and steering wheel takes the chill off a cold night while a solar panel sunroof powers the fans to keep the inside cool and comfortable on a hot sunny day. If you use both of these packages in one day, you probably live in Michigan. I grew especially fond of the heated steering wheel. We found the cockpit of the allroad a very comfortable place in which we could roll away the miles. Among the log book comments were notes about the easy to use and logically laid out, though, ultimately, aged look of the instrument panel. Especially true after seeing what Audi has done with the recently released 2005 A6.
     With all that the allroad came equipped with, it is hard to comment on everything. We can comment that all those extras add up when it comes time to cut the check. With side air bags, a rear parking sensor, and tire pressure monitoring system, the total comes to $7910 in options and delivery charges, or a grand total of $54,860. That's a pretty steep figure for a glorified station wagon. Although when considering what this Audi can do and the equipment that comes with it, we can truly say that you get what you pay for. All in all, we were pleased with our hard worked test mule and would gladly welcome an allroad into the AT garage anytime.
The Good:
High equipment level, refined chassis, trick suspension.
 
The Bad:
Aged design, black plastic.
 
The Verdict:
A pleasing vehicle that could benefit from an update.