2004 Buick Rainier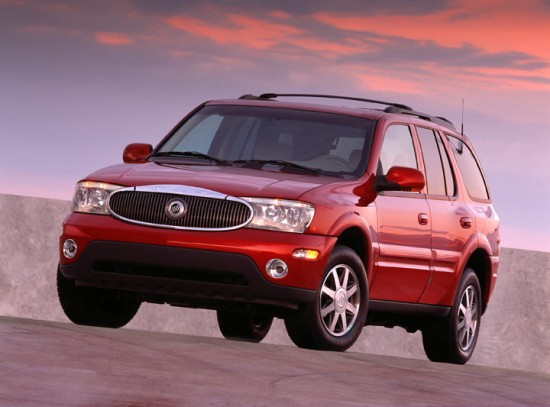 Like a son discovering his father's liquor cabinet, Buick has gotten a taste of the lucrative SUV market and like all other automakers who tip the SUV bottle, it has become addicted. So in an attempt to satisfy it's craving for more customers and the all-mighty dollar, Buick will add a second SUV, called Rainier, to its lineup for the 2004 model year. In its previous life, the '04 Rainier was known as the '02 Bravada. When the General decided to kill one of it's own and sent Oldsmobile packing, the all new and class leading Bravada was put up for adoption.
     Buick stood awaiting, arms open wide, designers sharpening their pencils, and bean counters shouting, "Oh happy day!" And so began the process of redesigning the short-lived Bravada into a proper Rendezvous stable mate. The Rainier is a full-frame SUV, based on the same sturdy, hydroformed chassis as the Trailblazer and Envoy. Body stiffness measures a full 23 Hz, a world class number matched only by a few automobiles and more than 25 percent better than other vehicles in the midsize ute category. A low wind noise reading of 30.5 dB is comparable to upper crust luxury sedans. The Rainier's suspension is independent up front and the rear rides on a five-link, electronically controlled air suspension. Sensors control an onboard compressor, keeping the Rainier level under all load conditions. Attractive 17″ eight-spoke wheels are wrapped in P255/60R17 Michelin tires and a full size spare is standard equipment.
     Under the hood is the award-winning all-aluminum Vortec 4200 I6, bumped up 5 horsepower over its 270hp rating in the Envoy and Trailblazer to 275hp and 275 lb-ft of torque. However, as an exclusive on the short wheelbase midsize utes, the Rainier can be optioned with the Vortec 5300 V8. The eight cylinder delivers 285hp and 325 lb-ft of torque. Unless you need the extra 50 pounds of torque to handle everyday towing, stay with the mighty fine straight six and save big at the pumps. There is one transmission, regardless of which engine you choose, and it's the same 4L60-E used in every other GM SUV.
     In this application it is geared with the 4.10 axle giving the Rainier a maximum towing capacity of 6,300 lbs in two wheel drive guise or 6,200 lbs with all-wheel drive. Buick says that even with the on-demand all-wheel drive system, "Rainier is primarily designed for the street and highway, it is very capable on a Class III Trail, i.e. an unpaved, two-track road or comparable off-road conditions." So rest easy that your Rainier will get you to the local greenhouse and through some of the white stuff, but leave the Rubicon to your Hummer.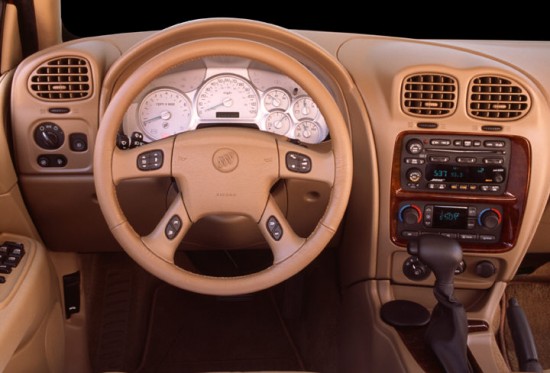 Buick has moved the interior even more upscale with attractive, Rendezvous-esque gauges. Dark walnut woodgrain trim is used sparingly on the dash and doors. Power seats and lumbar are standard and memory and heated seats are optional. Adjustable foot pedals are also available to accommodate vertically challenged drivers. A tailored Bose premium sound system is available and promises great sound. The press kit mentions an available navigation system that will be DVD-based and use a display screen. No more details were available about the system at this time.
     The Buick Rainier matches up nicely with the style set by the Rendezvous. The grille is inspired by the famous "Y-Job" and looks adequately upscale set between attractive, heavily jeweled headlights and beautiful round fog lights set wide in the bumper. The rear is simply attractive and blends nicely into creating a "stylish, contemporary look with bold, expressive lines". As Roger Adams, Buick's general manager said, "With Rainer and Rendezvous, Buick showrooms will be must-stop shopping for owners who desire vehicles that deliver power and versatility in a stylish package." The Rainier looks nice, has plenty of power, is full of luxury, will get you through most foul conditions and won't set you back more than $40 grand. It's a good bet the Rainier will sell well, adding hefty profits and customers to the Buick brand. Now wouldn't the Aurora make a nice Buick?