2004 Infiniti G35x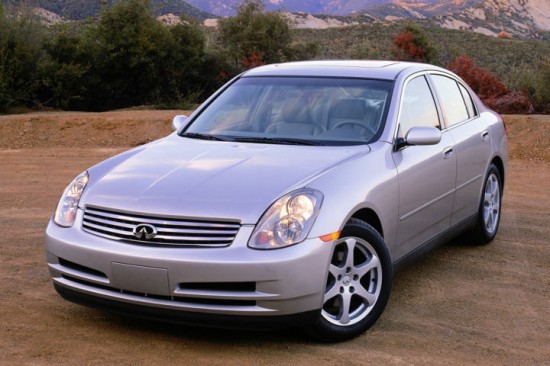 In a move that imitates expensive German sports sedans, Infiniti added an all-wheel drive model to its G35 lineup for 2004.
     At first glance, it seems odd to add the weight of an AWD system to a performance-oriented sports sedan like the G35, but the system has a couple of major advantages. First, it helps in low-traction situations, like on icy or wet roads. Second, it offers very neutral, predictable handling in corners, something all Andretti wannabes should love.
     But even more important than the practical aspects of AWD — at least from a corporate standpoint — is its effect as a status symbol, something that becomes obvious when driving on the hot, dry streets of suburban Dallas.
     Streets in the trendy suburbs are filled with European cars equipped with AWD systems, including Audi's Quattro, Volkswagen's 4Motion, Mercedes' 4Matic, and BMW's X-Drive. It appears to be the elusive "next big thing," and Infiniti knew it had to offer AWD to remain in the same elite category as the German supersedans.
     While it's silly to see so many all-wheel-drive vehicles in a place that rarely sees its roads dusted with ice, it's the same reason you see mall parking lots packed full of four-wheel-drive SUVs. Nobody needs an SUV to get to Sears, but people buy them anyway because they feel safe and look cool.
     That's the appeal of the AWD G35.
     With a special badge that denotes it the G35x, this fast, luxurious sedan feels safe and well planted on the road, even during rainstorms. It also looks the part with a sleek, clean, almost European style that includes subtle chrome emblems for the Jonses to envy.
     Aside from its wonderfully neutral handling and ungodly amount of grip — features better suited to the racetrack than city streets — the G35x drives just like the plain ol' G35. That's a good thing.
     It shares the G35's awe-inspiring 3.5-liter V6 engine, which happens to be the same V6 Nissan uses in its impressive 350Z sports car. It feels smooth and refined — much more so than in the raw, noisy 350Z — yet it still makes a brawny 260 horsepower and 260 foot-pounds of torque.
     All that power is routed through your choice of a five-speed automatic transmission or a six-speed manual gearbox. Although the automatic variety makes flawless, buttery smooth shifts, serious performance enthusiasts should pick the six-speed version that allows for more invigorating drives down twisty roads.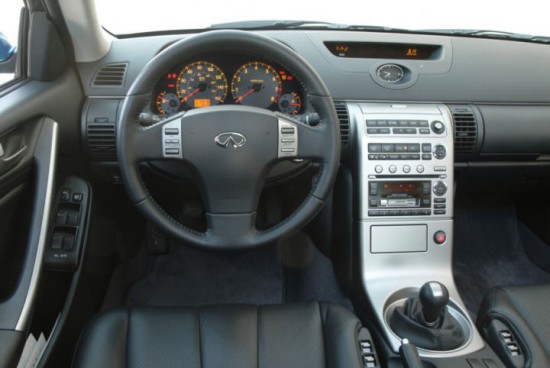 Inside, all G35s have a comfortable, high quality, well-designed interior. Seats are supportive enough for aggressive driving and comfy enough for long highway cruises, and the cabin materials are second to none — at least at this price range.
     And the G35's price is notable compared to the European competition. It comes close to matching the fast-yet-refined feel of a BMW or the solid, luxurious feel of an Audi, yet its price is thousands less.
     The standard two-wheel-drive G35 sedan starts under $28,000, or not much more than a well-equipped Nissan Maxima. The all-wheel-drive G35 sedan starts a hair under $32,000, which includes leather seats and a long list of luxurious amenities.
     Some noteworthy options include a navigation system for $2,000, a sport-tuned suspension for $425, an incredible Bose stereo system for $900, and your choice of XM or Sirius satellite radio for $400.
     Overall, the G35 sedan is an attractive buy. It has a tight driving feel, enough performance to terrify your grandma, and an athletic style that turns heads. The addition of all-wheel drive just steals more of the Europeans' pride.