2004 Nissan Armada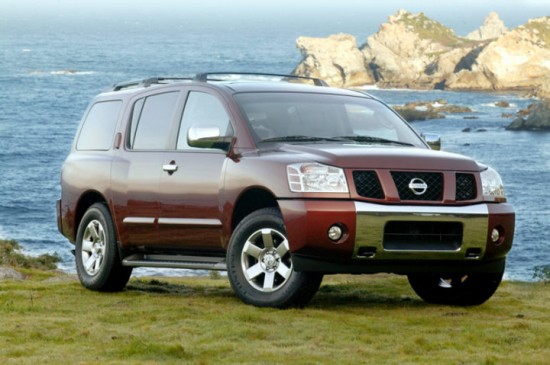 The Spanish were an ambitious bunch, at least in the 16th century.
     That's when King Phillip II ordered 30,000 people onto 130 warships to create what he called an "invincible armada," the most powerful naval fleet in the world. It set sail in 1588 to invade and conquer England.
     It turns out the armada never met Phil's lofty expectations, as barely half the fleet returned home after being ripped apart by Mother Nature and the English navy. Spain was forced to concede the armada wasn't invincible after all.
     So why am I polluting this automotive space with a history lesson? Because a new Armada is invading America, this time launched by Nissan.
     The Armada is a full frontal assault on the American automakers' most fortified region, the full-size SUV market. Its weapons include four-wheel drive, a brawny V8 engine, aggressive styling, and — of course — colossal size. And Nissan is hoping for better results than Spain had against England.
     When you see the Armada, you immediately notice how unbelievably big it looks — probably the same reaction the English had in 1588. It's wide, tall, and long, and its massive stance makes it stand out in a parking lot like a mountain peak in Kansas.
     As you watch an Armada lumber down the road, it's just plain scary. Its aggressive, angry looking front end is as imposing as trucks come, complete with an egg-crate grille and giant swathe of chrome on the bumper. Its side profile is athletic like Barry Bonds and energetic like Richard Simmons to form a combination that looks pretty odd, but you know it's best not to poke fun at it.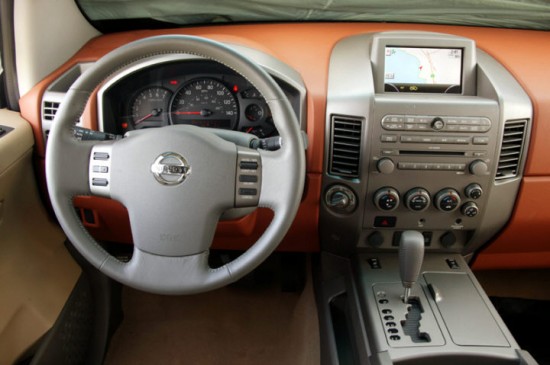 Inside, the Armada is remarkably civilized for a vehicle with such brutish looks. Materials are nice, seats are comfy, controls are well placed, and there's plenty of space to stretch your legs and store your stuff.
     In fact, there's room for eight full-size people. The back seat is the only place that feels cramped, but even that's more comfortable than in the American competition, including the Ford Expedition and Chevy Tahoe. It's still not quite as big as the mammoth Ford Excursion or Chevy Suburban, though.
     Aside from its big size and in-your-face styling, the Armada's greatest strength is its drivetrain. It has a wonderful 5.6-liter, double overhead cam V8 that makes 305 horsepower and 385 foot-pounds of torque. Coupled with a smooth-shifting, five-speed automatic transmission, it's more responsive and accelerates faster than you'd expect in a beast this size.
     The Armada has one obvious weakness: its ride. Despite having an independent rear suspension — a configuration that, when properly designed, can make big SUVs feel almost like regular-size cars — the ride is choppy, bumpy, and bouncy. There's even a hint of chassis flex as the body feels like it's twisting and contorting over rough roads. That's not a good sign.
     Another downside is its cargo capacity — only 97 cubic feet — which is among the worst in its class.
     Thankfully, from a price standpoint, the Armada leans toward the lower end of the full-size SUV spectrum. It starts at $33,300, which is less than the Tahoe, about the same as the Expedition, and more than the Toyota Sequoia.
     So the ultimate question is this: Will the Armada sink like a brick, or will it win the war for American hearts and dollars? On a foreboding note, Nissan's new full-size pickup — the Titan — has a name that's eerily similar to a ship that famously sank after hitting an iceberg.
     No matter the peculiar naming, the Armada's strength has already established a beachhead for an all-out Japanese invasion of American turf by Nissan, Honda and Toyota.
     And, like the British in 1588, Detroit has a good reason to be terrified.