2004 Pontiac GTO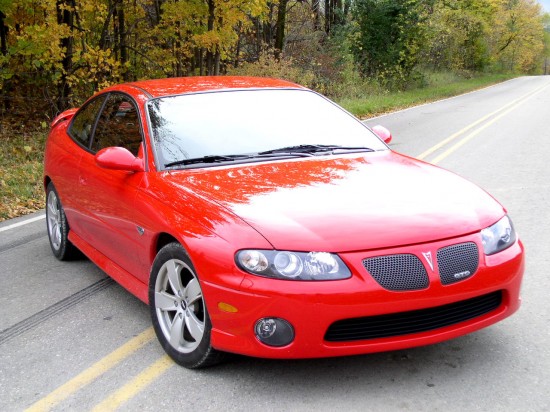 No Style But A Little Substance
     As I stated in my review of the Ford Mustang Mach 1, muscle cars are about two things and two things only. Style and power. Having one without the other is a recipe for poor sales and even poorer reviews from guys like us. General Motors however, was faced with the reality of not having an affordable sports car in its lineup after the retirement of the Camaro and Firebird models. It didn't take Bob Lutz long to realize GM needed to offer some performance, especially in its so-called Driving Excitement division. The most time and cost-effective solution was to borrow the big coupe from Holden, a division of General Motors in the land Down Under. After all, the well-finished 2 + 2 was already powered by the Corvette's small-block V8 and adapting the car to meet some of our stricter regulations would be rather easy. The green light was given to get the car badged as the GTO and on sale in America as soon as possible. Sounds good, right?
     Unfortunately, that plan didn't allow time for significant alterations to the design of the future GTO, which looked about as much like the original Goat as the Michael Jackson of 2004 looked like the King of Pop circa 1984. Sure, they've got the same name, but their reflections are completely different. Unlike Mr. Jackson, however, the GTO's best angle has to be its front. The requisite round foglamps are accounted for, as is a large lower air dam. If we had to complain about something up front it would be the way the hood meets the grille. Especially when viewed from down low there is a noticeably large gap that has always attracted our eye—and not in a good way. In profile the GTO is uninspired with a greenhouse that is too large and virtually no fender flare to set off the 17" alloy wheels. The story out back isn't any better thanks to a flat rear bumper and boring taillights. There is a trunk-mounted wing but not everyone thought it improved the car's look and we were particularly disappointed with the exhaust. This car has a true dual-exhaust system that has been tuned to sound great but ends in pathetic looking tips on one side of the car only. Particularly on a muscle car if you are going to offer a great sounding dual exhaust system at least finish it off right with meaty pipes burbling the V8's deep tune from tips on both sides of the car. The fact of the matter is a car wearing a nameplate that brings with it as much history as these three letters do needs to be a rolling styling statement. On that basis the GTO is an indisputable letdown.
     Fortunately, we're not disappointed with what's under the GTO. Fulfilling the muscle part of muscle car is the 5th-generation Corvette's 5.7-liter LS1 V8. That all-aluminum mill can be counted on for 350 horses and 365lb-ft of torque that flow through either a six-speed manual or 4-speed slushbox. Much to the dismay of everyone at AT our tester came with the latter and along with it a hefty $1,000 gas guzzler tax. You're better off in more ways than one to opt for the $695 manual transmission, which yields much more fun and saves you from the thousand-dollar tax. Fuel economy also improves dramatically with the manual transmission although that isn't saying much with the automatic's rating of 16mpg in the city and 21mpg on the highway. If you do choose to stay with the standard automatic you'll find it handles the power smoothly, but with only four gears to work with engineers are forced to spread the ratios out wider than is ideal. In real world terms that means you get muscle car acceleration in first and second while third and fourth are reserved for low-rpm cruising. Passing requires a quick kick-down to second gear and once there the GTO makes great sounds and terrific time.
     We were satisfied with the GTO's brakes, which were suitably strong despite rotors that aren't overly large by today's sports car standards. Their commendable performance is thanks in part to a 4-channel ABS system on all corners. Traction control is also standard equipment and we felt it intervene several times on wet roads to keep things under control. An all-independent suspension ensures the new GTO can conquer the curves like no GTO before it could. We also enjoyed the steering, which may be a little heavy in the parking lot but provides a solid, confident feel at highway speeds. A 3.46:1 limited-slip rear differential finishes off the mechanical bits to create a package that is a great deal more satisfying than the vehicle's styling.
     Inside it is obvious this car doesn't originate from any domestic GM brand as interior materials are generally above average with soft touch plastics used throughout the cabin. The seats were well-liked by most drivers with the exception of Senior Editor Muxlow who noted that despite their aggressive bolsters he still had a tendency to slide around in aggressive maneuvers. He rightfully offered that this is likely due to him being in possession of a narrower backside than the average American though he argued that the Mazda RX-8's seats managed to fit him just fine. Everyone did agree that the leather used to cover said seats was of much higher quality than what the typical Pontiac uses. The standard stereo is a 200-watt 10 speaker 6-disc Blaupunkt system that came under fire for some ergonomic issues and not particularly impressive sound quality. On paper it looks like this system should be stellar but in this application it was another of the GTO's disappointments. We recommend you keep the stereo off and savor the V8's notes instead.
     At the end of our time with the revived Goat we made several conclusions. First, as enthusiasts we'd rather have a poorly styled 350hp GTO in the lineup than no GTO at all. Second, we are right to criticize the new Pontiac's styling as uninspired. We're not demanding it should be a blatant retro copy of the great GTO's of the past; it simply needs to be aggressive—something that can't be said of the car we drove. Fortunately, we can report GM has made some quick fixes to the look of the 2005 model and added even more power. Those updates should go a long way toward improving our opinion of the GTO and getting more buyers into Pontiac showrooms.
     The bottom line is if you can look past the body panels you'll find a powerful and comfortable $33,495 coupe. Just how many people are willing to do that is a question we can't answer.
The Good:
350hp, makes great noises, strong brakes, well-built.
 
The Bad:
Generic styling, underperforming stereo system, poor fuel economy = $1000 gas guzzler tax.
 
The Verdict:
One of the cheapest ways to 350hp, but not one of the prettiest.