2004 Suzuki XL-7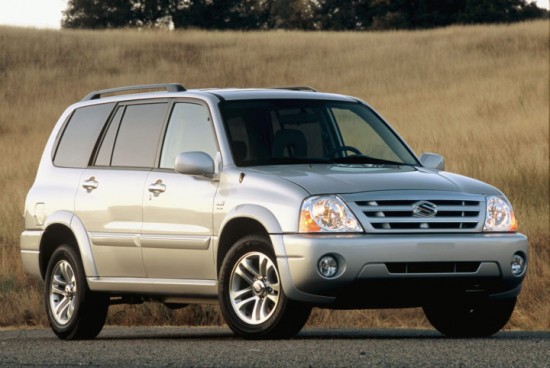 When it comes time to test a low-priced SUV, I've learned not to expect too much. After all, most of them are just overgrown versions of cheap economy cars.
     Suzuki, though, takes a different approach with its inexpensive XL-7. It's basically a small version of a heavy-duty SUV, complete with a rugged suspension, available four-wheel drive, relatively roomy interior, and even a third-row seat for families. It has all the traits that made SUVs popular in America, not only a tough-looking body.
     Starting at $20,099, the XL-7 is priced to compete with the many car-based SUVs for sale today, including the Ford Escape, Honda CRV, Toyota RAV4, Mitsubishi Outlander, and Hyundai Santa Fe. But instead of using car-like construction, the XL-7 rides on a truck frame to give it greater durability for off-road driving than those car-based SUVs can offer.
     This truck-based platform has some major downsides, though, if you plan to use it primarily for driving on pavement.
     First off, it has a rough, bouncy ride that isn't nearly as comfortable as the car-based SUVs it competes with. Hit a pothole, and it feels like it has Pogo sticks for shock absorbers. It's also noisier than most of its competitors, and it feels heavy and cumbersome in city traffic.
     Despite having the road manners of an old pickup, this Suzuki is one of the best off-road bargains around. It has a large amount of interior space for its price range, with more passenger room and cargo volume than the competition. It's also the only SUV in its class to offer a third-row seat.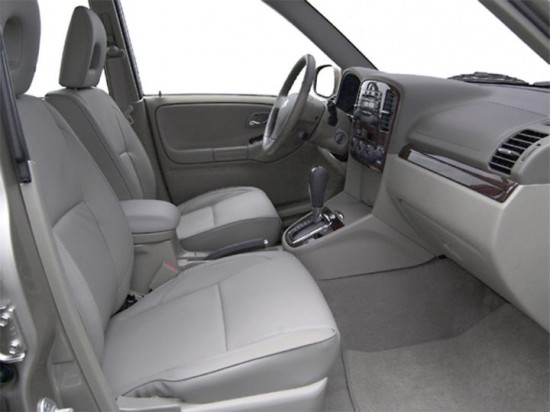 It comes well equipped, too. Standard features include automatic climate control with air filtration, a great seven-speaker stereo with an in-dash CD player, cruise control, keyless entry, and power locks and windows. Thanks to these features — and a redesigned dash for 2004 that includes improved materials — the interior doesn't feel cheap.
     And, if you're worried about the long-term quality of a Suzuki, it comes with a better warranty (seven years, 100,000 miles) than all but one of its competitors. Only the Santa Fe beats its protection with a 10-year, 100,000-mile warranty.
     Not surprisingly, the XL-7 drives a lot like a small pickup truck. It's not particularly responsive to driver input, steering seems a tad sloppy, and it feels top-heavy in corners.
     The XL-7's 2.7-liter, six-cylinder engine makes 185 horsepower and 184 foot-pounds of torque, plenty for comfortable acceleration around town and on the highway. Coupled with a new five-speed automatic transmission, it's a perfect match for the Suzuki's rugged off-road capability.
     Fuel economy is average, with a government rating of 18 miles per gallon in town and 22 on the highway.
     Overall, the XL-7 is a terrific bargain, assuming you need its off-road durability. While the many car-based SUVs have better performance on pavement, none of them can match the Suzuki's spacious interior and rugged performance.