2005 Buick Terraza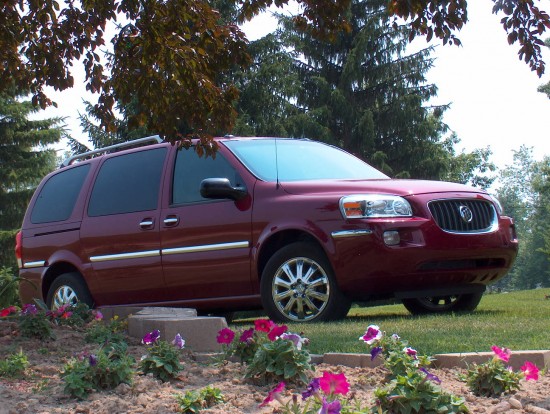 Cross Sport Mini Something-Or-Other
    You know it's bad when even the minivans don't want to be known as minivans. GM is calling these latest renditions, crossover sport vans. No, the minivan segment is seeing nowhere near the booming growth it was in the early 90's. However, this practical method of mobility still has many great functionality purposes. Like it or not, the minivan is still the more economical and practical way for getting the kids to and from soccer practice, much more so than dad's full-size V8 SUV.
     Call me ignorant, but if it looks like a minivan, drives like a minivan, sounds like a minivan, and has sliding doors like a minivan, it is a minivan. Reaching for the Crossover moniker, designers applied an SUV-inspired nose. Let's just say it could use a slight nip and tuck. Most people do a double take but realize right away that it is merely a minivan. However, we did meet a few individuals who had to ask what it was exactly. We feel sorry for those deceived by yet another GM marketing scheme. The four mini-er-sport vans (Pontiac, Saturn, Chevrolet, Buick) are distinguished by little more than unique grilles. Badge engineering at its finest. The Buick does however wear a little extra chrome trim, which dresses things up a bit.
     Where the sport designation comes from is unbeknownst to me, because it certainly isn't from the driving experience. Underhood we find a mere 200 horsepower and 220 lb-ft of torque emitted from the 3.5-liter V6. With 4,479 some odd pounds to drag around, acceleration is relaxed at best. Throttle tip-in is a bit abrupt at first but gets lazy from there. Sole transmission choice is the tried and true 4T65-E 4-speed automatic. A new 6-speed sure would make for a substantial improvement, and is top on our ever-growing wish list. Brake feel is typical GM: squishy and uninspiring. The ride and handling category receives the comfortable checkmark, with high kudos to the Buick being sprung by the aluminum independent rear suspension with air-ride shocks. The other three "sport mid-vans" depend on a lower key torsion axle when powered by front-wheels alone (all-wheel drive models feature independent suspension as well).
     But enough about the metal stuff because we all know that minivans are sold based on what's inside (or rather what will fit inside). Inside we find all seats swathed in Sandstone leather trimmed with brown piping to make for an expensive look—we liked it. The instrument panel is logically laid out and easy on the eyes. Wood trim on the center stack is among the finest seen in mid-level luxury vehicles with a rich, deep color. Even the instrument cluster features a wood background, setting off the chrome-ringed speedo and odometer quite elegantly. Trimmings are pleasant to touch and sight. Standard in all models is a rear DVD system; a big plus for families, or more likely, the grandkids, being this is a Buick (sorry for my stereotypical comments). The player itself is actually installed to the overhead rail system making the rear theater more flexible for 2nd or 3rd row audiences, as well as having the ability to move and shuffle all the other overhead storage bins (including a first aid kit). We also liked the large play/pause button on the overhead unit that allows parental control of the back seat entertainment. Both sets of bucket seats feature a tilting tray table between the seats, each featuring four additional cupholders, because we all know you can never have enough cupholders in a minivan. And I personally verified that all seats were at least moderately comfortable, with increasing levels of goodness as you progress towards the bow. Besides, with that DVD player going you won't hear the kids complain until the movie is over, or until little Johnny has decided that he has had too much of the refreshments. Our time with the Terraza included set-up and tear down of a graduation open house. While the hauling around of massive amounts of miscellaneous stuff would have been better suited to a pickup, we popped the hatch, dropped the seats and filled her up anyways. Just aft of the rear seats are two large under floor storage bins sectioned into four to keep smaller items from jostling about. Fold the 3rd seat forward and it lays level with the bin lids. From there you have the backbreaking choice of removing the second seats, or just sliding them forward and folding them over. They don't lay flat with anything, but it beats removing the heavy buggers. Entry and exit is a breeze with the power sliding side doors, each of which is controllable by the keyfob. Our tester seemed to have a gremlin in the passenger side door however, because it would make noises but most often decide that you really didn't want to open that door. The rear liftgate seemed a touch hefty pulling down, perhaps a spring loaded torsion bar or even a power rear liftgate feature like on other minis would amend things.
     There is a lot to like about the GM sport mid-vans, still other things leave you scratching your head. The big head scratcher is the bloated nose. You certainly can't tell me it aids aerodynamics. If you live in a northern region, the availability of all-wheel drive is welcome for drivers unaccustomed to the slushy stuff. There are those who might appreciate the ability to create a truly flat load floor, like in the Chrysler minivans with the Stow-and-Go seating (and notice they don't call their minivans by funny names). Oh, and the compass and the temperature readouts were about as reliable as the cable guy. We traveled east for more than an hour with the compass saying north without realizing it. Fortunately, our farmer instincts kicked in and overruled the errant electronics.
     All in all, the Terraza had quite a bit to offer at a base price of $31,170. Ours stickered for $33,035 with the addition of chrome wheels ($650), XM radio ($325), and the most useful of all optional equipment: remote start, the best $175 you can spend. Once past the nose, the Terazza is easy to live with, has a lot to offer, and is always a comfortable cruiser. It won't beat the content levels or flexibility of the Chrysler and Japanese minivans, but then again, this isn't a minivan.
The Good:
Independent rear suspension, standard DVD entertainment system.
 
The Bad:
Big ugly square nose, 2nd row seats really heavy.
 
The Verdict:
Slight case of mistaken identity, but still a decent minivan.