2005 Chevrolet Cobalt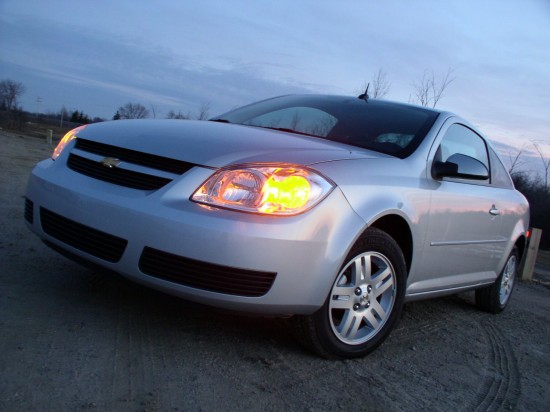 Chevy Finally Gets On The Small Car Radar

     It's news to no one that Chevy's Cavalier hasn't been a class leader since, well, never. It's always been rough, underpowered, uncomfortable and devoid of style. The only way Chevy was able to move so many was to keep its sticker price low and fuel economy high. But times change and now even the most basic new cars offer comfortable seats and decent stereos. Some, like the Mazda3, are even great looking. Bob Lutz and the leadership of Chevrolet knew their next small car had to offer more than the Cavalier ever could if they wanted buyers back in GM showrooms without baiting them with thousands of dollars in incentives. To that end, a new platform, dubbed Delta, was used and lofty goals were set for the Cobalt. We recently spent time in both the sedan and coupe versions and are happy to report that the Cobalt is no Cavalier.
     This is immediately evident by the look of both body styles. Despite testing mid-level LS models nothing screamed "cheap car!" thanks in part to body-colored trim such as mirror housings and door pulls. The coupe, especially, is clean, contemporary and the Corvette-esque tail lamps are a refreshing departure from the sedan's generic units. Other than that element, both cars don't stray far from the safe road so there's nothing to offend anyone. If you want flashy styling then Chevy will be happy to sell you the SS Supercharged coupe featuring bigger wheels, ground-effects and a spoiler. But they know most Cobalt customers will be happy to keep the flash factor to a minimum.
     With the obvious exception of the SS Supercharged coupe all Cobalts derive motivation from a 2.2-liter DOHC I4. The Ecotech 16-valve engine idles smoothly but can get buzzy in the mid to upper range of the tach. Power is pegged at 145hp and 155lb-ft of torque, which is not bad for this class. Our sedan had the standard Getrag 5-speed manual that won praise for its slick action and vibration-free operation. The clutch take-up point is a little too high for our tastes but smooth shifting is the norm, and besides being more fun, it nets improved fuel economy too (25/34 vs. 24/32 in the automatic car). The coupe was equipped with an $850 4-speed automatic for those who face a lot of city traffic and it does an admirable job but with the aforementioned economy pentalty. Most small four-cylinder cars need to be revved like a weedwacker to get decent acceleration but the Ecotech feels fairly torquey everywhere, even at more relaxed rpms.
      There's more good news when it comes to the rest of the mechanicals as well. The brakes feel strong through the pedal with good modulation and no dead spot in the beginning of the travel like can be found on some small cars. It also doesn't hurt that the front discs and rear drums are only required to haul down about 2,900 pounds. ABS is standard on all but the base model but if that should fail to save you from catastrophe, side head-curtain airbags are a $395 option. Elsewhere, electric power steering surprises and actually feels naturally hefty and directly connected to something. This usually isn't the case when engineers try to "tune" the steering by writing lines of computer code but here it works pretty well. GM says it actually has specifically tuned steering to match each of the available tire/wheel choices—an upside over traditional hydraulic systems. The Delta architecture mentioned earlier provides a strong base for the Cobalt. Tight body panel tolerances are a result of such a sturdy platform and vibrations are kept to a minimum while Quiet Steel and a few other expensive tricks keep the Cobalt interior surprisingly quiet. Our sedan tester had a little bit of wind noise around the B-pillar but engine and road noise is great for this class and there was not a vibration or rattle to be heard, even over some of Michigan's Third-World-like roads. The Cobalt's ride was another area deserving of our praise. The strut front suspension and twist beam rear axle sound low-tech but they do the trick remarkably well.
     The same could be said of the Cobalt's interior, which fairs remarkably well against the critical AT eye. A/C and CD stereo are standard features on our LS testers. Add in a few options like XM satellite radio for $325 and the upgraded Pioneer 7-speaker audio system for another $150 and the cabin becomes downright enjoyable. The coupe featured an upscale fabric for the seats whereas the sedan had optional leather but both cars' chairs were comfortable with good bolsters to hold passengers tight. Praise was shed on the highly legible gauges and the upscale metal trim around the cabin. The stereo and HAVAC controls, like everything else in the interior, are a model of ergonomics with large well-marked buttons and a logical layout. The cubholders are a little shallow for today's fast-food beverages and there's no center counsel in the manual cars so your elbows continually look in vain for a place to rest but those are minor quibbles at best.
     All you really need to know is that the Cobalt is near the head of the class in every respect with quality fit and finish and decent materials to boot. On top of that, the as-tested price for our coupe was $18,900 and our sedan rang up at $18,895. That's with several thousand dollars in options that you may or may not need. For the most part the Cobalt achieves its goals and Chevy finally has a small car that deserves a look.
The Good:
Stiff structure, smooth ride, good stereo and electric power steering that works!
 
The Bad:
Incredibly small trunk opening, and shallow cupholders.
 
The Verdict:
Chevy finally gets serious about small cars and builds a good one.