2005 Chrysler PT Cruiser Convertible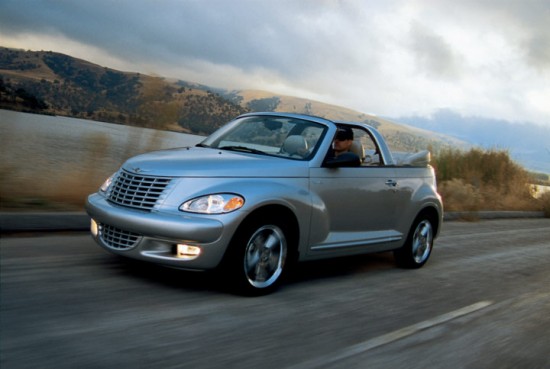 I love the magic of convertibles.
     When you drop the top and start the engine, they delightfully make you forget about things like mortgage payments, jerks at work, leaky faucets, and the IRS. Convertibles are designed for fun — nothing more, nothing less.
     So when Chrysler delivered a ragtop version of its oh-so-practical PT Cruiser for a test-drive, I was left scratching my head.
     As expected, it had a soft top that folded down with the push of a button, plus the PT's famous retro-styled front end. But at the same time, it looked oddly like a minivan with a square roof, lots of headroom, and a big cargo area behind the fairly roomy back seat. It's stylish, I thought, but how could something that looks like a drop-top delivery van be any fun to drive?
     Easy. Give it a turbocharger, a manual transmission, and a bright purple paint job.
     With this setup, it turns out the ragtop PT was almost as much fun to drive as a two-seater sports car, just not in a squeal-the-tires-and-race-through-traffic kind of way. Instead, it was the kind of fun where you put on James Dean sunglasses, smile real big, and slowly cruise around town to see how many heads you can turn.
     But this Cruiser doesn't just turn heads. It could strain every neck at a chiropractic convention.
     It looks truly stunning, especially with the top down, where it shows the undeniable influence of classic American hot rods. The front end is identical to the hardtop PT's, but everything from the windshield back is new to allow for a two-door body and space for the big top to fold away.
     Overall, it has a more friendly, youthful personality than a standard four-door Cruiser. And it gets much more attention.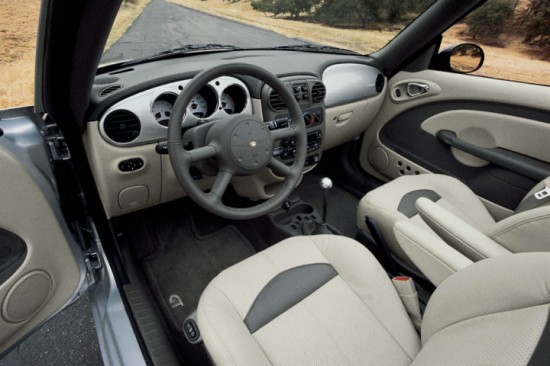 Unlike most attention-getting convertibles, though, the PT Cruiser is fairly practical. The front seats are very roomy, and even the back seat has a surprising amount of space. The rear cargo area is big enough for most uses, but it can be a pain to load and unload because the rear hatch opens straight back, blocking your access.
     If you like the PT convertible for its style and practicality — and those are great reasons to like it — then you'd be perfectly happy with the base drop-top model with a $19,995 sticker price.
     That's no typo. Less than $20 grand will buy you a convertible Cruiser that gets more attention than some Ferraris. Of course, the base model comes with a relatively wimpy 2.4-liter engine that makes 150 horsepower, barely enough for the portly PT when you choose an automatic transmission.
     If you're willing to pay a little more and want some extra performance, a turbocharger can boost horsepower to 180 with the 2.4-liter engine. But the ultimate Cruiser is the GT model with its high-output, 220-horsepower engine and a starting price around $28,000.
     The test Cruiser, a GT version with a five-speed gearbox, was more than just fast. It was a rocket capable of spinning its tires at will and embarrassing teenage boys when stoplights turned green.
     Nobody needs a PT Cruiser that fast, but it sure is fun. And, in this car's case, fun doesn't have to come with the unwelcome baggage of impracticality.