2005 Chrysler Town & Country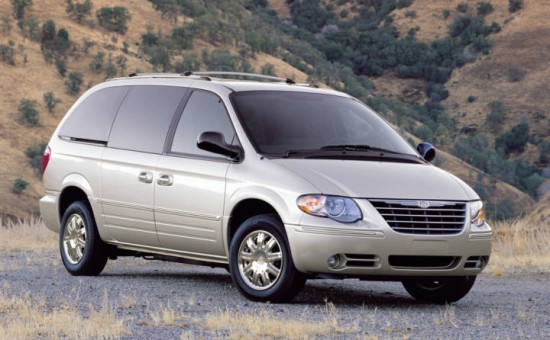 With the way minivans have improved in the past 20 years, it's amazing you don't see more of them on the road.
     Case in point: The 2005 Chrysler Town & Country.
     Far from a breadbox on wheels — as the original Chrysler minivans felt like — the Town & Country provides one of the most comfortable and convenient ways to haul a family around town or across the country. Sure, you might hear a few "soccer mom" jokes along the way, but you can't argue with the sheer practicality that this minivan offers.
     The basic minivan concept is pretty practical to begin with, but Chrysler takes it a step further on its all-new vans for 2005. Leading the long list of improvements is a new seating system called "Stow 'n Go."
     Instead of simply allowing the back seats to fold forward for extra storage space like most minivans do, all 2005 Chrysler and Dodge minivans offer seats that disappear into the floor. Deep wells under each seat let you fold them down in a few easy steps, leaving a totally flat cargo area without having to lift out any seats.
     With all the back seats folded flat, there's more cargo volume available (160 cubic feet) than in any sport utility vehicle, even Chevy's giant Suburban. It's impressive.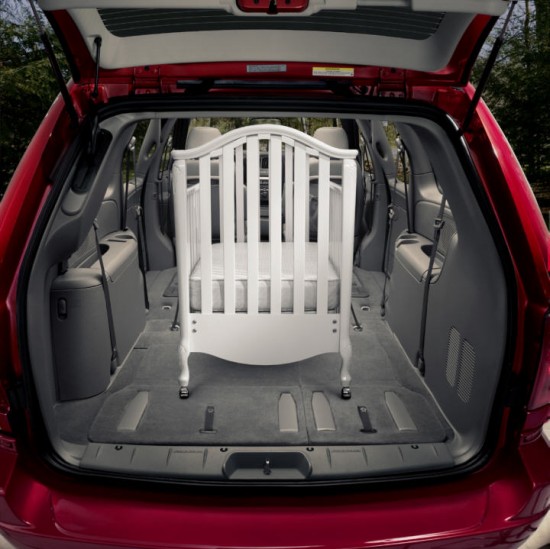 When the seats aren't folded into the floor, you can use the extra space to store things. And, as any parent who's been on a family road trip knows, a little extra space for diapers can be more valuable than a truckload of Dasani in the middle of the Sahara.
     In addition to the way-cool disappearing seats, the 2005 Town & Country is significantly quieter and more refined than the model it replaces. Chrysler spent $40 million to reduce noise, vibration and harshness — all the enemies of highway comfort — and the company claims a 16 percent reduction in interior noise as a result.
     After a week behind the wheel of this all-new van, I can say the investment paid off handsomely. Warren Buffet would be proud.
     Even at highway speed, there is relatively little wind or road noise. You can drive 70 miles per hour beside an 18-wheeler and still carry on a conversation with a back-seat passenger.
     The ride is also soft and smooth, though it can be a little bouncy over dips and bumps in the road. Honda's much-praised minivan, the Odyssey, offers a more taut, controlled ride in comparison.
     And, while nobody buys a minivan for performance, the Town & Country's acceleration doesn't disappoint. Whether you choose the 3.3-liter V6 or the bigger 3.8-liter version, both provide adequate power for pulling the loaded van around town. They make 180 and 215 horsepower respectively.
     Interior quality doesn't feel quite as high as that of its Japanese competition, most notably the aging Odyssey and Toyota's redesigned Sienna. Both the Honda and Toyota seem to have interiors that are screwed together slightly better, but it's not a huge difference. The Town & Country more closely matches the quality of the new Ford Freestar minivan, but the Chrysler's more versatile cabin makes it a winner over the Ford.
     The Cargazing test vehicle was a loaded Limited version with enough gadgets to make it seem more like a luxury car than a minivan. It had dual power sliding doors, power rear liftgate, DVD player, a fancy stereo system, and a navigation system.
     All those features seemed well-designed and convenient, except for the navigation system. It's one of the worst on the market, with a small screen that's mounted too low on the dash and tiny buttons that make it a pain to operate. It was totally disappointing.
     In terms of styling, the Chrysler is classy but still pretty dull. It's better looking than the ugly Freestar and boxy Odyssey, but it's not as expressive and interesting as the Nissan Quest. Then again, who buys a minivan for style?
     People do buy a minivan for the price, though, and this Chrysler doesn't disappoint. The Town & Country and its Dodge Caravan sibling have sticker prices that average $3,000 less than the models they replace. Considering how many new features they have, that's no small feat.
     In fact, with all the great new minivans on the market — not only from Chrysler, but also Ford, Toyota, Nissan and others — don't be surprised to see a resurgence in minivan popularity as America's long-lasting SUV craze drops from a boil to a simmer.
     That won't be good for automotive style, but it sure will make some happy families