2005 Ford Five Hundred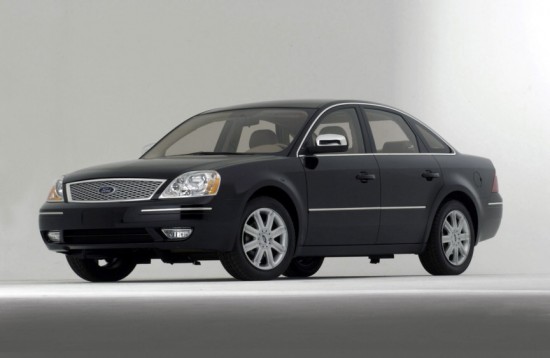 I had high expectations when I stepped inside the Ford Five Hundred, especially after seeing the hot GT and the sexy new Mustang. They prove Ford still knows how to make cars sizzle.
     This big sedan, though, left me feeling lukewarm after a week behind the wheel. It's not a bad car — certainly an improvement over the stale Taurus — but it lacks the pizzazz Chrysler has created with its 300C masterpiece.
     Sadly, it could have been so much better.
     Start with the styling. While the original Five Hundred concept was edgy, angular, muscular and all-American, by the time it arrived at Ford dealerships in fall of 2004 it had been watered down to look far too similar to the bulbous Taurus. It looks OK — maybe even slightly better than average for a family sedan — but it lacks the real head-turning appeal of the concept.
     Second, there's the way it drives. It's competent, sure enough, with a quiet cabin and smooth ride, but Ford seems to have sapped every last bit of fun from this car. The connection between driver and road feels rubbery, slightly sloppy and vague.
     The engine doesn't help matters, either. Ford only offers a 3.0-liter V6 called the Duratec 30, which gets good gas mileage but provides merely adequate acceleration for the hefty car. It never feels unsafe, but it lacks the reassuring oomph that big sedans ought to have. A strong V8 would go a long way toward solving the Five Hundred's lame driving feel.
     But enough about the downsides. If you want a good, solid, middle-of-the-road car at a great price, the Five Hundred could be perfect for you.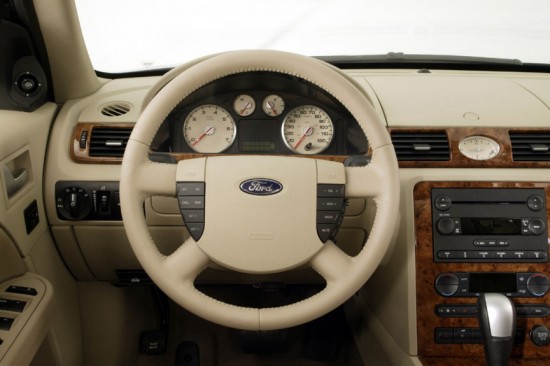 Ford's original concept is brilliant: to combine the best attributes of a crossover SUV — interior space, cargo room, all-wheel drive, and a tall driving position — with the styling of a classic American sedan. From a practical standpoint, that makes the Five Hundred one of the best sedans around.
     Back-seat passengers will fall in love with this car. It has big, wide doors that swing open to reveal more rear legroom than a Rolls-Royce Phantom. No joke.
     If you like going on long road trips or have a reason to haul eight golf bags (like, say, you're a caddy for octuplets), you'll love this car's huge trunk. It's probably the biggest trunk on the road.
     Finally, if you like the all-wheel drive and high seating position of an SUV, this is your car. It's like a Ford Escape without the militarized styling, with seats four inches higher than in an average midsize sedan.
     These SUV pretensions extend to safety, including standard anti-lock brakes, standard (on AWD models) stability control, optional side canopy and side airbags, and energy-absorbing construction designed to crumple in crashes. Ford used Volvo's expertise in developing many of these safety systems.
     Best of all, with a base price of just over $22,000, the Five Hundred offers a lot more car than the Taurus for only slightly more money. It's a steal, considering its big size and standard equipment.
     Overall, it's clear that the Five Hundred isn't as good as it could have been. A V8 engine and better styling would have made it a knockout on par with the Mustang and exotic GT.