2005 Ford Mustang Convertible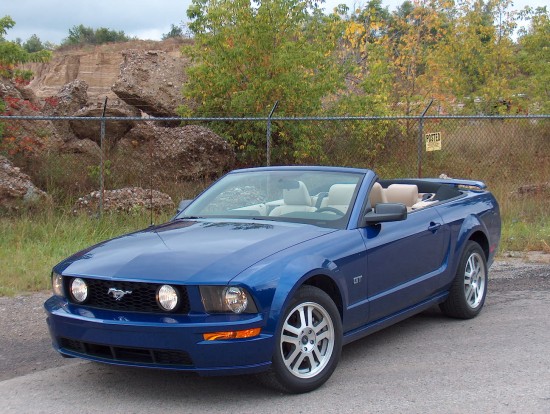 Making It Even Easier To Hear That Sound
    When we reviewed the Mustang coupe this past summer, we told you one of its best features was "that sound". More specifically, the unabashed noise that pours from the stainless steel dual exhaust every time you step on it, and makes you question aloud how this thing could not be breaking every noise law in the book. It's the sound of power. And now that we have driven the drop-top 'Stang, we can report one thing with utter certainty: power has never sounded better. It's true, our convertible tester's voice was slightly less brazen than our pre-production coupe's, but its V8 answered plenty loud and you can be assured that when cruising town on a perfect summer night there'll be a lot of eyes on you. And it's in that same scenario that you'll notice something else too; the new Mustang convertible is pretty good.
     There's something seriously wrong if the first thing you talk about in regards to a muscle car is something other than the engine. It's the piece that makes or breaks the muscle car puzzle. Not to worry, Ford has installed a 300hp gem under the creased hood of every new Mustang GT. It's a specially tuned version of the SOHC 3-valve 4.6-liter corporate V8. In Mustang spec it is fitted with variable cam timing and twists the rear tires to the tune of 320 lb-ft of torque at only 4,500rpm. The engine itself revs smoothly and fairly quickly, thanks to the comparatively small displacement. The sound, as we've already alluded to, is among the best exhaust notes in production.
     For the first time the Mustang is available with a 5-speed automatic but muscle cars should be raw and simple and so we highly recommend the standard 5-speed manual. The Tremec unit is greatly improved over those in any previous generation Mustang (for one thing, the stubby shifter falls easily to hand) and rewards drivers with satisfyingly short throws. There's a heavily mechanical feel to the shift action and it feels entirely appropriate for a Mustang. The combination of this engine and transmission make for plentiful grinning on country roads thanks to superbly spaced gear ratios and what feels like an especially strong 300 horses. There's power in every gear, just as it should be in the last of the pony cars. Our convertible tester ran plenty strong with only a minimal performance penalty compared to the coupe and is rated to return 17/25 city/highway miles per gallon.
     Ford says that 175 pounds were added to the convertible in an attempt to stiffen things up appropriately. Compared to other convertibles at this price point and especially Ford's own Thunderbird, the chassis is commendably stiff. There's still some detectable cowl shake but for an open 4-passenger car it's not terribly distracting. The stiff structure let Ford tune the convertible's chassis closer to the coupe's than is normally possible. This means the convertible exhibits the same sharp turn-in and controlled body motions as the coupe we liked so well earlier this year.
     Our tester has the same 17" bright machined aluminum wheels that we didn't like on the coupe. Fortunately, Ford has improved the wheel and tire choices a bit on '06 models and made 18" designs available. Good brake pedal feel makes for natural modulation and thanks to twin-piston calipers riding on 12.4-inch discs up front, stops are short and drama free.
     We'll continue to praise the Mustang interior designers for a look that hits all the right heritage notes. The $450 interior upgrade package is a must although aluminum pedals would be cool. Some staffers preferred the more serious look of an all-black interior, but the medium parchment leather against the black dash top and aluminum trim made for an upscale appearance. Since our car was a Premium model a lot of goodies are already included, such as leather and a 6-disc in-dash stereo, but on top of that some additional options were added. The $1295 Shaker 1000 audio system is something we can't get behind. The huge subwoofer eats up a lot of trunk space, which is already at a premium in a convertible, and it didn't sound much better to our ears than the standard 500-watt Shaker 500 system. Front seat airbags are a nice safety upgrade for $370. Back seat space is about what you'd expect. It's there if you need it. We'd love to see the emergency brake handle leather wrapped since the plastic and rubber currently in use screams cheap. Otherwise, the interior is ergonomically and materially sound.
     The convertible top folds easily enough thanks to the power mechanism that takes over once you've unlatched the two windshield header latches. There's an optional $115 convertible boot cover that takes a few minutes to install properly if you're doing it solo but once on it looks pretty good. Ford took great care to improve the sealing and installed a large glass rear window for improved rearward visibility. There are small rear quarter windows also, so instead of a blindspot that could hide a Greyhound, they'll only hide a Geo.
     The new Mustang has received almost universal praise, and the convertible, at $33,905, deserves more of the same. The window sticker proudly advertises in bold letters, "Best-Selling Car in Its Class 18 Years Running". Smart money is on another 18.
The Good:
Retro-good looks, great noises, fast, fun and affordable.
 
The Bad:
Uninspired and undersized wheel designs, vinyl top.
 
The Verdict:
Put the top down and enjoy.