2005 HUMMER H2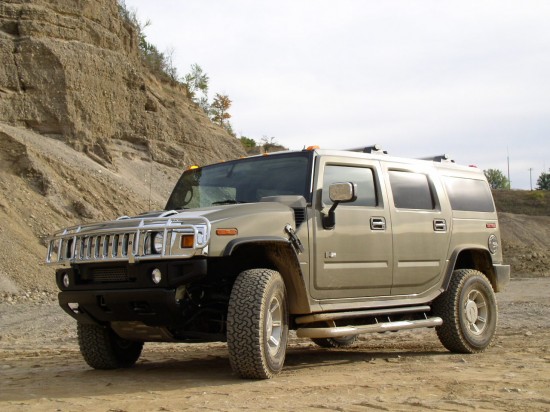 I Never Thought A $60,000 Brick-On-Wheels Could Be So Cool
    There are few things that can increase your "coolness" factor as much as driving a Hummer. Wearing P. Diddy's bling bling while having Heidi Klum draped on your arm might come close but to gain true "King of the Scene" status from your peers you need to arrive in the latest and greatest plaything of the rich and famous. For the last several years that has been the Hummer H2; the more civilized brother to the Hummer H1, which is itself, just a civilized version of the Humvee used to move troops in and out of harm's way around the world. It may not be the prettiest thing in the world but it's sure to get you recognized. If that's what you want then read no further because the H2 is your ride. If, however, you are interested in how this brute rides, drives, stops, and goes then you'll want to keep reading.
     The simple answer is it rides, drives, stops and goes better than you would expect. Admittedly, performance expectations for a SUV weighing more than three tons are pretty low, but the H2 holds up well even when compared to the other behemoths on the market. Thanks to a softly sprung independent front torsion bar suspension and 5-link coil spring setup at the rear, as well as gigantic LT315/70R tires, most irregularities are filtered out before they are allowed to crimp any passengers' style. We sought out every type of brutal terrain we could find during our time with the H2, from hay fields and gravel pits to the nastiest of them all—Michigan highways. The Hummer took them all in stride without uttering so much as a creak or rattle. Even more impressive when you notice that hard black plastic is the interior material of choice. Of course our test vehicle was fresh off the line but we wonder if the cabin will remain as rattle-free after 30,000 miles. Perhaps we're just pessimists.
     A sturdy foundation is necessary if serious off-road capability is going to be an H2 selling point, and as with anything wearing the Hummer name—it is. With the H2 it starts with the 3-piece ladder frame that utilizes multiple hydroformed pieces and continues to an electronic locking rear differential as well as an electronic transfer case. The two-speed Borg-Warner full-time four-wheel drive system puts the engine's power through a sophisticated traction control system that will allow for just the right amount of wheel spin to master loose terrain such as sand. The four-channel ABS system is also programmed for the challenges of off-road driving. For instance, when executing a sudden stop on sand or gravel you actually want the vehicle's wheels to lock-up because that creates ruts with growing mounds of sand in front of each wheel, effectively stopping the vehicle in a shorter distance. A standard ABS system would prevent wheel lock-up and essentially increase stopping distances. When it comes to off-road know-how, Hummer reigns as king of the hill.
     When it comes to on-road know-how, Hummer is like an engineer asked to critique Mozart's Symphony No. 40. They'd do their best but it won't be pretty simply because that's asking both to perform outside their area of expertise; and up until the H2, Hummer didn't have much experience doing anything on-road. Fortunately, GM has plenty of experience and they did a good job in the development of the H2, making what could be a tiring ride, (H1 for example) into something effortlessly manageable. The steering is light, which gives the impression that the 6,400 pounds of bulk surrounding the driver are more easily maneuverable then they really are. We have a serious problem with the brake pedal, which goes almost to the carpet before anything that resembles slowing happens. It is not a reassuring feeling to say the least and we hope it's addressed for next year.
     Powering this heavy-duty people mover is GM's corporate workhorse: the Vortec 6000 V8. In the H2 it makes 325hp at 5,200rpm and 365lb-ft of torque at 4,000rpm. A healthy amount on paper but in the real world you'll use every last horse to push and pull this heavy hitter up to speed. The automatic transmission is also a familiar bit; it's the 4L65-E four-speed unit used in other GM hardware. As long as you aren't trying to get anywhere in a hurry you'll find that the H2 gets up to the double nickel fairly easy. No doubt helped along by our vehicle's optional but no extra charge 4.10 rear axle ratio. You know when the estimated fuel economy isn't listed on the window sticker because it's "Not Applicable" it isn't going be good, so don't even ask.
     There is no need to talk about the Hummer design because you already know what it looks like and you either think it's the coolest thing to ever roll on four wheels or that it's the very definition of over-the-top flamboyance. Nevertheless, we do have a few comments to make about the Hummer's cabin. Let's get the negatives out of the way first. As can be found in far too many GM products many of the interior materials are objectionable, and in a vehicle costing $60,000, some are downright appalling. Our tester had the $4,240 Luxury package that includes a chrome appearance package, (chromed door handles, mirror housings) better interior trim, (not saying much for the base interior) heavy floor mats, 6-disc in-dash CD player with XM radio to pump tunes through the BOSE speakers, a sixth seat next to the spare tire (should only be used for passengers you aren't fond of), and chromed 17" wheels. Having the huge spare tire inside the truck takes up plenty of valuable cargo space and does nothing to improve rearward visibility. We don't hate the interior by any stretch, as the seats are quite comfortable with high quality leather as part of our new-for-2005 Ebony interior. We praised GM for offering second-row heated seats and love the way you look out through the "gun slit" windows. We also enjoyed a huge but overpriced $1,550 power sunroof that is tied to a neat feature wherein one button can open and close all the windows at once. To truly complete the Ultimate Suburb Conquering Vehicle look many aspire to, our vehicle had an $850 chrome brush guard, $550 chrome hood handles, hood latches and fuel door (fuel door feels a little on the cheap side), as well as $350 chrome tail lamp protection. Lastly, we noted that the gauges are easy to read and the gear shifter is just plain cool.
      For those who ask us what vehicle they should buy that not only looks hip, but also can move six people in comfort most anywhere on earth. Well, provided they can part with $59,340, we'd answer there's only one stone capable of killing those two birds. The Hummer H2.
The Good:
Instant status, look-at-me styling, no roads needed, comfortable seats.
 
The Bad:
Monthly payments look small next to fuel bill, brake pedal doesn't feel connected to anything, look-at-me styling.
 
The Verdict:
If you want to go anywhere with style and attitude this is your ride.