2005 Porsche Boxster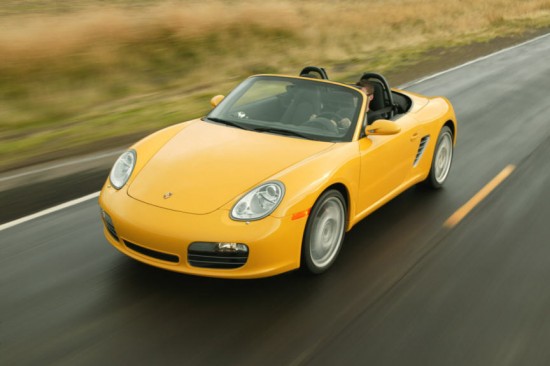 Who says money can't buy happiness?
     When you're behind the wheel of a Porsche Boxster, happiness costs about two bucks a gallon.
     I fell in love with this car during my weeklong test, and it didn't have anything to do with the fancy badge on the hood. It was because every aspect of the car had been refined to please people like me – people who love driving for the sake of driving.
     It sounds perfect, looks spectacular and drives with the kind of Fred Astaire grace that most sports cars never achieve. It's balanced in every way.
     This timeless sports car was totally redesigned for 2005, but it's just as fun and stylish as it ever was – not to mention faster. And it has the same heritage-inspired look that brings to mind classic Porsches like the legendary 550 Spyder, all for a price that's nowhere near the supercar league. It starts around $44,000.
     This year's Boxster is essentially an all-new car that doesn't look new at all. Although 80 percent of the parts on the 2005 model are different from the 2004 Boxster, even Porsche purists would have a hard time telling the new from the old as they drove by.
     Just like the 911 evolved from roots dating back to Hitler, the Boxster proves that Porsche still prefers evolution to revolution.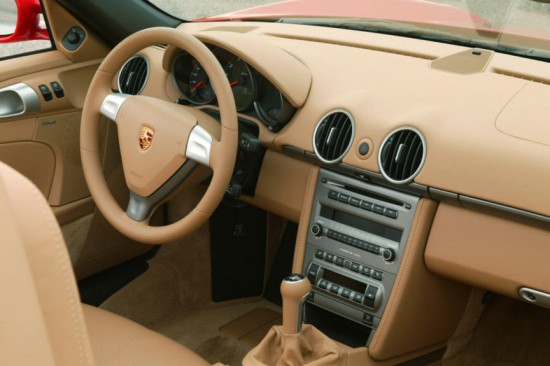 That's a good thing, because the original Boxster found a successful formula that doesn't need a major overhaul.
     To start, Porsche made subtle changes to the Boxster's body to improve aerodynamics for a higher top speed and better high-speed handling. It's still a looker, with the voluptuous curves and sleek lines that made the first generation such delicious eye candy.
     The most noticeable styling change is at the headlights, where an oval design replaces the previous light cover that looked like an amoeba cell undergoing meiosis.
     But the biggest changes are all mechanical, including improved brakes, cooling system, engine, suspension, exhaust and transmission – the whole enchilada.
     While engines for the Boxster and higher performance Boxster S remain the same size – 2.7 liters and 3.2 liters respectively – both offer substantially improved power and fuel efficiency. Horsepower for the Boxster improves from 225 to 240, and the Boxster S goes from 258 to 280.
     Porsche says the engines were designed to offer more low-end torque to make passing easier without having to downshift.
     The six-cylinder, horizontally opposed engine – meaning the cylinders bang sideways against one another — feels like a perfect compromise between the small, high-revving engines from Japan and the big, honkin' V8 monsters from America. It has lots of low-end oomph like the rough-sounding V8s, but it smoothly pulls all the way to redline like a Honda four-banger. As a result, it's one of the best engines on the market.
     Interestingly, the engine doesn't have a dipstick. Instead, it uses a dry-sump lubrication system that meters oil so precisely an electronic monitor can keep an eye on the oil. It also makes sure the engine gets a healthy supply of oil even under extreme G-forces in corners.
     Power is routed through one of three transmissions: a five-speed manual (standard on the Boxster), a six-speed manual (standard on the Boxster S), or a five-speed automatic Tiptronic S. Porsche claims both manual transmissions offer shorter throws and more crisp gear changes than last year's model.
     My test Boxster came with the Tiptronic S, which was the only disappointment I found. It lets you shift gears yourself using rocker switches on the steering wheel – a good compromise for an automatic, but not nearly as intimate a feeling as you get with a good manual transmission.
     It still baffles me why anyone would buy a sports car without a manual tranny — but I digress.
     Porsche refined the Boxster's suspension to be both stiffer and lighter, and a new variable-ration steering system offers stability at high speeds and agility on winding roads. No complaints here.
     To keep speed in check, the Boxster now has cross-drilled front rotors that aid brake disc cooling. The Boxster S is now available with optional ceramic composite brakes, too.
     All these options can be pricey, taking the $43,800 base price to $60,000 and beyond if you so choose. And Corvette enthusiasts would slap me if I didn't mention how you could find better performance for less money in a Chevy showroom.
     But as a whole package, it's hard to beat the Boxster's perfect balance. It has sexy looks, German engineering, an unbeatable pedigree and is a heck of a lot of fun to drive.
     Yep. Whoever said money can't buy happiness never drove one of these.