2005 Suzuki Reno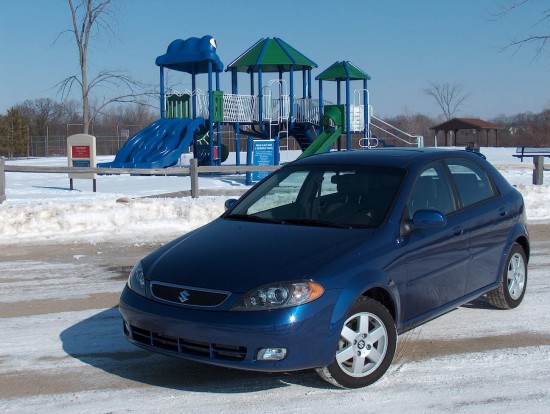 A Small Car With A Good Warranty Is Still A Small Car
    We've been seeing a lot of red lately, and I'm not just talking about the AT tax forms. Of the last six vehicles that have circulated through the office five have been red, or a variation of the sort. So receiving our Cobalt Blue Suzuki Reno was like a breath of fresh air, mostly. The powertrain is something like that of a smoker's cough and the compact dimensions act like a resistor in the circuit powering our smile muscles. But hey, I did say I liked the color.
     While our little blue runabout wasn't on anyone's favorites list, there were a couple features that caught our eye. The rose among the thorns has to be the headlights. You just don't see projection lamps in this category car very often. However, it would be nice if the rest of the car was up to par. One has to wonder as to how the development dollars could have been spread around had Suzuki chosen instead to go with a simple set of bulbs.
     The overall shape of the Reno is awkward. On the positive side the rear doors are long and open wide for easy rear seat entry. Yet the rear hatch is sloped so much that it pretty much reduces storage space to that of a typical sedan trunk with limited usefulness. The rear spoiler has to go; nobody will be fooled into thinking this is a sporty car in need of aerodynamic aides. Rolling stock is an ity-bity 195/55R15 and 15" alloy wheels; easy on the fuel but useless on slick Michigan-in-January roads. Speaking of fuel, with just 2,700 pounds to lug around the Suzuki is capable of up to 30mpg on the highway. Not fantastic but welcome with $2 a gallon gas. Our tester managed around 26mpg during its time with us.
     The interior materials are predictably cheap, yet they fit together well and there were no squeaks or rattles. Even the dash layout is commendably stylish. The design is simple and straightforward but far from as boring as some econobox cabins. Metallic-look pieces accent the otherwise grey interior well and the gauges were pleasing to the eye, although we would prefer 10mph increment markings instead of 20mph. Another glaring example of mismatched quality is the leather furnishings. The seats were wrapped in cheap, slippery, vinyl-feeling leather, yet the hide wrapping the steering wheel was soft and richly grained. A few of those headlight dollars could have been used to bump the leather quality up to more impressive levels. Steering wheel mounted controls are a bit clumsy to reach unless you have long fingers. Radio and climate controls are very simple and easy to use even with gloves, although only because there are so few controls, not because they are particularly large. The stereo system is pretty decent as well, with 8-speakers and a CD/MP3 player. Interior room in general is a bit on the lacking side and squeezing five people inside would be a tight fit. There is ample headroom, however, thanks to low mounted seats and a tall roof.
     Driving the Reno isn't an overly pleasurable experience, but it will get you from here to there and back again. The car is pretty light and gets bounced around a bit, but remains controllable when the roads turn curvy. The logbook had several mentions of loud undercarriage noises. It wasn't so much that you felt road impurities, but you sure could hear the chassis complain about them. The 4-wheel disc brake setup was a welcome feature that typically isn't in this class, though ABS is still a $500 option. Get up and go was mediocre with 126hp (hamster power) coming from the 2.0-liter I4. The shift linkage was pretty sloppy and the gates are not easily distinguishable, nor are they good at communicating the fact that the car is actually in a gear. At least once, I missed third and proceeded to free rev down the interstate. Though even with an unloved shifter, we would be reluctant to plunk down an extra $800 for the automatic, because we really don't like giving up the ability to swap our own gears.
     Ultimately, the Suzuki is a capable little car. Yeah there are a few gripes, but those are easier to swallow with the 7-year/100,000 mile warranty and the roadside and courtesy service programs that Suzuki offers. Young buyers will find all they need in the Reno, with room for a few friends and the typical college student book bag/laundry bag combo. Though if it were our money, we would take our $17,194 and check out the Mazda3 at the dealership across the road. But hey, I really liked the color!
The Good:
Projection headlamps, cool color, MP3 compatible stereo.
 
The Bad:
Sloppy and imprecise shifter, cheap leather looks and feels more like vinyl.
 
The Verdict:
A little car with some nice features but ultimately not the best choice.