2006 Chrysler 300C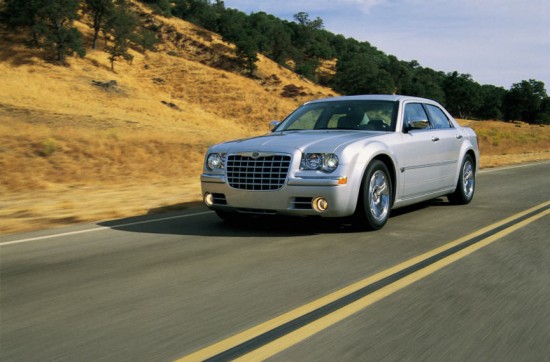 I usually detest driving big cars.
     It's not because they're ugly or slow — which many of them are — but because they remind me of my grandma's car, an old Chrysler Fifth Avenue that wallowed through corners like its suspension was made of oatmeal and rubber bands. It felt more like piloting a boat than driving an automobile.
     So when I got behind the wheel of the Chrysler 300C, I was fully prepared to detect some Fifth Avenue DNA lingering somewhere in the wheel wells as a reminder of the sloppy Chryslers of yore. I certainly expected it to drive nicely, but I didn't think Chrysler would be able to totally eliminate that horrible, yacht-like feeling that so many big sedans suffer from in an effort to appease their geriatric, Ensure-sipping buyers.
     Did I detect any wallowing? Not a hint.
     In fact, I haven't had so much fun driving a car — any car — in a long time. I can turn off the traction control on this big, rear-wheel-drive, Hemi-powered beast and steer it with the throttle, kicking the back end around and lighting up the tires at every corner. It feels exactly like someone has taken a high-powered exotic sports car, then doubled its size and added a back seat. It's remarkable.
     Even more remarkable is the refinement of the 300C's ride and handling. It's a very comfortable car to drive at any speed, whether slowly cruising on city boulevards or zipping down an Interstate highway, yet it takes corners with the precision and balance of a car built for the racetrack. It certainly doesn't have a race car's stiffness, but it provides enough feedback to the driver that you're never in doubt about how well each wheel is connected to the road's surface.
     And then there's the style — oh, baby, what a style.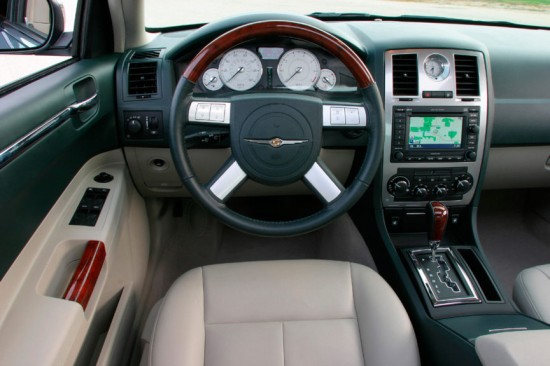 Like a gangster car for the 21st century, the 300's body has a sinister, hunkered-down stance that seems to say, "You talkin' to me?" Its high beltline and narrow side windows make it look like a chopped roadster, and its big, bold front end evoke the same tough masculinity as a 1960s muscle car.
     Never mind the fact that Chrysler is owned by the Germans. This is an all-American car if there ever was one.
     Pricing starts at $23,775 for a 300 powered by a 2.7-liter V6 engine that makes 190 horsepower. For about $4,000 more you can get additional standard features, leather seats, and a bigger, 3.5-liter V6 that makes 250 horses in the 300 Touring model.
     Step up to the Limited Package ($30,625) and you get a near-luxury sedan complete with automatic headlamps, one-touch up/down front windows, dual-zone automatic climate control, a fancy trip computer and more.
     At the top of the range is the Hemi-powered 300C that comes with a massively powerful, 5.7-liter V8 engine. It makes 340 horsepower and 390 foot-pounds of torque, enough to make it accelerate like a ballistic missile.
     No matter which flavor of the 300 you pick, you'll get a car that looks great, handles brilliantly and has a beautiful, high-quality cabin that can transport your friends and family in serene comfort.
     And that's nothing like my grandma's Fifth Avenue.