2006 Mazda MPV and Mazda6 5-door
Second Time Around, Twice The Charm
    Recently we had the chance to sample two cars in Mazda's lineup that, while unique in their own regards, still carried a bit of familiarity with them. The Mazda6 and MPV have both been welcomed into our fleet in the not so distant past, but we again open arm embraced these two like long lost friends. The MPV has little news to speak of since our last rendition in '04, while the 6 5-door is altogether a different model in the 6 family. Speaking of families, that is exactly who we put to work in these vehicles. Lets check them out!
2006 Mazda MPV
     In the spring of 2004 we brought you our first report on the Mazda MPV. With the botox still setting, the refreshed MPV came to us with a renewed spirit and a fresh face of confidence. It was then dubbed as being a "grocery getter with attitude" thanks in part to its "sport" oriented transmission and 200-hp 3.0-liter V6 engine. So how has it held up?
     Not much has changed; in fact, aside from some different packaging of the options and a switch to a retractable key keyfob, nothing has changed. For 2006 the MPV retains all of visual ques and lines of the '04 model. However, in comparison to other people movers at large, the MPV is no longer unique. In fact, it looks to be just more of the same, when side by side with the entries from Ford and Mercury, and downright tame next to the Nissan Quest. It won't insult anyone, but it won't draw any attention either. But do you really want to draw attention, or just quietly motor along, overlooked by the majority of the general population? When Mr. Big SUV starts bragging about his V8 powered muscle machine, you can quietly pipe in describing how your vehicle of utilitarian superiority brought five kids to the game today, gets 18/25 mpg, and carried the team's soccer balls. Be quick, however, to turn his attention back to the game as your kid pummels the ball for a goal.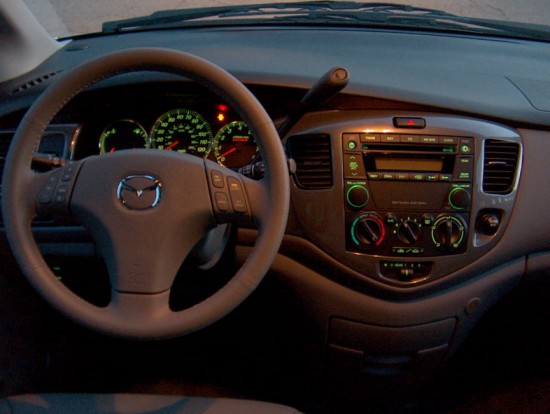 There is indeed plenty to brag about inside. There is seating for seven or cargo room for 127 cubic feet of stuff, and multiple variations in between. While the MPV is criticized as being a mini-er minivan than most, you won't notice it too much inside. Absent from our tester this time around was the rear-seat DVD player, but if you prefer to converse with your family as I do while you go down the road, this is the way to go.
     The MPV does well as a family hauler. At $29,075, our example was well equipped for family ventures to the soccer field or Sea World. Either will be fun. Driving a minivan isn't so bad after all, especially once you become burdened with child seat requirements.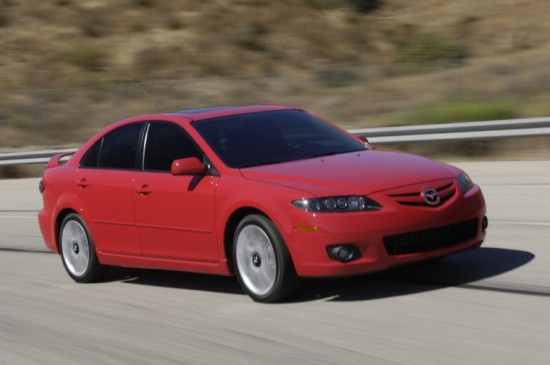 2006 Mazda6 5-Door
     Another family friendly entrée from Mazda is none other than its bread and butter 6. Accentuating the already much loved sedan is this 5-door hatch version. It boasts the utility of a hatchback with the lines of sedan. Equipped much the same as our summer '05 sedan, this 5-door edition did nothing but build upon already impressive character.
     It takes a good eye to spot a 5-door verse the standard 4-door. The rear window wiper blade is a dead give away, but beyond that a slightly swollen profile is about all that hints that something is different; until you pop the hatch, that is. Cargo room remains about the same at 22 cubic feet, but is more usable with the rear shelf unit being removable. The larger opening hatch is also a master at swallowing huge, awkward shaped parcels.
     The 6 retains the same basic engine as the rest of Ford Motor cars. At 215hp the 3.0-liter V6 provides plenty of giddy-up for its application here. We contribute that to the extra attention Mazda places on its trannys and the shear lack of mass it carries when compared to other cars, such as the Ford Taurus and Ford Five Hundred. For even more responsiveness we would recommend the 5-speed manual option.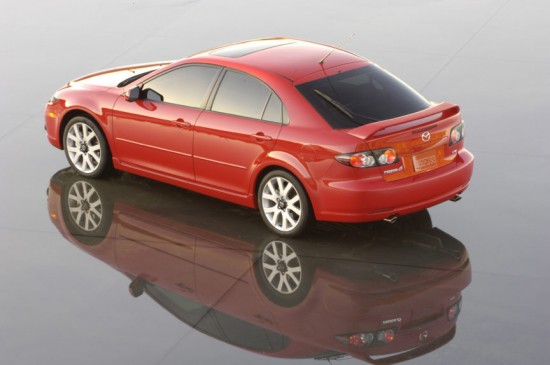 From 4-door to 5-door there is little difference inside. The most discernable distinction is road noise. Due to a lack of insulation in the rear between cargo area and people area, a bit of an echo comes through. This was, however, a minor blemish for the 5-door, one that most certainly would not dissuade me from purchasing this vehicle.
     At $27,420 the Mazda6 5-door is a shining example of a practical yet sporty family sedan. Though if your family exceeds two kids it may be time to think about the MPV. And may we recommend to Mazda that they drop the 3.0-liter V6 in favor of the new Ford 3.5-liter V6 as soon as possible.