2006 Mazda MX-5 Miata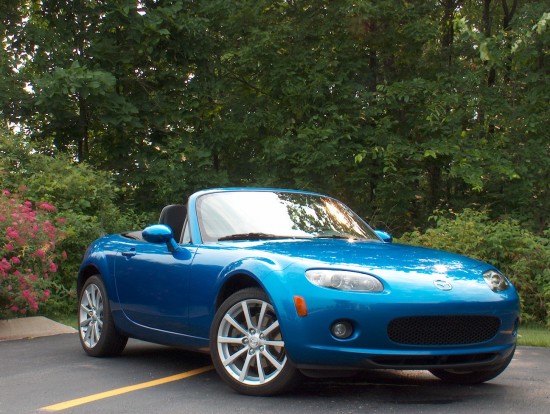 Better Than Expected
    Driving a Mazda MX-5 Miata with an automatic is like dating a cross-eyed supermodel. As long as she keeps her lids latched you'll be the envy of bachelors everywhere, but the moment her pupils start peeking her seemingly perfect package is forever flawed. The same scenario will haunt owners of the slush-box Miata. When your car buddies see you pull up in the poster car for roadster perfection they'll stand ready to congratulate your wise purchase. As soon as they see the automatic shifter they'll slap you silly—Jerry Springer style. And as enthusiasts, clear cut condemnation of any Miata with an automatic seems warranted. With a computer making the decisions that elemental "oneness" between man and machine is lost.
     But maybe we shouldn't be so quick to judge. Maybe there is a place for a two-pedal MX-5. After all the new-for-2006 model isn't the first Miata fitted with an automatic. Obviously there are people out there buying them. So as much as we disagree with the whole premise we were pleasantly surprised with the Sport Automatic that passed through here recently.
     During last fall's comparison test of the Pontiac Solstice and Mazda MX-5 Miata we fell in love with the third generation of the little roadster, particularly its sewing-machine smooth I4. The DOHC 2.0-liter engine uses variable valve timing to keep the power flowing across the rev range and although it makes only 166 hp (four less than manual cars) at 6,700 rpm, things still move along with verve when you lay into the right pedal. Most of all we appreciate its immediate response to throttle input and eagerness to rev. Even with the automatic in our test car things never got harsh during high rpm running. The same can't be said for the automatic-equipped Saturn Sky we had the week before this car. It protested runs up the tach with increased roughness and a dying cow exhaust note.
     It was also apparent that Mazda offers the far superior automatic. First and foremost are the six gears (one up on the GM twins' five) that seem to offer a perfect ratio for every situation. Sixth gear is an especially long 0.58:1 ratio so the engine calms down nicely at cruising speeds. This addresses the high rpm speeds we noticed while on the freeway in our manual Miata (0.83:1 sixth gear ratio) last fall. Fortunately, the transmission is eager to kick down on its own, but we did like working through the gears with the steering-wheel-mounted paddles. The fact that they're well-shaped and made of real metal is a tactile bonus. We found ourselves admitting that if Mazda has to offer an automatic we'll at least thank them for offering a great one.
     As expected, regardless of which transmission is ordered the MX-5 remains a stout handler; although not quite as capable as our previous Suspension-Package-equipped car. Mazda won't let you order the upgrades with automatic trannys (another good reason to stick with the stick!). The $500 package is a tremendous value and includes a limited-slip differential, firmer suspension and Bilstein shocks. We didn't flog this car through our secret test route in Northern Michigan so the softer suspension was never an issue. Sport and top-of-the-line Grand Touring models come with larger 205/45R-17 tires on attractive 10-spoke wheels. The brake system easily hauls down the car's 2,527 pounds with a pedal that feels just right.
     We were a little under whelmed with the interior in our Sport model. The nice leather door panel inserts, two-tone color scheme and aluminum accents of our past Grand Touring tester were replaced by hard black plastic. Thankfully, the black-lacquer dashboard remains, as do the cup holders that are far superior to the competition's design. We still like the gauges and the seats but we think the radio faceplate will look dated quickly, if it doesn't already.
     There's no chance of the excellent folding top design needing improvement anytime soon. Do-it-yourself tops simply don't come any better than this; a fact that makes us wonder why Mazda has announced a folding hardtop option for 2007. We do wish Mazda would replace the vinyl with cloth, or at least offer it as an option on non-Grand-Touring models. It's been a while since we've seen a vinyl top and we know why: they look really cheap.
     The rest of the car's design is fresh and, if not as gorgeous as the GM roadsters, at least more functional. For instance, there's a trunk that could, you know, actually hold cargo. That's always a nice touch.
     While an automatic Miata doesn't make sense to us, it's nice to know Mazda makes a fine car for people who want to drop the top on an inexpensive ($24,595 for our tester) roadster and carve curves with a little less effort.
The Good:
6-speed auto is well-matched, steering communicates like few others, nimble as always.
 
The Bad:
Some hard plastic inside, vinyl top, so-so stereo.
 
The Verdict:
Not for us, but not bad.