2006 Mercedes-Benz ML350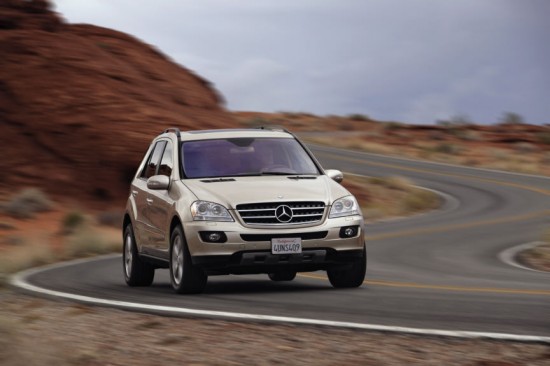 POTEAU, Okla. — It looked like Christmas shopping season in the Wal-Mart parking lot.
     Evidently there's not much to do on a Friday night in Poteau — other than huntin' and fishin' in the nearby mountains — so it seemed everybody in town had shown up at Wal-Mart to meet their buddies and share a little gossip on this cool April night. I had to hike from my faraway parking spot to get inside, where the locals were talking a lot more than they were shopping.
     I was obviously a foreigner. My Texas drawl didn't sound like an Oklahoma drawl, and my blue Rangers cap didn't match everybody else decked out from head to toe in Sooners garb.
     To make matters worse, I was driving a trendy Mercedes SUV in a place where Toyotas and Hondas seem rare. I might as well have been a space alien when I pulled up.
     It's all part of the fun when you take a Mercedes ML camping.
     With four-wheel drive, plenty of cargo space and a heavenly ride, the new ML is perfect for taking your family on a weekend excursion to the mountains, which is exactly what I did. As expected, it transported us in serenity for several hours on the highway in a near-silent cabin fitted with the plushest amenities, and all our camping gear fit just fine.
     It also had a couple of pleasant surprises.
     For one, it was actually fairly fun to drive on the twisty mountain roads, something you can't say about many midsize SUVs. The only ones that offer more thrills are the Porsche Cayenne S and the BMW X5, neither of which are as comfortable as this Mercedes after a few hours on the road.
     Another surprise was how great the transmission worked.
     Usually a car's transmission isn't noteworthy unless you have a degree in mechanical engineering, but this one is so astoundingly smooth — and so revolutionary — that you can't help but notice it. It's just incredible.
     It's a seven-speed automatic, which seems a little like overkill until you realize how buttery the gear changes are and how much it improves gas mileage over a more traditional automatic. That seventh gear amounts to an extra-low overdrive on the highway, giving it an EPA-rated fuel economy of 27 miles per gallon with the V6 engine.
     Another interesting thing about this tranny is that it doesn't have a normal gear selector. On every other automatic transmission, you push a lever somewhere that's physically connected to the gearbox in some way, so you feel a "ka-CHUNK" when it slots into gear.
     On this Mercedes, though, there's only a little electric switch on the steering column that's not mechanically linked to the transmission, so you don't get any sensation that it's connected to the drivetrain. It's strange at first, but you quickly get used to it and come to appreciate its simplicity.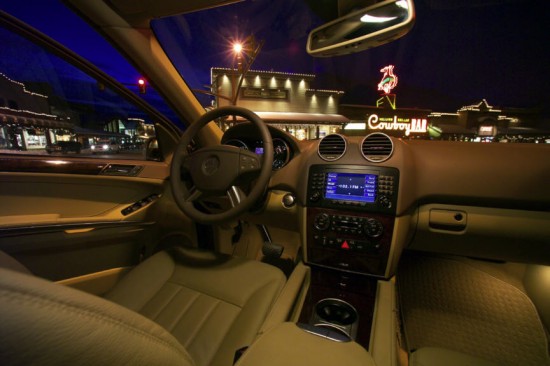 One more of the ML's strengths — one I was thankful I didn't have the opportunity to test — is its advanced set of safety features. It has a system called PRE-SAFE that automatically prepares the vehicle for an accident when sensors detect that one is about to occur. It will move the seats to a safer position, tension the seat belts and close the sunroof if a rollover is imminent, and it's one of the first SUVs to be awarded the government's five-star crash rating for front and side impacts.
     Even the price is relatively reasonable, something you can't say about a lot of Mercedes products. It starts around $40,000 for a well-equipped ML 350 with a V6 engine and around $49,000 for the V8-powered ML 500, both of which are competitive and downright affordable compared with the hyper-expensive luxury SUVs they compete with.
     Keep a close eye on the options list, though, because — in the grand German tradition — add-ons can be extremely pricey.
     The only other downside might be doubts about Mercedes quality that linger from the late '90s. Surveys are showing better products coming off the M-B assembly lines today than a few years ago, but the Japanese and even some American brands are gaining better reputations for reliability.
     Still, nothing has the panache of that Mercedes badge. Lexus and Cadillac make some great SUVs, but neither can get folks at the Poteau Wal-Mart talking like a Mercedes ML can.
     Just think what it would do at the country club.