2006 Mitsubishi Eclipse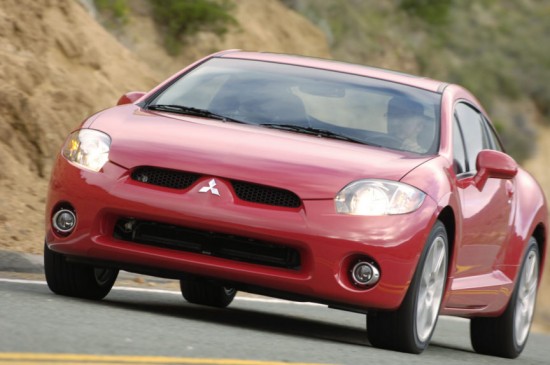 It looks like Mitsubishi is learning from the old advertising mantra that, indeed, sex sells.
     While the Eclipse was a hot, voluptuous car in the late 1990s, it morphed into something more dull in the generation that lasted until 2005. It seemingly changed from a Brazilian bikini model to a mousey librarian, trading in its sports-car looks and hard-nosed performance for a softer ride and boring styling.
     Well, get ready to brush off your old pick-up lines. The Eclipse is sexy again.
     Mitsubishi's sporty coupe was totally redesigned for 2006, and it's a big improvement over the previous generation. Not only does it have a gorgeous new body that harkens back to the white-hot Eclipse rocketships of the late '90s, but it also has a meaty new V6 engine that belts out a deep, throaty, melodic exhaust tone. It's enough to get your heart racing.
     The new look is striking from any angle. Its wheels are tucked right underneath the car's corners and accented by big, sweeping, muscular fender bulges that blend smoothly into its bulbous overall shape. A big hood and air intake show off the car's power up front, while its trim waist and sculpted rear give it a sense of agility and speed — even when it's standing still.
     A 2.4-liter, four-cylinder engine is available in the Eclipse GS model ($19,399), but a big, 3.8-liter V6 in the Eclipse GT ($23,699) is a better choice if you want the car's speed to match its athletic body. The four-cylinder version makes 162 horsepower, while the V6 makes an impressive 263 horses.
     While I love the new Eclipse's styling and V6 engine, the rest of the car leaves me lukewarm or — in the case of its handling — mildly disappointed.
     A car that looks as hot as this one should have good, sharp, precise, neutral handling, but the Eclipse actually drives like a family sedan through corners. It has a lot of body roll compared to cars like the Acura RSX and Honda Civic Si, and its manual transmission feels looser and sloppier than performance-oriented cars usually do.
     To make matters worse, the Eclipse is a heavy, front-wheel-drive car with most of its weight riding on the front axle, so it's far too easy to induce understeer — when you turn the wheel going into a fast turn, the car keeps sliding straight ahead. It also suffers from nasty torquesteer, meaning the steering wheel jerks sideways when you punch the gas in a corner.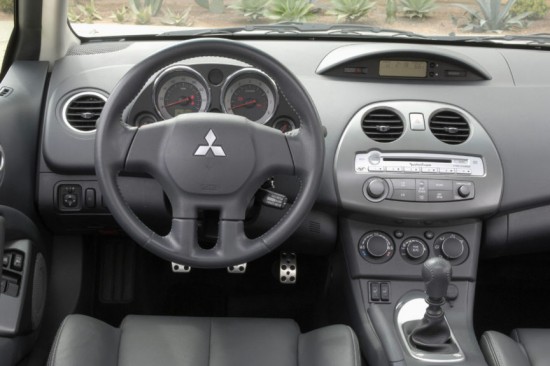 Inside, the Eclipse has an outstanding cabin in terms of looks and comfort, so long as you're riding up front.
     The back seat could classify as a torture device under the Geneva Convention, as the roof that looks so good from the outside chops off any semblance of headroom in the rear. And your knees will bump the front seats unless you're being chauffeured by midgets.
     Back-seat comfort aside, Mitsubishi deserves major kudos for both the styling and quality of the cabin. Swoopy, wave-like panels can match the car's paint color, and the materials — which used to be hard, tacky plastic on old Eclipses — are now much more supple and high class. It's just as stylish inside as out.
     Overall, the Eclipse is a great start for a new generation. It's already a big leap above the 2005 model, and hopefully Mitsubishi will solve its handling woes by introducing a suspension upgrade and better weight distribution before too long.
     But, no matter what happens in the future, it definitely has one thing going for it — sex appeal.