2006 Saab 9-3 Aero Convertible
What Is The Technical Term For Quirky?
    Someone once describe Saab engineering to me like this: When the Germans do it, it is an engineering wonder, but when the Swedes do it, it is just plain quirky. After spending a couple of days behind the wheel of a Saab 9-3 Aero Convertible I must say that the Swedish engineers are clever, but a few of their ideas left me scratching my head.
     As an engineer I am always looking for the latest technology or some piece of equipment that makes the vehicle standout—something significant. Usually it is something in the transmission, or convertible top operation, or seat configuration, or traction control system. Never have I thought cupholders, instrumentation lighting or key placement to be high on my list. But these are the features that left my brow wrinkled in the drop-top Saab. The cup holder is a little dash-mounted unit that, upon depressing the release button, slides out of its slot towards the passenger seat before doing a little flip to position a ring parallel to the horizon and another at a 45 degree angle to support your cup. Useful? Not really. Quirky? Yes. Neat to watch? Ya-you betcha!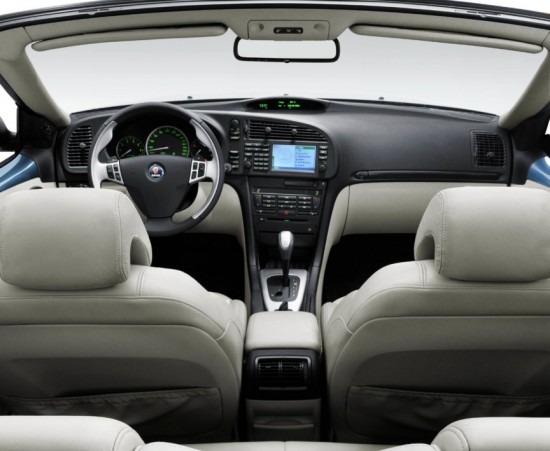 Someone in the office asks me about the console-mounted ignition. I say so what. It is cool, unique, and it's a Saab tradition. You just can't mess with tradition (i.e. the Saabaru 9-2). As for the night panel thing, I am not really sure why we need a switch on the dash to turn off all the instrument cluster lights and gauges except for the speedo. About the only practical application this feature has is freaking out your buddy as he drives your car one night. Casually reach up to adjust the A/C and hit the switch and watch in amazement as he freaks out about your car suddenly dying a very British car death. Hopefully he won't freak out too much and put your car in the ditch or something. (In which case this is the part where we have to tell you not to actually do this practical joke for legality purposes.)
     What is important to know and understand is that the 9-3 first and foremost is not a sports car. Rather it is a sporty touring convertible that will seat four people rather comfortably, top up or top down. In the handling department the 9-3 is somewhere in the middle. Turn in is fine, but steering feedback is numb. About the same can be said for the brakes, but they get the job done. Under the bonnet is the same 250-hp 2.8-liter turbo motor found in the SportCombi we sampled a year ago. This time it was coupled to a 6-speed automatic. Acceleration was never push-you-back-into-the-seat strong, but it is brisk. If pushed, torque steer would find its way into your hands, but driven casually the 9-3 never complained.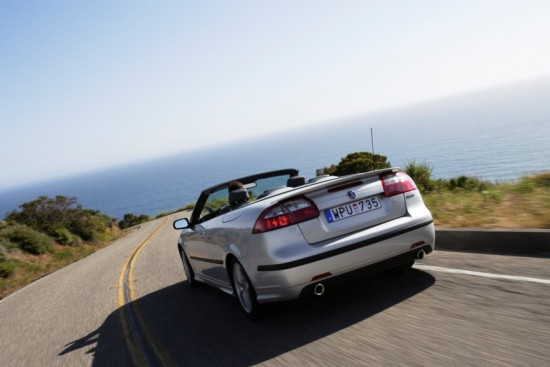 Headroom is never a problem, front or rear, as the convertible top lays little claim upon the territory where your noggin resides. Six-foot Dye noted plenty of room for all seats with a pretty large degree of comfort. Editors also noticed the exquisitely finished top that successfully masks any hint that this is a convertible from within the cabin. As noted above, the instrument panel has its quirks, but the interior is far from drab. The two-tone color combination with its brushed aluminum and metallic-looking pieces make it a comfortable place to commute in. The plastic insert in the steering wheel is a sporty touch, though it can make the wheel slippery—nothing a good pair of driving gloves won't fix.
     Some people love them, few people like them, most don't even give them a second glance. No matter which camp your fire burns in, the fact of the matter is Saabs are neat. Now, is this one $48,260 worth of neat? Well, for me and for most, no, but for those select few, this will be just right.
The Good:
Plenty of headroom, smooth top down styling, comfortable interior.
 
The Bad:
Confusing button layout, poor nav system, a bit pricy.
 
The Verdict:
An almost premium convertible asking for a premium price.