2006 Toyota Tacoma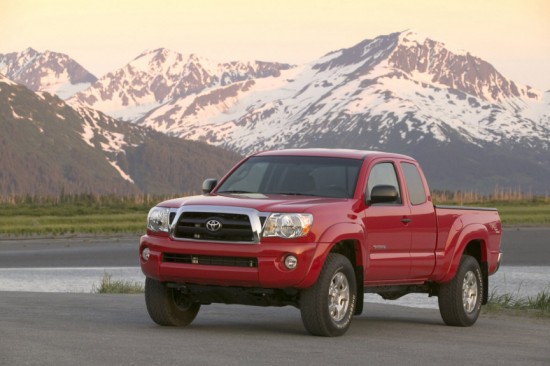 There was a time when "compact truck" really meant "claustrophobic, micro-sized, knee-crunching truck that should only be bought by anorexic contortionists."
     But today's compact trucks — well, there's nothing compact about them.
     Toyota's Tacoma is the perfect example. Once a dinky little truck with dinky little doors and a dinky little bench seat, today the Tacoma has morphed into a big, tall, four-wheel-drive, four-door, brawny pickup. It's not dinky at all.
     After introducing an all-new Tacoma for 2005, Toyota's smallest hauler probably remains the best truck in its class for 2006. It's roomy, quiet, powerful and refined.
     In fact, my only gripe about it has to do with the way it looks.
     Instead of taking an aggressive styling stance like the Nissan Titan or Chevy Colorado, for example, Toyota kept the Tacoma's body relatively conservative. It looks slightly better than the old model, but it still shows some influence from the outgoing Camry with smooth, rounded fenders and a small grille that looks far too graceful to be on a truck.
     (NOTE TO TOYOTA: Next time you design a pickup, make it look tough enough that writers won't have to resort to words like "graceful" to describe it. Give it a family resemblance to Paul Bunyan, not the Camry. Got it?)
     Aside from that subjective styling quibble, there's not much to dislike about it. The ride and drive are excellent, with a surprisingly quiet cabin and a suspension that soaks up the potholes better than you'd expect in a four-wheel-drive pickup.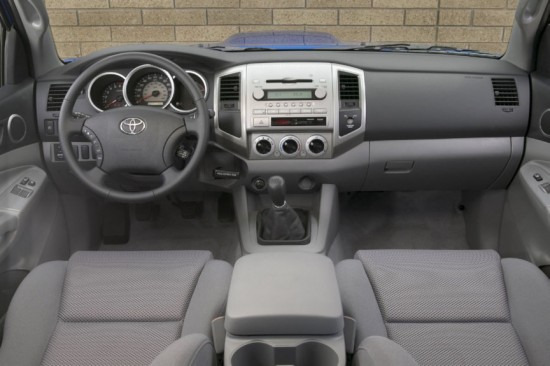 Predictably, Toyota offers lots of configurations for the Tacoma, ranging from a two-wheel-drive Regular Cab model ($13,780 with a manual transmission) to a decked-out 4×4 Double Cab with four big doors ($25,615 with a long bed, V6 and automatic tranny).
     Two engines are available, forcing buyers to make a choice between economy and brute strength. A 2.7-liter, four-cylinder engine makes 164 horsepower, while a 4.0-liter V6 makes 245 horsepower and 282 foot-pounds of torque, enough to tow up to 6,500 pounds.
     The EPA rates gas mileage at 21 miles per gallon in town and 27 on the highway with a four-cylinder powerplant, while the six-cylinder version gets up to 18 mpg in the city and 21 on the highway.
     Two transmissions are offered with the V6 engine: a six-speed manual and a five-speed automatic. The four-cylinder models offer a choice between a five-speed manual and a four-speed automatic transmission.
     Overall, the Tacoma is a fantastic truck. Not only does it have Toyota's reputation for quality and reliability over the long haul, it's got the size and power to compete with any compact trucks on the road today.
     If it only looked as great as it drove, Toyota could finally give the American brands a real battle.