2009 Pontiac Solstice Coupe (Design Critique)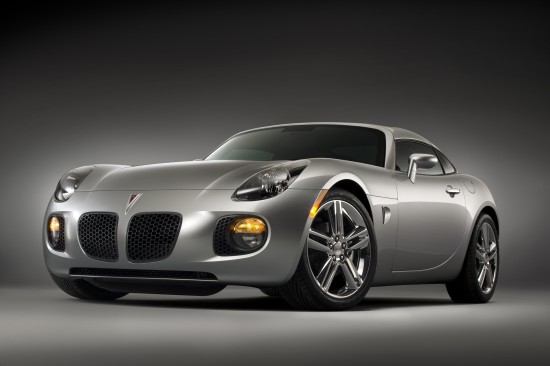 When the Solstice concept was first unveiled, a sister hardtop styling mock-up was also presented.  The production Solstice roadster was such a looker that many forgot all about the coupe.  GM designers hadn't forgotten and the production version added an unexpected targa feature.
      Adding a roof to the Solstice has not hurt its visual appeal in any way.  Perhaps it is even more compelling.  It makes one wonder why Mazda has never seen fit to make a fixed roof MX-5/Miata (the hardtop convertible is hardly beautiful).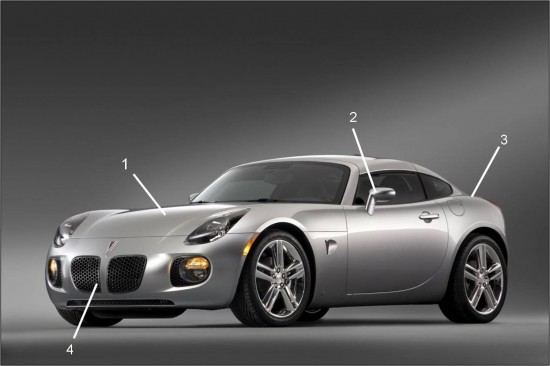 1.  No hood scoops!  Thank you Pontiac, we really don't need to see them on such a clean design – unless, of course, they were functional.
2. These mirrors are so tall it looks like they would obstruct forward peripheral vision.  Or maybe it is the height of the side glass.
3. Rear fender haunches are well done and give the car a tense look.
4. Dual honeycomb grilles continue.  It is nice that the GXP is only subtly different from base cars, as they look too good to mess with (note the intakes inboard of the lower lighting units).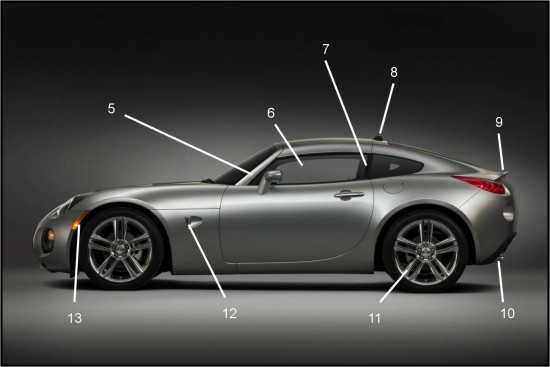 5. Chrome window surround carries over from the roadster.
6. Side glass looks really short compared to top edge of windshield.
7. Hidden B-post is a slick touch that was not present on the '02 concept.
8. Someday GM will figure out how to make these XM units a bit more discreet.  At least it is mounted centrally, unlike the random placement on the GMT800 trucks.
9. Small ducktail spoiler an unexpected feature.  Lines up beautifully with rear fascia cut-line
10. Exhaust peeking out in profile view is a nice touch.
11. Rims are a bit delicate compared to other Pontiacs (think G8) but are not unattractive. 
12. Pontiac badge and side scoop is a curious touch, as the scoop has no vent or opening.  Still, it adds visual appeal and identifies the car as a Pontiac.
13. Turn signal is wonderfully integrated into the face of the wheel flare.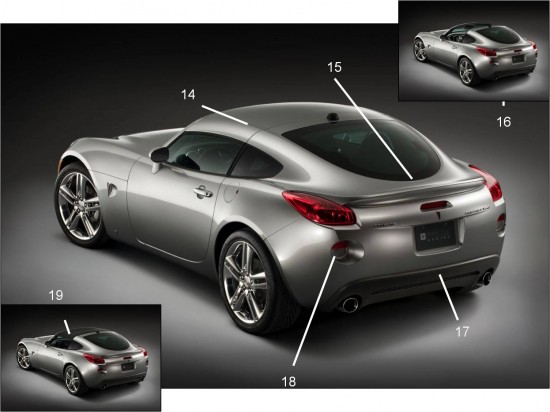 14. Roof grooves nicely integrate with rear window.  They are beautifully shaped, and create a nice flat surface immediately around the rear glass.
15. Shape of rear window/roofline echoes many classic American designs including the C2 Corvette and even the boat-tail Buick Rivieras.
16. Rear glass is actually also a hatch.  Useful touch, even if cargo space is still limited.
17. Lower fascia is all that it should be – contrasting color, dual exhaust, faux air diffuser.   Very nice looking.
18. GMC Envoy back-up lamps need to be disposed of.  The red/white looked tacky on that truck and don't do much for the rear end appearance on this car.  Surely the production volume of this car justifies bespoke units.
19. Cloth top doesn't enhance the look of the car, but is necessitated by the bulk of the targa roof.  Maybe a luggage rack like the Fiero had…but there is no room for even that!