2010 Cadillac XTS Platinum Concept (Design Critique)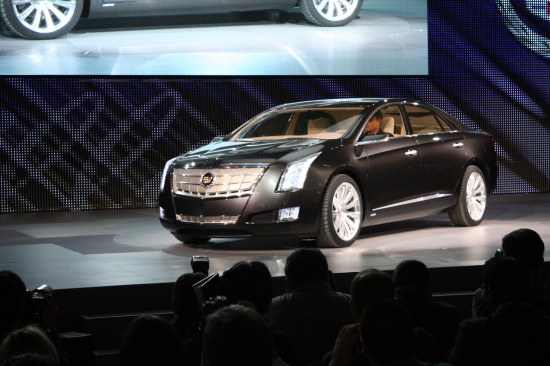 As a traditional Cadillac enthusiast, I have felt Cadillac's lineup has been somewhat incomplete since the departure of the magnificent Fleetwood at the end of 1996.  While that car shared its powertrain entirely with the top-line offerings from Chevrolet and Buick, it was a car that was unmistakably a Cadillac.  It was the ultimate car for being pampered and its sheer size made it the most imposing car on the road at the time.  In its absence the smaller front-wheel-drive Deville had to hold its own against the likes of the Lincoln Town Car – a job it did well.  In the decade and a half since Cadillac's last body-on frame rear wheel drive sedan was built, the top end luxury market has erupted in an all-out war between the Audi A8, Lexus LS-variants, and the Mercedes-Benz S-class.  While the Town Car is still in production, Ford threatens to discontinue it on nearly a yearly basis and does little to promote or improve it.   Now Lincoln calls the Mercury-like MKS the flagship of its line.  Yet another Taurus-based Lincoln, it is as if Ford has thrown in the towel as being a true competitor in the luxury class.
      With this as the backdrop, there were many that hoped that Cadillac would complete its rear-wheel-drive renaissance by introducing a true S-class competitor on a true rear wheel drive platform.  However, as CAFÉ standards were imposed at irrational levels, Cadillac abandoned this approach and decided to base its replacement for the top-line DTS and STS on the Epsilon II platform shared with the relatively fuel efficient Buick LaCrosse.  Fears mounted that this new car would be to Cadillac what the MKS is to Lincoln  – a car better suited for the Buick/Mercury crowd than a globally competitive ultra-luxury sedan.  While the proportions of this  car unfortunately reveal its front-wheel-drive origins, it is far more premium looking than the DTS and STS that it replaces.  The all-wheel-drive powertrain only partly makes up for not being a true rear-driver, but Audi seems to have zeroed in on what ultra-luxury car buyers find important without such a layout with the A8.  The XTS concept claims to be a hybrid; Cadillac might be wise to offer the car exclusively with this powertrain – not because it is in any way superior – but because of the positive publicity it can gain from such a move.
      Though it has obvious shortcomings, the overall design of this car is quite good, and the rear three-quarters view is breathtaking.  Tailfins on recent Cadillacs have been growing millimeter by millimeter, and the XTS is no exception.  Here's to hoping that the XTS is merely a prequel to what GM can do with a top-end Cadillac on a rear-wheel-drive platform once GM returns to profitability.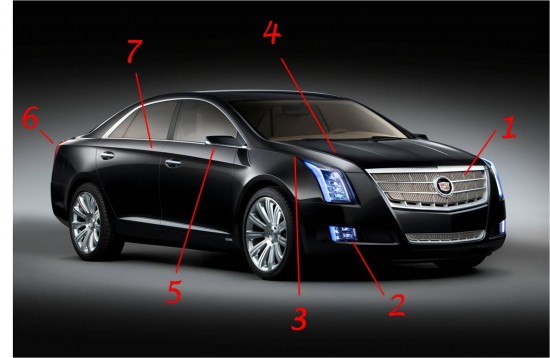 1. Grille texture is repeated in the lower intake and framed by a large sheild shape.  This is becoming a styling cliché first introduced by Audi when it wanted to differentiate its cars from the lesser VWs. 
2. Headlights and fog lights line up perfectly and are interupted by a bumper-like fascia. 
3. Shouldered fenders are a nice touch. 
4. Hood shape is very boxy from this angle,  but integrates nicely into the powerful looking (and complex) grille.
5. Mirrors are razor thin with beautiful detailing on the bottom edge.
6. Rear lights are visible even from this angle…could that be a tail-fin?
7. Side character line is tremendously delicate and elegant.  It seems to have been inspired by the current trend amongst German manufactures.  Nonetheless, it is good looking.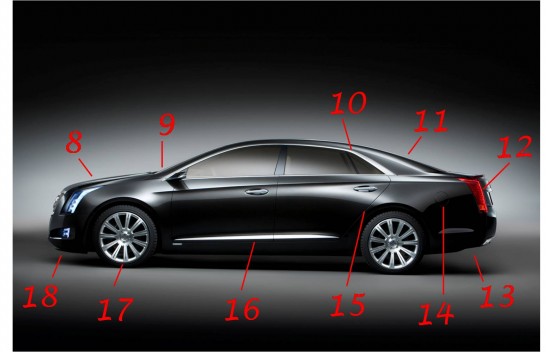 8. Stubby front-wheel-drive nose betrays this Caddy's intentions of being the most exclusive of the brand's sedans.
9. A-pillar inelegantly crouches over the front wheel opening.  Barely acceptable on a Civic; embarrassing on a Cadillac.
10. Chrome window outline is flawlessly sculpted. 
11. Sail panel is clearly Cadillac, and more daring than has been seen on a large Cadillac since perhaps 1959-60.
12. Headlights and tail lights mirror each others shapes at each end of the car.
13. Longish rear overhang helps compensate for the short nose.
14. Wait, isn't there a fuel filler door on the passenger side too?
15. Rear door is quite long and stylists avoided the temptation to make the opening mimic  the shape of the rear wheel opening.
16. Sill sculpting is quite nice and give the car a ready-to-pounce look.
17. Multi-spoke rims add to the premium look.
18. At least the front overhang is short avoiding the overly awkward look of too many front-wheel-drive cars.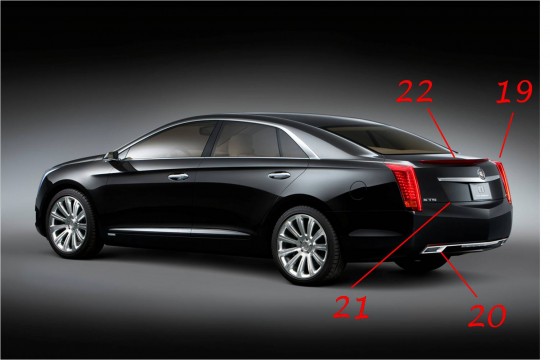 19. This is the angle where the XTS really shines. – Tailfins have clearly returned!
20. Nice detailing to exhaust outlets, topped by discrete euro-running lights.
21. Shield shaped license plate bracket duplicates the shape of the grille.  This looks wide enough to accommodate a European plate, perhaps indicating future intentions for this car to be sold globally.  It also follows the shape and width of the CHMSL.
22. CHMSL actually stands proud of the trailing edge of the decklid, yet integrates into this fine looking line that runs from the A-pillar.