2010 Hyundai Genesis Coupe 3.8 Track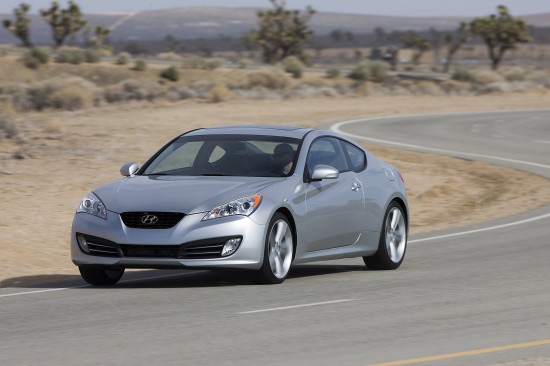 Hyundai Turns Its Attention From Luxury To Sport With The Genesis Coupe
     Watching Hyundai's meteoric rise from "That Korean Car Company" to "That Global Powerhouse" has been exciting for everyone—at least everyone not employed by another automaker's sales and marketing department. We recently watched the hard charging company lead a successful foray into the heady waters of the luxury car segment with their Genesis sedan. Now hot on the heels of the positive buzz they earned from meeting that challenge comes a Genesis of another sort.
     Hyundai's previous efforts at a sports coupe have been dismal at best. Over several generations the Tiburon suffered from wacky styling, underpowered engines and a flaccid front-wheel drive chassis. All of those wrongs have been righted in the new Genesis Coupe.
     The Coupe comes in two models, ours being the more powerful V6, but those seeking 30 mpg on the highway will want to consider the 210 hp turbocharged 2.0-liter I4. Along with their engine, buyers will get to choose a trim that suits them. V6 models are available with base 3.8 and Grand Touring trims but enthusiasts seeking as much thrill as Hyundai offers will need to opt for the Track version. Doing so puts check marks next to all the performance hardware.
     Track models include the 3.8-liter all-aluminum V6 with Dual Continuously Variable Valve Timing and the new Variable Intake System to manage 306 hp at 6,300 rpm and 266 lb-ft of torque at 4,700 rpm on regular gas. Combine the hefty power figures with a relatively low 3,389-pound curb weight and you end up with a power-to-weight ratio superior to the Camaro LS and even the BMW 335i. The six revs fairly quickly for its size, but we wish V6 engines, especially performance oriented V6s, would remain 3.5-liters or less. As it is the engine suffers from a slightly rough, unpolished feel at some rpms, especially under load, but the large displacement is probably to thank for the torquey feel right off idle. The good news is when all 306 horses show up the Coupe will get to 60 mph in the mid 5-second range.
     We were happy to sample the standard 6-speed manual since a car of this nature should be thusly outfitted, but we weren't smitten by it. It can provide smooth shifts around town but seems a bit insulated and too ropey for a car with "Track" in the name. A little more mechanical interaction would encourage downshifts and crank up the reward factor. Hyundai also needs to redesign the shifter itself. An oddly shaped plastic cap tops the shifter and doesn't look or feel premium. We haven't tried the optional ZF-sourced 6-speed automatic, but suspect it's probably a solid alternative for those driver's whose heartstrings aren't attached to a manual.
     The new rear-wheel drive chassis proves a good anchor point for the Coupe's aggressive suspension system. Hyundai brags that extensive use of ultra-high strength steel results in bending rigidity 24-percent higher than an M3 and after our week in the car we believe it. The Coupe feels like it'll take years before things loosen up. The strut dual-link front suspension comes with a strut tower brace and a 24-mm front anti-roll bar. A five-link independent rear suspension uses a 19-mm anti-roll bar and Track models like ours feature stiffer front and rear springs and recalibrated shock valving for an even firmer ride. Buyers in the South might not notice, but on anything less than smooth roads you'll feel every bump and crack thanks to kidney punches doled out by the firm bolsters of the sport seats. This is a seriously firm suspension that surprised us a bit for a car that's not an outright sports car. But being enthusiasts we appreciate Hyundai's effort to strive for maximum handling capability and figure they've adequately warned consumers of what they're getting into by including "Track" in the name of the car.
     A beautiful set of 19" wheels and Bridgestone Potenza RE050A summer tires are included with the Track trim, as is a limited-slip differential and upgraded Brembo brakes with 4-piston calipers at all four corners finished in red. The discs measure 13.4-inches up front and 13-inches-even at the back. The Genesis has weak points, but braking performance isn't one of them. A firm pedal is the cherry on top of this system.
     It's a mixed bag inside. The overall look is a winner with a sloping center stack reminiscent of the Infiniti G37 (apparently an internal target for Hyundai) finished in silver painted plastic. However, a few of the materials are underwhelming and the design of the gauges is uninspired. We were fans of the steering wheel, supportive seats and deep cupholders but the climate controls don't offer dual-zones like most cars in this price range. No doubt the Track trim-level is well equipped with leather, Infinity audio with 10 speakers, Xenon headlights and a sunroof. All for an as-tested price of $30,375 and Hyundai's unbeatable warranty.
     Hyundai has built a good-looking, well-equipped sports coupe with a list of specs that, at least on paper, should add up to an incredible sports coupe. But math doesn't always translate to the auto world. The Genesis Coupe is fast and scores high on the value front, but it's not a great driver. We could never get comfortable when driving the car hard and the overall feeling you get from behind the wheel is not "let's take the long way home". The Genesis Coupe is wooden when it should be lively. The good news is Hyundai now has a solid base from which to refine the car from good to great over the coming years.  Exactly what Hyundai itself has done the past few years.
The Good:
Continues the Hyundai value tradition, 306 hp, stiff chassis, good brakes, looks like a sports coupe should.
The Bad:
 Unrefined exhaust note, doesn't encourage enthusiast driving, harsh ride.
The Verdict:
Hyundai offers a capable coupe that just doesn't connect.