2010 NAIAS Show Stoppers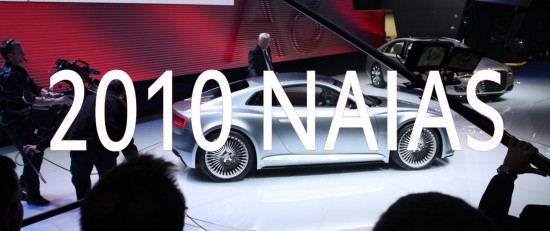 Electricity Powers The Stars In Detroit
     From our vantage point it appears that Ford can do no wrong and for evidence of that claim we'd like to submit Exhibit A: Ford's sweep of the North American Car and Truck of the Year Awards. Absolutely nobody was surprised that the tech-heavy Fusion Hybrid wooed the judges, but the jaws of automotive journalists everywhere (not to mention GM Executives) hit the floor when Ford's quirky little Transit Connect pulled off a stunning upset and beat out the Chevrolet Equinox for Truck of the Year. That's right, the underpowered panel van from Europe beat out Chevrolet's hot selling 32mpg Equinox, much to the delight of flower shop delivery guys everywhere. As Exhibit B we submit the 2011 Ford Focus. The days of building one Focus for America and another Focus for the rest of the world are over. This car was developed to be sold in more than 120 countries around the world with minimal differences and annual production north of 2 million units. A new Direct Injection 2.0-liter I4 and a selection of 6-speed transmissions will provide more power and improved fuel economy compared to the current Focus.
     Buick is in the midst of a product renaissance that reaches exciting new levels with the Regal GS. This destined-for-production concept features beautiful 19″ wheels, cross-drilled Brembo brake package, revised front fascia and a lowered stance compared to the rest of the Regal offerings. The real treat is the 2.0-liter turbo under the hood tuned to twist out 295 lb-ft of torque and send it through a–I can't believe I'm writing this–6-speed manual transmission. Yes, I said it's a Buick and we bet you'll be able to get your hands on this all-wheel drive stunner next year.
     Volkswagen threw us for a loop when it rolled out its self-explanatory New Compact Coupe, or NCC. Looking a lot like a poor man's shrunken Audi A5 (no bad thing) the NCC on display is powered by a hybrid powertrain with a 1.4-liter Direct Injection four-cylinder at its heart. A 7-speed dual-clutch transmission provides a hint of sport and a classy cabin that looks almost production ready completes the package. Volkswagen says the car should return 45 mpg and still get to 60mph in about 8 seconds. There's no traditional coupe in Volkswagen's U.S. lineup so don't be surprised to see the NCC show up in showroom to woo buyers who don't want a 3-door.
     Audi is getting into the electric game in a big way. After showing an electrified R8-based concept late last year called e-tron, Audi previewed a more realistic EV by the same name in Detroit. Their goal is to make e-tron synonymous with electric power in the same way some people refer to all-wheel drive as quattro. Put simply, Audi wants to own the electric car image and a small model like the e-tron will be the first of several when a production version arrives in late 2012. The e-tron uses lightweight materials, including carbon fiber, to weigh in at less than 3,000-pounds and allow the twin electric motors (204 hp combined) to propel the car past 62 mph in 5.9 seconds. Engineers estimate the lithium-ion battery pack will provide a range of 155 miles and recharge in 11 hours. Audi builds some of the best gas and diesel engines out there and we have no doubt their eventual electric car will be a world class offering.
     Honda's attempt to marry sportiness with a hybrid powertrain is called the CR-Z and the little 2-seater coupe made its production debut under the lights at Cobo. On sale this summer, the CR-Z hides the usual hybrid hardware under a rakish body designed to recall the sporty CRX from way back. Honda says the "one-motion wedge form….conveys a dynamic tension" and an "athletic presence". We say the jury's still out on whether there is any beauty to be found here. We do know that the hybrid system is of the mild variety, which means the car can't drive on electric power alone. The 1.5-liter four-cylinder combines with the 10-kilowatt electric motor to produce 122 hp and 128 lb-ft of torque, so CR-Z driver's aren't going to be racing, well, much of anything. Still, they might get the last laugh since they'll be averaging 38 miles per gallon on the highway. A 6-speed manual and 17″ wheels are available if you're looking to be more fun than frugal.
     Lincoln finally got around to putting a proper face on the MKX and while they were at it they tweaked nearly everything inside and out. The 2011 model uses a larger 3.7-liter V6 good for 305 hp and 25 mpg. Inside you'll find MyLincoln Touch, which is the very latest in infotainment management and takes Microsoft's Sync technology to the next level. We're anxious to see if it's as slick in the real world as they are promising. There's no question that the cabin is much improved with soft touch door panels, and a leather wrapped dash along with real aluminum and classy wood trim throughout. Lincoln also claims the new model will be quiet than Lexus or Audi competitors, which is an impressive accomplishment.
     Cadillac rolled out a concept called the XTS Platinum that should show up in production trim next year as the combined replacement for the aging DTS and STS. The show car features a plug-in hybrid powertrain that melds a 3.6-liter V6 with a electric motor and battery pack of a higher capacity than today's hybrids. The added capacity allows the all-wheel drive XTS to be in electric mode more often and then plug in when parked to recharge the battery in about 5 hours. The combined system is rated at approximately 350 hp and 295 lb-ft of torque. The rest of the car is all about luxury and craftsmanship. Beautifully finished leather and wood should remind skeptics that Cadillac still knows how to do luxury.