2011 Corvette ZO6 Carbon Limited Edition (Preview)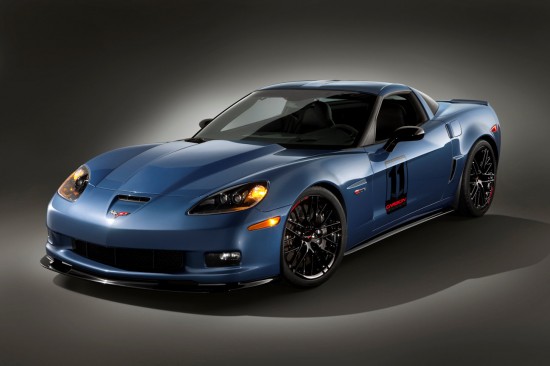 There are not too many days that go by that the editors here at the AT ranch don't start a conversation with something like: "You know what would make the ZO6 even sweeter" or "Do you suppose Bob Lutz would take me for a ride in his jet figther?" Well, today one of those fantasies came true, and I can assure you no one at the office received a phone call from Maximum Bob!
      Nope today it is the sweetening of the ZO6. Enter the 2011 Chevrolet Corvette ZO6 Carbon Limited Edition. It is created by combining the naturally aspirated 505-hp 7.0L V8 from the ZO6 with the wheels, tires and brakes from a ZR1. Other noteworthy mechanicals include Magnetic Selective Ride control and improved cooling.  The package also throws in a carbon fiber hood, rocker splitters and spoiler inspired by the ZR1 and can be had with the carbon fiber roof. All these lighter bits help to make the ZO6 even more of a monster on the race track by lowering the weight and raising the road hugging prowress. So much so that Corvette Chief Engineer Tadge Juechter is confident that the ZO6 Carbon could shave up to 3 seconds off of the ZO6 laptime at Laguna Seca.
      Now for the cosmetics. The ZO6 Carbon can be had in one of two colors: Inferno Orange or Supersonic Blue. Track racers have the option of adding a Euro-style number, and the 20-spoke wheels are painted Competiton Gray. Inside color coordinating stitching, unique steering wheel emblem and sill plates, and headrest logo add to the ZO6 Carbon's already luxurious ebony leather and suede interior.
      Now here is the catch. There will only be 500 Carbon Special Editions produced. So you best not be sitting around debating whether or not you need to add one of these beasts to your collection. But if you do happen to miss the real deal don't fret too much. Chevrolet has two option packages that they would be happy to hook you up with on a standard ZO6. There is the ZO7 performance package that will give you the mechanical and cooling upgrades as well as the 20-spoke Competition Gray wheels, or the CFZ ZO6 carbon fiber package which gives you the carbon fiber goodies. The CFZ ZO6 package can be purchased with or without the ZO7 package. In any case, the ZO6 Carbon or the two option packages will be available late this summer for your driving pleasure!