2011 Ford Edge (Preview)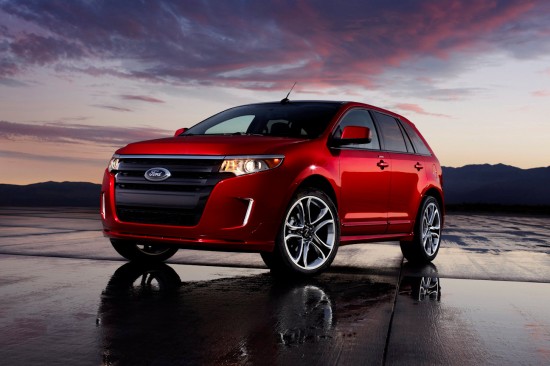 We've always been a fan of the Ford Edge and it's Lincoln MKX twin, but we've also always wondered what they would look like if Ford just took one more step away from the cautious line it's been toeing for the better part of the 2000's. Well now we know, and it looks like Ford loosed the cuffs on Dearborn's imagination a bit.
      Per the gallery we have collected below you will see that Ford took the scalpel to the Edge. The 3-bar grille has been enlarged to near obnoxious proportions and is complemented with new lighting. The hood and front fenders have been tweaked to accomodate the new styling cues, but it looks as though the rest of the sheet metal dies were left alone. All three wheel designs have been updated and in the case of the 18 and 20″ wheels widened. The Sport model still rides on a set of attractive albeit huge 22″ rims.
      While the exterior may be polarizing to some, the designers for the interior ordered up some svelte for this refresh. The materials appear to be updated (we've actually not yet sat behind the wheel) and some much needed brightwork added. Ford can keep the cheesy wood trim if you ask us but the new user interfaces are very neat! Of course Ford's award winning Sync system is available and comes with a host of new features. Also noteworthy is the availabilty of steering wheel paddle shifters.
      But the most important question of the day is: what is new under the hood? Well, plenty. For starters we have some choices. The 2011 Edge can be had with one of three engines. Garden variety Edge's can be had with the 3.5L V6 producing 285 hp and 253 lb-ft of torque. A 3.7L 305 hp V6 (similar to the one in the 2011 Mustang) is standard on the Sport model and features the aforementioned paddle shifters. But the most anticipated engine yet is the 2.0L EcoBoost four-cylinder. Ford hasn't let slip where in the lineup this mill will be placed, nor the output figures, but we expect it to slot in under the 3.5L with somewhere around 220 to 240 hp and 30+ mpg. This is sure to be something to send the Toyota Venza camp into a frenzy. We'll report more once Ford lets us have a go at it!