2010 Chevrolet Camaro LT and SS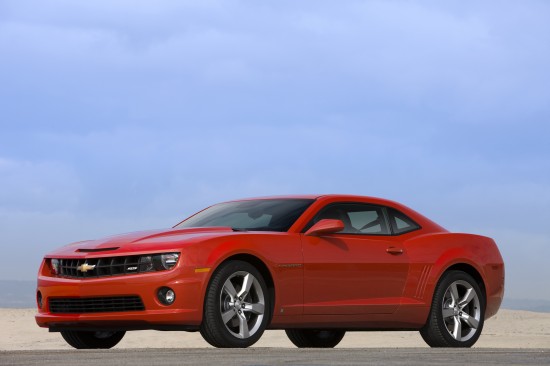 Let The Good Times Roll
     My second car was a 1994 Pontiac Firebird Formula with T-Tops and a lumbering LT1 small-block with enough torque to bring a smile to my face anytime I pulled away from a stop. Of course the steering was lifeless, the handling was nonexistent and the brake pedal felt like an air mattress foot pump. But none of that mattered because it looked good and went fast and it, along with its Chevy Camaro twin, hailed from the glory days of the Muscle Car. Both Living Legends to a young male with a horsepower fetish. So I was as sad as anyone when the F-Body was retired after 2002. But practically as soon as the last car rolled off the assembly line fans started to assume we'd see a new Mustang competitor soon. Several years passed until GM, keen to prove it was in the midst of a design renaissance, rolled a new Camaro concept onto the stage at the 2006 NAIAS. Personally I might have preferred a reborn Firebird, but this extroverted modern muscle car looks so retro right I couldn't wait to get my hands on one. And now I have—two actually.
     Since times have changed our first experience with the new Camaro came in a V6 powered 1LT model. Living in a reality where fuel economy can't be ignored has made delivering a great V6 Camaro a much higher priority than it ever was before. So when GM needed an engine they went right to the top of the heap and borrowed the Cadillac CTS's 3.6-liter direct-injection all-aluminum sweetheart. If that's not a good example of the changed culture within General Motors these days I don't know what is. The engine charges to its 6,700-rpm redline easily and produces 304 hp and 273 lb-ft of torque along the way. We were completely happy with this engine and think it'll make the majority of buyers feel good too, but we couldn't help but think how much livelier the car would be if it could close the weight gap with the Mustang. Our 3,719-pound model has 246 pounds on the 2011 Ford Mustang V6. For what it's worth, we should note that since we tested the Camaro GM has certified its engine at 312 hp, saying they conservatively rated the 2010 model and no changes were performed to increase the rating. We believe in SAE certified numbers but we're still using the 304 hp rating here because if you had bought one when we were evaluating the car that's what we were all told it produced.
     Either way the engine moves the car with some authority and the 6-speed automatic actually performs commendably. You have the option to slide the beefy shifter past D into M and control shifts with the small buttons on the back of the steering wheel. Like any good manumatic the transmission will not shift until told to do so, but something needs to be done with the small shift buttons. They are a stretch to reach and don't offer any tactile joy. Paddles of some sort are what we need and GM should check out how VW/Audi handles this if they don't want to go full F1 racer on us.
     The rest of the V6's drivetrain is a success story starting with the controlled ride thanks to an independent rear suspension that keeps things comfortable but taut, capable brakes with only a slightly soft pedal and no slop on the numb but commendably quick 16.1:1 steering ratio. We blame part of the numbness on the 20" wheels included in the $1,750 RS Package. These are the same style wheels as used on the SS models and they are largely to thank for the new Camaro's street presence.
     Our second crack at the Camaro came in the top-dog 2SS model that pushed all the right muscle car buttons. Unfortunately, it came wearing Pirelli snow tires and Mother Nature was doing its best to make good use of them. So even though we didn't get as many quarter-mile runs in as we hoped, we did get to listen to some of the finest V8 music this side of a Corvette, which shouldn't surprise anybody since the 6.2-liter V8 is the same LS3 utilized in the base Vette. That means you only give up a few horses (thanks to different exhaust flow) but nobody around here is disappointed with 426 hp and 420 lb-ft of torque, especially for a starting price around $32k.
     Our SS came with the standard 6-speed manual, which proved far better than Tremec manual's of the past. This gearbox features a nice mechanical feel with reasonably crisp gates and short throws although we don't like the fat shifter itself. Thanks to an extremely long overdrive ratio cruising in 6th gear barely tops 1,500 rpms, but flexing your right foot in any of the first four gears produces a flurry of mechanical mayhem that results in your back receiving an imprint of the stitching pattern on the broad but comfy leather seats.  Make no doubt about it, the SS is seriously fast.
     To handle all that speed GM has made sure to improve on the areas it didn't do so well on with past Camaros. Subpar brakes comes quickly to mind, but Brembo makes sure that area is covered by providing all SS models with 14" front and 14.4" rear rotors and 4-piston front calipers. Even on snow tires our SS could drop anchor with the best of them. The SS naturally rides stiffer but it is now entertainingly composed in the corners with little roll, yet it isn't so stiff that you jiggle over minor road scars.
     So now the Camaro has filled out the rest of modern muscle car equation by adding brakes and serious gumption (thanks to the sticky 20" tires) the only piece of the puzzle remaining is the interior. And it's a mixed bag of design flair like the 4-pack of auxiliary gauges on the console and the neat door panel lighting along with average-at-best materials and cheap looking instruments. We like the look of the styled-to-the-max steering wheel but didn't actually find it engaging to use, plus we would have liked the option of dual-zone climate control and a fold-away navigation system so the retro look could be maintained when it counts. But if we had to choose just one enhancement inside we'd probably be happy with improved materials similar to what the new Mustang sports.
     There's little sense in talking about the exterior design because, one: most people love it and, two: if you don't you probably drive a Mustang or Challenger. We're with most people. Don't let the fact that this is a two door fool you, this is a big coupe built off what was designed to be a sedan platform and as a result the Camaro stretches 190.4 inches. That matters little, however, as the perfect proportions mean the Camaro looks just right.
     Since they've killed off Pontiac entirely I'm starting to lose hope I'll ever be able to properly relive my formative Firebird-fueled youth, but I'm convinced a new Camaro would make a nice substitute. Now we just need a T-Top option. In the meantime you can drop $28,030 for a nice V6 or $36,190 for a loaded SS and let the good times roll.  
The Good:
Enough style to draw stares, great V6 and V8 engines, 29 mpg with the V6, great Brembo brakes on all SS models.
The Bad:
Small trunk with a narrow opening, mediocre interior materials, automatic needs better steering wheel shift buttons.
The Verdict:
Further proof that the "good ol' days" are right here and now.