2011 Nissan NV (Design Critique)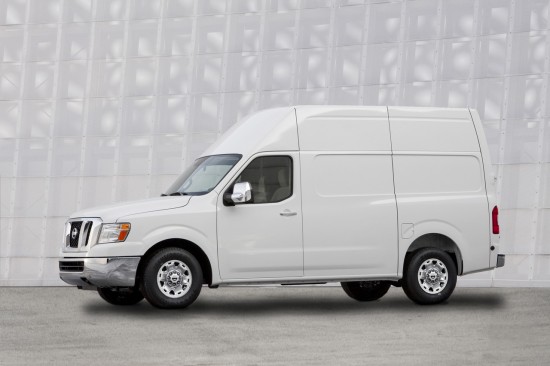 Econoline, Express, Savana, Beauville, Ram Van.  These are not typically vehicle names that are brought up in conversations with auto enthusiasts unless one is talking about its merits as a tow vehicle.  The general public has been largely disinterested with the entire full size van market ever since the Chrysler minivans debuted in 1984, forever changing the van market.
      The full size van market has been largely devoid of change in the ensuing years. Ford managed to win Truck of the Year honors at Motor Trend in 1992 with its last fully updated Econoline/Club Wagon duo – now called the E-series (you'd think Mercedes-Benz might take issue with that nomenclature).  Chevrolet and GMC gave their vans a makeover in 1996 that was so extensive that they gave the vans new monikers:  Express and Savana.  Dodge was rumored to prepping its extremely dated Ram Van and Wagon for fitment of a Hemi back in 2003 when Daimler decided it would be better to import the Mercedes-Benz Sprinter with a Dodge grille.  Of course, now that the Daimler-Chrysler divorce is final Mercedes is selling the Sprinter vans as of the 2010 model year.

      Inexplicably, Nissan has decided to enter into the limited volume full-size van market.  Nissan claims that it designed the van around the feedback received on what current tradesmen do and don't like about their vans.  It seems that full-size van owners are largely dissatisfied with the current offerings.  The Nissan NV, as it is uncreatively branded as an abbreviation for 'Nissan Van,' seems to take a new approach to the cargo van market with its long hood and slab sides.  Then again, the Sprinter has slab sides and the long hood approach is what the domestics used before the forward control vans were rolled out in the early 1960s when vans were heavily based on pickup trucks; think SUV without rear windows.  Each of the current offerings have something that makes it unique from all others.  How will the Nissan NV compete?  Its hard to tell.  Here's looking at what makes the Nissan van different from its scant few competitors.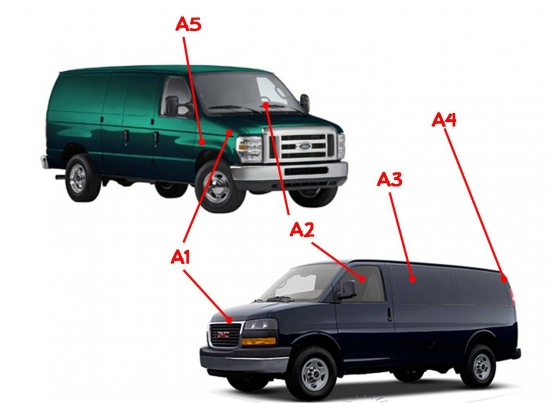 A1.  Hoods on both the Ford and GM vans have been stretched over the years in an attempt to free up much needed footwell space.  In both cases, the hood is still stubby enough to aid maneuverability in tight spaces.  Big V8s are nearly unserviceable from the outside on these vans.
A2.  Driving position is high, giving good visibility to the road.
A3.  GM offers optional panels that flip open along the rear sides.
A4.  Different from the Sprinter and NV, these vans have a gentle amount of tumblehome.  Not the way to maximize interior volume but appears that it would assist in lowering the center of gravity a few notches.
A5.  Ford's mild attempts at style include gentle fender flares that looked fashionable in 1992, but out of place with the bricklike Super Duty headlights and grille that have been grafted onto this aging van.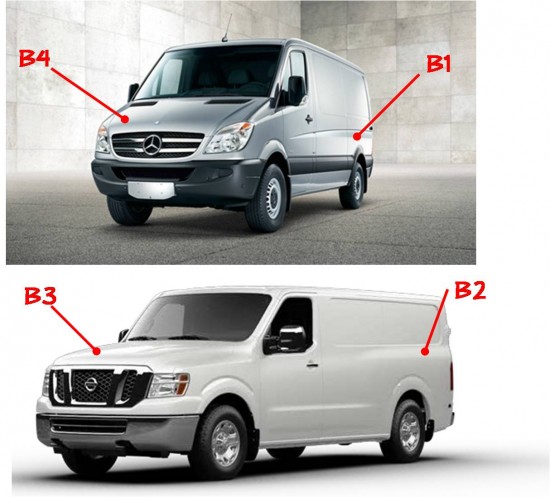 B1.  Sprinter is tall, narrow and slab sided.  A trace of style is found in this side groove
B2.  NV is also slab sided, lacking the tumblehome that the domestic vans feature, but mimics the Sprinters stab at styling.
B3.  NV has the longest hood, much like one would find on a full-size pickup truck.
B4.  Sprinter has the shortest hood of the bunch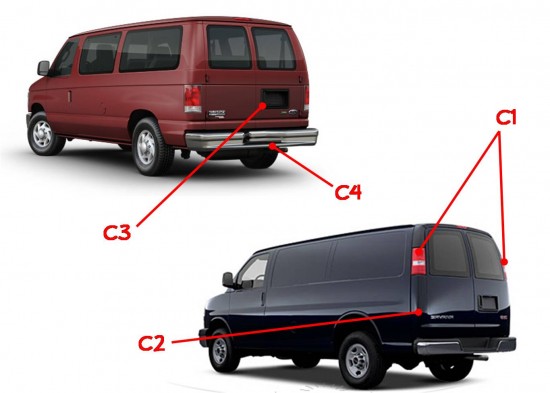 C1.  Tail lights on the GM vans are up high allowing them to be visible when the rear doors are open.
C2.  GM vans are the only in this group to have concealed hinges.  Quite a feat considering that these were the industry's first van doors to open a full 180°.
C3.  Ford and GM both use the license plate bracket to conceal the rear door handle – a nifty styling gimmick pioneered by the Chevy Astro van.
C4.  Rear bumper is at a truck-like height on these vans, but accommodate a step in the center.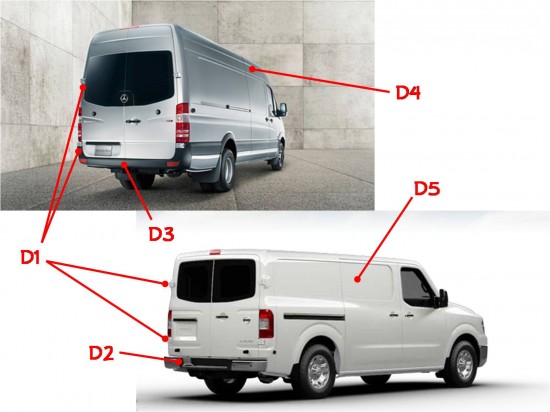 D1.  Like the Ford, the import brands make do with ugly exposed hinges, which are also susceptible to rust.
D2.  NV has similar step bumper design and height to GM and Ford vans.
D3.  Sprinter appears to have no bumper at all!
D4.  This Sprinter is fitted with the high-roof option; something that the NV makes optional, but the domestic vans lack entirely.
D5.  The NV features panels that hint at the availability of windows.  Oddly, this is the only van that is currently offered only as a panel van without a passenger model.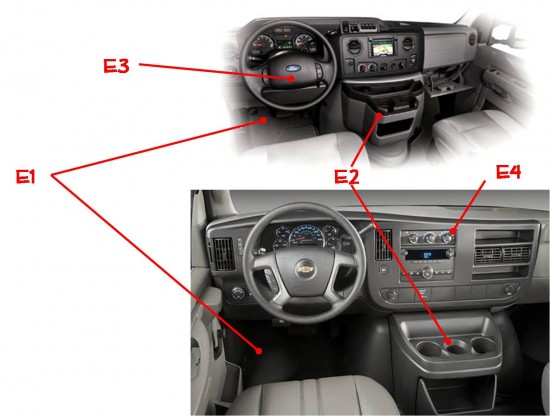 E1.  Ford and GM have cleared up the footwell as they have pushed the front wheels forward over the years.
E2.  Cupholders and center console do a poor job of hiding the interior robbing engine compartment.  These act as 'doghouses' and can be removed for accessing much of the engine for service.
E3.  Ford uses an old organic-look steering wheel in combination with the modern but block dash panel.  Would it have broken the budget to put a new wheel on this ancient beast?
E4.  Aesthetics clearly weren't what GM had in mind when it place the radio controls and vents on this massive panel.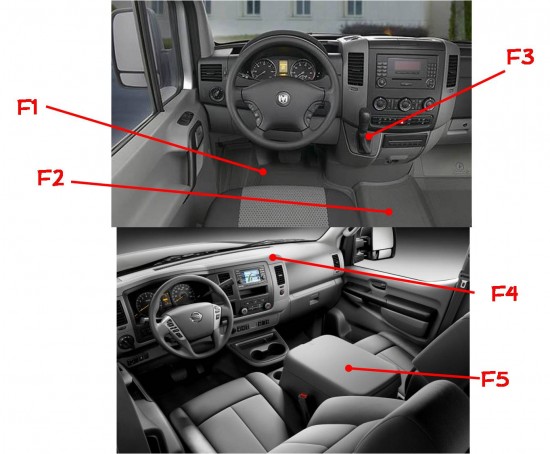 F1.  Sprinter footwell is right on top of wheel wells, the only of this bunch to do so.  Turning radius likely benefits from it but not the driver's feet.
F2.  Sprinter's flat floor is enabled due to its meager powertrain offerings.  No need for the engine to intrude.  A center passenger seat is offered as a result. 
F3.  Sprinter also offers an unusual dash-mounted shifter lever rather than the conventional column shift.
F4.  NV dash panel looks like it came out of a pickup truck due to the hood's truck-like proportions. 
F5.  Nissan uses the floor space freed up by the long hood to offer a large car-like center console.  How about a 3rd seat in this cargo-only van?