Mercedes-Benz Shooting Break Concept (Design Critique)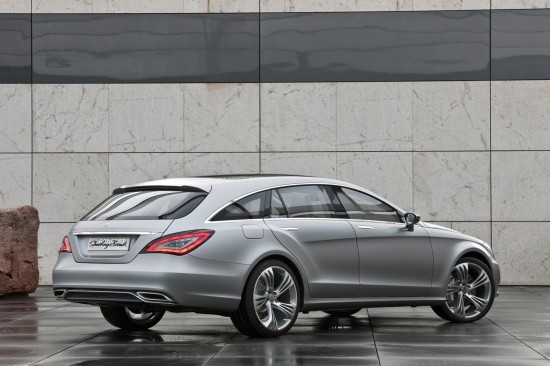 First Mercedes-Benz challenged our definition of a coupe by offering the CLS four door coupe.  This car had conventionally hinged doors front and rear but featured a dramatically impractical roofline.  Now Stuttgart is looking to challenge yet another body style definition.  This time the 'shooting brake' is being redefined.
       A shooting brake was typically a coupe that had been converted into a wagon-like vehicle by enlarging the rear compartment with the intention of enabling larger sportsman-like items to be carried (think hunting rifles or polo gear).  If the CLS can truly be referred to as a coupe, then this car is legitimately a shooting brake and not merely a wagon.  Mercedes takes the redefinition even further by spelling it as 'shooting break,' arguing that the 'break' is actually in reference to breaking a horse, since the term originates from the carriage days.
      Whichever camp you side with in defining the bodystyle, this car is clearly a looker.  Taking on the Audi A5 Sportback and BMW 5-series Gran Turismo premium hatchbacks, Mercedes-Benz chose the wagon approach.  Though referred to as a concept, it is expected that this car will see production in slightly modified form.  Like the Cadillac CTS wagon this car proves that a wagon can truly be stunning.  While clinging to traditional Benz styling cues this design proves to be fresh and compelling.  It seems likely that this car will see production in some form.  Those who love a good station wagon will likely be holding their breath in anticipation of the Shooting Break, if not in name, at least in form.
A1 – Hood emblem is redundant with large tri-star in the grille.
A2 – The Shooting Break wears a grille pattern once reserved for Mercedes Benz coupes;  a tri-pointed star emblem centered in the grille.  Sedans and wagons once sported an upright grille with a center spine and emblem mounted atop as a hood ornament.  Both patterns are now used inconsistently between coupes, sedans, wagons, and SUVs. 
A3 – Lower intake gives this Merc a happy face rather than the typically dignified look of the brand's other cars.
A4 – This grill and hood shape is quite upright compared to the current CLS.  One must wonder how much influence European pedestrian standards influenced this.
A5 – These intakes in the bumper are presumably functionally.  Thank you, Mercedes, for avoiding the temptation to clutter these with some sort of fog-lamp cliché.
A6 – Double pedestal mirrors are a compelling detail.
A7 – Belt line is much more reasonable than the impossibly high (and slightly awkward) one on the existing CLS.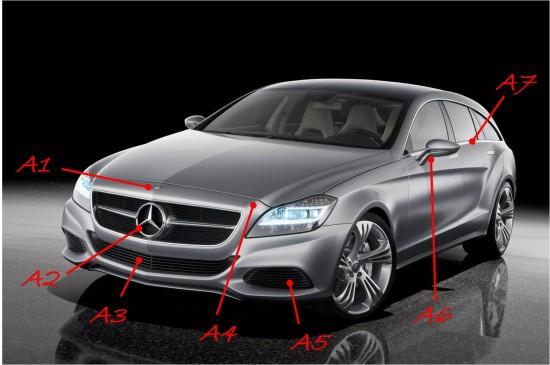 B1 – Glass roof is not readily apparent until one gets a bird's-eye glimpse.  Coupe-like four passenger seating is evident here.
B2 – This angle emphasizes the flamed surface detailing.  This sculpting is simply superb.
B3 – Triangular tail lamps reminisce of those originating on the early 1990's S-Class (and eventual CL-Class) coupe.
B4 – Exhaust outlets are subtly and beautifully integrated below the rear bumper.  It is this type of detail that suggests the premium nature of the car.
B5 – Rear door is actually quite narrow and opens in as an upper hinged hatch, minimizing the utility advantage over the Audi Sportback and BMW Gran Turismo.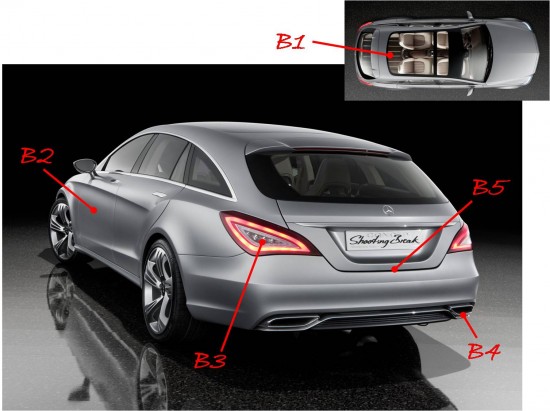 C1 – Side glass tapers much like original CLS coupe/sedan but elegantly extends through the cargo compartment creating a triangular piece of side glass.
C2 – Fender is a familiar shape.  Where have we seen this before?
C2.1 – Here it is.  First seen on the abandoned 1951 Chrysler K-310 show car by Karmann, this fender shape was later applied to the delicately styled VW Karmann Ghia.  Who would have ever thought the humble Karmann Ghia might influence Mercedes-Benz styling?
C2.2 – Chrysler designers either had a long memory or looked through archives for inspiriation from the K-310 show car to create the 1998 Chronos concept.  In any event, this shape is brilliantly integrated on the Shooting Break concept. 
C3 – Long-ish rear door suggests ample legroom.  Presumably headroom nor ingress/egress will suffer as on the CLS.
C4 – Wheels succumb to the obvious 5-spoke pattern.  At least these are delicately and dramatically detailed.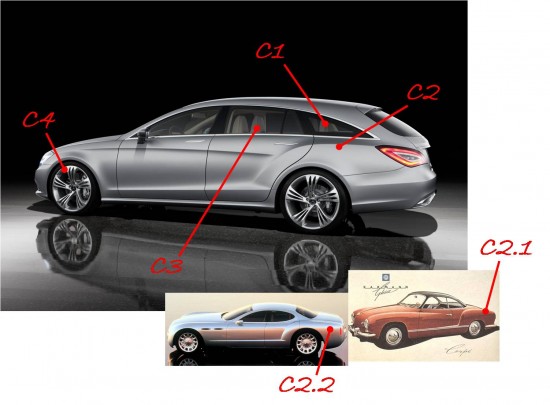 Categories:
Design Critique, Miscellaneous
Benz, CLS, Merc, Mercedes, Mercedes-Benz, shooting brake, shooting break, Sportback, station wagon, wagon