2010 Chevrolet Equinox and GMC Terrain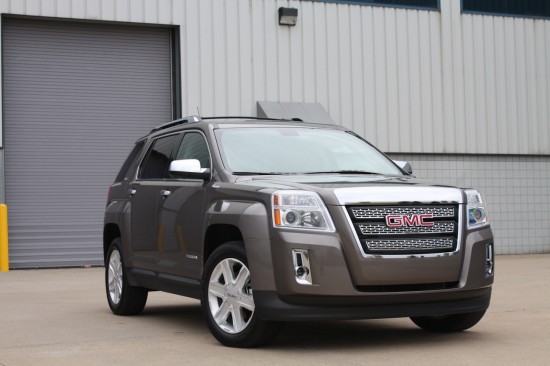 Bringing Value and Efficiency to Midsize Crossovers
     Five years ago we reviewed the first-gen Equinox and had mostly good things to report about Chevy's first crossover. Sure we noted a few ergonomic foibles and suggested that something closer to 250hp would earn more praise than we were willing to lavish on the 185hp mill in all Equinoxs at the time. But the general consensus around here was the Equinox was a nicely sized people mover that looked good and topped out around $30k. That market has proved a popular place among automakers since almost every one of them now offers a vehicle that we could sum up the same way. And as they were introduced they all put the Bow Tie offering a little further behind the curve. But at the 2009 NAIAS GM decided it wanted to lead the crossover pack instead of follow and debuted the 2010 Equinox with the right hardware to get it done. A few months later GMC dropped in as a player in the segment with its mechanically identical Terrain. Sure, the numbers are impressive, but how do they drive? We spent time in several versions to find out.
     We should clarify something right off the bat. One of these brands has given us a refined, handsome, even classy crossover and one of them has, well, not. The Equinox sports modern sheet metal with muscular flared wheel arches, upscale chrome trim and shapely headlights that make for a particularly striking package in LTZ trim with Silver Ice metallic paint. We can't offer such superlatives for the Terrain's protruding grille, square wheel wells and blocky front and rear lights. We think they tried too hard to come up with something "Professional Grade" and the overall clunky result just doesn't work for us. Will the GMC's sales suffer for this? Too early to tell, but General Motors probably won't lose since any prospective customers who are put off by the styling but fans of the package will find solace at a Chevrolet dealer.
     The good news is both of GM's crossover cousins offer class leading interiors. The designs are nowhere near as differentiated as the exteriors but they're so good that changing them would inevitably shortchange one. Of course, unless you're Rolls-Royce, there's always room for improved materials, but keeping in mind that the Equinox 1LT we tested starts at just $23,360 what we have here shouldn't be panned.  The design is clearly an evolution of the two-tone, dual-cove dash used to great success in the Malibu and the rich color schemes mix with chrome brightwork and silver-painted trim to move the whole cabin to a new level for mainstream Chevys and GMCs. We particularly like the beautifully finished headliner, stylish steering wheel and the soft light glowing richly from behind the center stack faceplate. The log book had unanimous praise for the soft and supportive seats, although one editor said the cloth used in our four-cylinder Equinox looked like it had a run-in with a carton of lit cigarettes. The HVAC controls are easy to control with just a glance, but we were surprised even our fully-loaded $34,140 Terrain doesn't offer dual-zone climate control.
     The standard audio system for the Equinox and Terrain is sufficient but the 250-watt Pioneer 8-speaker system is a nice step up and controls for both systems are well-marked and located with the exception of the eject button that isn't anywhere near the CD slot. A lot of great storage space has been built into these crossovers including a covered cubby on top of the dash and a very deep center console compartment that also houses the USB and AUX input jacks for the stereo. Bluetooth is exceptionally easy to use and standard on the majority of trim levels. The 2nd row accommodations are hands-down the best in class with sliding and reclining seats that can provide downright generous legroom. If you have frequent teenage or adult passengers this setup will be well received. No other competitor can match this level of passenger-friendliness.
     Another common thread in the log books of these vehicles was the quietness of the cabin at cruising speeds. Wind and tire roar was negligible and the only noise that really seeped in was the 4-cylinder engine buzzing a bit under load and the V6-equipped models emitting a meaty but refined growl between 4,000 and 6,000 rpm.
     It's the four-cylinder models that are grabbing the most headlines these days, as they should with their stellar 32 mpg highway and respectable 22 mpg city EPA ratings. An ECO button by the gear selector seems to be the secret to obtaining the coveted 30+ mpg average in the real world. Activating the ECO mode adjusts a number of transmission related settings including lowering the torque converter lockup to 1,125 rpm. The result is a general laziness to the 6-speed transmission that we weren't fond of but many drivers probably won't notice. We are glad GM leaves the decision to use the system up to the driver.
     What we really wish we could change about the 4-cylinder Equinox/Terrain is the standard electric power steering that comes with it. GM says it'll save a tank of fuel per year, but we'd gladly spring for the extra fill up to have some linearity and consistent weighting in our everyday drive. We're not going to candy coat it; the tuning of this rack is just bad. Sweeping curves like entry and exit ramps required far too much correction to stay on your intended line. The V6 comes with a traditional hydraulic setup and it is worlds better. In fact, it's downright good with a nice syrupy weight that feels like something Audi would offer. The V6 maxes out with ratings of 17 mpg city and 25 mpg highway, so the difference between the two is substantial and we'd probably have to learn to live with the weird steering to reap the rewards of the considerably better economy of the I4.
     We're especially ok with that decision since the four-cylinder models are so competent in everyday driving.  No, they aren't fast, but zipping around town and even cruising at interstate speeds is no problem for the 182 hp 2.4-liter direct injection four-pot.  It helps that the Equinox weighs a relatively trim 3,770 pounds. Ford's Edge, by comparison, is a couple inches shorter but about 300 pounds porkier.
     If you want to put a little more pep in your commute, or just want to escape the terrible electric steering, the V6 option rewards with 264 hp and is $1,500 well spent. GM went with a 3.0-liter direct injection all-aluminum V6 that loves to rev and, as we already mentioned, sounds great doing it. Towers take note that the I4 and its 172 lb-ft of torque is rated to handle only 1,500 pounds whereas the V6's 222 lb-ft of torque can pull 3,500 pounds. We really do think the four-cylinder will do the trick for most drivers, and GM must agree since they expect 75% of buyers to save money and fuel by staying with the standard engine.
     Both Equinox and Terrain come standard with 17" wheels but various 18" and 19" designs are available depending on trim level. All models share the same great vented front and rear disc brakes that earned good marks in the log book for their more than adequate stopping power and great pedal feel. Our front-wheel drive Equinox rode very smoothly and offered a generally softer setup than our slightly rougher all-wheel drive GMC Terrain. We suspect most owners will be completely happy with the ride quality, especially when you layer in the ultra comfortable seats we talked about earlier.
     General Motors has come a long way since the 2005 Equinox decorated showrooms. The design-by-committee look has been banished, the interior designers are no longer beat up by the accountants and the powertrain guys are taking the company's class-leading aspiration seriously.  What does all that mean? It means GM has raised the bar on value and efficiency in the midsize crossover segment and it doesn't matter if you choose an Equinox or a Terrain; you'll still be leading the pack.  
The Good:
Excellent I4 and V6 engines, coddling seats, reasonable option prices, 40-gig hard drive available for music lovers, unbeatable back seats.
The Bad:
Slight ride penalty on the AWD V6 Terrain, terrible electric power steering programming on four-cylinder examples, thick A-pillars, no dual-zone climate control offered, potential for annoying glare off the chrome shifter trim.
The Verdict:
A great choice for a lot of families—no matter what model you choose.
Photos by Jason Muxlow

Photos by Jason Muxlow