2010 Ford Fusion SEL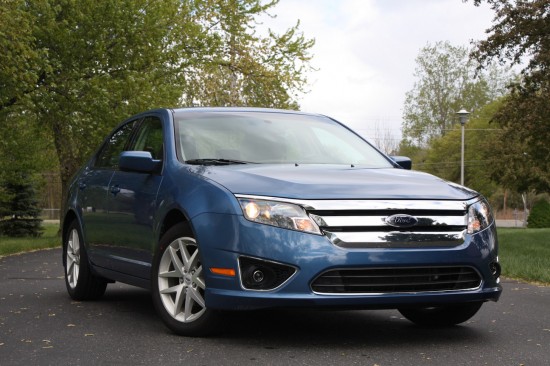 A Minor Refresh Makes A Major Difference
      The movers and shakers inside Ford had a great idea once upon a time ago. They decided they were going to make a family sedan that was sporty. What could go wrong? They had experience fashioning family sedans such as the Taurus, and sports cars like the Mustang. Surely they could graft the two together. After all, they were starting out with a Mazda6, an astoundingly thrilling car to drive considering it is propelled via the front-wheels. Oh sure, the result was a nice car. They made it bigger so you could stretch out. They made the suspension softer so the bumps wouldn't fling the contact lenses from your eyes. And they made it heavier by adding fluffy foamy stuff so you can't hear the engine noises. They made it boring…
      …but that was the 2006 Fusion. This is the 2010 Fusion and it's found the gym. The razor blades and the squircles (yes, this is a word that Ford made up) are gone. In their place is real front end styling. Ford couldn't decide whether to go with American or European styling on this one so they chose both. The upper grille still features three chrome bars while the lower one is decidedly Euro. The headlights are actually design elements now with projector lamps inside instead of children's blocks stacked upon one another with a flashlight shining through them. The hood has been "power-domed", the fenders flared, and the fog lamps now reside in a trapezoid of black plastic trim surrounded by a tasteful chrome bead. The flanks are clean and uninterrupted. Because our car is an SEL model it rides on 17" 10-spoke aluminum wheels sporting 255/50R17 all-season tires. Pop open the fuel filler door and, gasp, there is no cap to be unscrewed and indelicately scraped across the finish everytime you pull up to a pump. Last but not least, there is no spoiler glued to the trunklid just for the sake of having a spoiler. Ford claims this is a sportier leaner looking car and we have to agree.
      Under the hood of our Sport Blue Metallic SEL was the 2.5L 4-cylinder. Our issues with the outgoing mill have been more or less addressed. The old 2.3L was noisy and did little to motivate the car, or us for that matter. It wasn't all that frugal on fuel either; with a 20 mpg city and 26 mpg highway rating its economical advantage over the V6 model was minimal.  However, with 175-hp and 172 lb-ft of torque on tap from this slightly bigger and better balanced engine the base Fusion is finally worthy of more than just rental car fleets. The EPA rates the new 2.5L Fusion at 22 mpg city and 31 mpg highway. We saw 29.4 mpg on the dash readout before we handed over the keys, but admittedly we were slightly restrained with this one. The 2.5L doesn't exactly sing a melodious tune, but clever applications of sound deadening insulation and better engine mounts cut down on the buzz. Once cruising velocity has been attained and the 6-speed automatic gearbox has settled into its final cog, all matter of thrashing dies down leaving the cabin free for easy conversation. You aren't going to run away from Mustangs at stoplights with this engine, but you shouldn't have to stop for fuel near as often.
      The ride, though compliant, is a fair bit more stiff legged than the class average. But there is no concern that you will be heading to the dentist's office to get your molars put back in after traversing some of Michigan's winter-ravaged broken pavement. The body motions inspire more confidence than the outgoing model. The steering, although electric, didn't isolate me completely from the world beneath the tires, yet filtered out plenty of imperfections that I didn't care to know about. These electric systems are getting much better than the early Playstation units that left you wondering whether you still had front tires, but they will never replace the traditional feel of a well-polished hydraulic rack.
      Which leads me to the real heart of the matter: the cockpit. From the get go you can tell a little more imagination went into Round Two. Alas, the ancient HVAC and radio head units have been replaced with units fit for duty in the 21st Century! Instead of a chrome ringed analog clock, there is a complete driver information center up top to keep you informed on direction, temperatures, and your Sirius satellite radio selection. Sync came standard on our car, and while we didn't fully utilize this technological wonder, pairing Bluetooth phones and playing MP3's has never been easier. The seats are a bit firm but wholly comfortable and do a little more to hold you in place during corners, not that your typical four-cylinder Fusion owner will carve too many of them.
      Overall the interior trimmings are on par for the class. The leather is accented with contrasting white stitching and gives the seats and steering wheel a more upscale look. The shiny grey printed trim surrounding the center stack doesn't do much for us and surely doesn't convince anyone that this is a piece of aluminum, or whatever look the designers were going for. The gauge cluster now features three wonderfully lit crystal blue electroluminescent dials. If you appreciate quality sound then the 12-speaker Sony system is a must, but annoyingly it only comes packaged with the moonroof.
      Minor quibbles aside, the Fusion is a delight to drive and makes a far better car than the one it replaces. It lost the beard trimmer look and picked up enough European flair to make it look like it belongs in the same showroom as a Fiesta and a Taurus. Ford's pushing of the refresh button has addressed most of our concerns regarding this bread and butter sedan, and as a result it should easily carry on until the 2014 Mondeo/Fusion is rolled out. If you like what you see it can be all yours for just $25,775.
The Good:
Fresher styling, fuel-miser 4-cylinder pairs well with 6-speed auto, more life in the chassis.
 
The Bad:
Dash trim is cheap, still a bit of buzz from the engine under load.
 
The Verdict:
It's amazing what happens when a little more imagination is put into a vehicle.