2010 Mercedes-Benz ML350 BlueTEC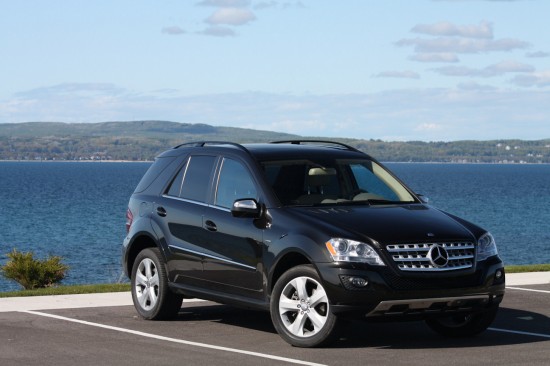 This Is The ML You Want
     Yeah that ML550 and its 382 hp V8 may be calling your name from across the showroom, but we urge you to resist. There's a better ML tucked over in the corner that we think most people will fall for after a single test drive—even though it's wearing badges that few consumers recognize. To tell you the truth, we wouldn't have a clue what BlueTEC meant either if we didn't spend our days reading press releases. But based on our experience with the new-for-2009 powertrain, all you really need to know is anything wearing BlueTEC badges is powered by Mercedes' best diesel engine ever. And considering the praise we heaped on this engine's predecessor in our 2006 review of the E320 CDI sedan, that's saying something.
     Engineers started by downsizing the previous 3.2-liter I6 and reconfiguring it as a 3.0-liter V6. The packaging benefits are obvious, but as an added bonus the V6 now features an aluminum head and block, which means significant weight savings compared to the iron anvil under the hood of our '06 E320 CDI. Four valves per cylinder allow for the optimal placement of the piezo fuel injector in the center of the combustion chamber for an even burn resulting in increased power and reduced emissions. A particulate filter traps 99 percent of the carbon soot in the exhaust and stores it until the engine computer decides to periodically raise the exhaust temperature to more than 1,100 degrees Fahrenheit and burn the soot into carbon dioxide.
     Of course, to actually meet strict new emissions laws and be 50-State certified engineers had to add a clever exhaust treatment system. AdBlue solution is injected into the exhaust stream resulting in ammonia being released and breaking down nitrogen oxides into harmless nitrogen and water in a downstream catalytic converter. AdBlue resides in a separate seven gallon tank under the back cargo area floor. It needs to be refilled at every 10,000 mile service and is, unfortunately, an out of pocket expense. When it's all said and done Mercedes claims their BlueTEC diesel powertrain is as clean as a modern gas engine.
     A balance shaft aides in smoothing out the natural vibrations of the V6 and the variable nozzle turbine turbocharger carries over from the previous configuration—and that's a good thing. Narrow angles on the turbo vanes at low engine speeds mostly vanquish turbo lag because of the quick spin up time, while steeper angles at higher engine speeds slow the turbo down but increase air intake volume. It sounds complicated but it goes a long way toward making this diesel responsive and keeping it in the heart of the power—easy to do since 400 lb-ft of torque is available from 1,600 – 2,400 rpm.
     In other words, in normal everyday driving you're never out of the power. And that's our favorite feature of Mercedes' latest diesel. Sure, the spec chart lists a measly 210 hp, but that number is completely irrelevant to the BlueTEC lineup. That creamy surge of power you feel pulling away from a stop is the torque talking and we like what it has to say. It confidently states it can move this 4,974 pound SUV to 60 in 8 seconds and if you feel like towing go ahead and pile on 7,200 pounds. That's 2,200 pounds more than the ML Hybrid can handle, by the way.
     Our notes were unanimous with every editor agreeing that this is the quietest diesel we've yet experienced. Inside it takes a trained ear to tell that this is a turbo diesel since there's virtually no clatter and the dominant sound is actually a faint turbo woosh that builds with the revs. We're confident that most passengers will never notice this ML doesn't run on regular unleaded.
     The driving experience is best summed up with one word: soft. There is nothing sporty about the BlueTEC with the exception of paddle shifters. We were a bit surprised to see them on the steering wheel since holding a gear is a rare exercise in a diesel outside of towing, but your control isn't complete since the 7-speed automatic will automatically upshift at about 4,000 rpm, even in manual shift mode. That's not a problem anyway since power drops off noticeably after about 3,800 rpm. Our week with the ML returned no complaints about Mercedes' latest automatic since it consistently delivered creamy shifts, even at wide open throttle.
     Ride quality is about as soft as you'll find from a German automaker. If we didn't know better we'd have guessed there was an air suspension at all four corners smoothing out Michigan's broken highways, but it's actually a double wishbone setup at the front and an independent 4-arm multilink design at the rear tuned heavily toward comfort. The downside is a bit of lean in the corners but the ride never gets floaty and the big 19" tires keep the handling in check. We'd like a stiffer brake pedal since this one has a bit of a dead zone for the first inch or two of travel before the brake system becomes quite sensitive and the 13" front and rear discs start knocking off speed. The speed sensitive power steering was also too light for our tastes, especially when cruising. We're sure it's close to perfect for the target audience, but anyone who values steering feel and feedback will be disappointed.
     Disappointed would also describe our feelings about some aspects of the ML350's cabin. Our main grudge rests with the COMAND nav/audio system interface. It isn't a touch screen unit and it doesn't offer the console-mounted controller that every other Benz does so it's very frustrating to navigate menus or even change the radio station. In fact, aside from some very minor updates, this is the same system that we said "feels a generation behind" in our evaluation of the 2006 E320! Perhaps Mercedes has confused these systems with fine wine but we're here to tell you, they don't get better with age. If COMAND is at one end of the complexity spectrum, the wonderfully straightforward HVAC controls are surely at the other. Big buttons and well marked knobs make it easy to dial in your climate wishes. Great cupholders are nestled within classy Burl Walnut wood and faux aluminum trim accents the cashmere leather interior. The vast majority of materials are typically Mercedes-Benz excellent but whoever signed off on the terrible foam-board-like sun visors should be shot, or at the very least, made to work for Geely. We thought the temperature and volume control knobs were down-market as they operate with a click-click plasticy feel as you turn them. It's also about time to ditch the manual foot pedal emergency brake for the class-average electronic setup.
     The front seats remained comfortable, even over an 800 mile day, although the second row was judged as too stiff by most passengers. We also had notes in the logbook about the narrow side mirrors and thick C-pillars cutting into visibility. There was debate among the staff when it comes to the gauges. Some called the analog clock an elegant touch, others said it was dumb placement and wanted vital engine information in its place. Everyone seemed to agree that the gauges themselves were a tad boring.
     The ML350 BlueTEC is a vehicle with few compromises. Forgoing the gas V6 for the diesel gets you a torque monster that is rated at 18 mpg city and 25 mpg highway. Good numbers to be sure, but what's exciting is that we regularly returned better than that in the real world including a 150 mile round trip under ideal circumstances that returned better than 29 mpg. To think that this is achievable in a 2.5-ton luxury SUV with permanent all-wheel drive puts us on cloud nine. If you actually test drive an ML diesel ($49,700 base price, $59,535 as-tested) we think you'll be making comments like the last entry in our logbook. "It surpassed my expectations. Aside from AdBlue costs, why would anyone buy the Hybrid over this? No clatter, no noise, no smell, no smoke and 400 lb-ft of torque!" Yeah, this is the ML you want.
The Good:
Muscular good looks, torque aplenty, reasonably priced, returns great mileage, comfortable ride.
 
The Bad:
Outdated nav/audio system, a few cheap feeling materials, soft brake pedal, hard 2nd row seats.
 
The Verdict:
If you're shopping in this class the quiet, powerful and often overlooked ML350 BlueTEC deserves your attention.