2010 Cadillac CTS Sport Wagon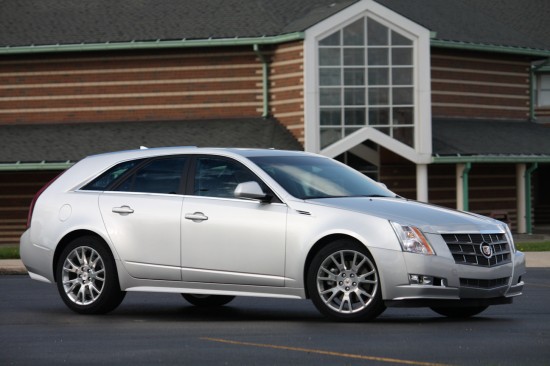 This Is How You Make A Sports Sedan Better!
      Wagons are not the most popular body style in these United States of America. But there was a time when station wagons as large as barges and covered in an acre of faux wood ruled the highways. They were powered by V8s and used a body-on-frame, which meant that you could haul the family, their stuff, and tow a trailer to grandmother's house simultaneously. That all changed when Chrysler introduced the world to the minivan in 1984. Ever since, car designers' pens rarely draw the formidable 2-box shape of the station wagon. Stare as one might at the ink blots that are the tall-roofed SUVs and jellybean-shaped crossovers, these are not true wagons. But just as all hope was seemingly gone, Cadillac of all marquees has come to the rescue and delivered us a long roofed version of the popular CTS. Is it all we could hope for and more?
      Short answer: yes!
      This is not the mighty behemoth of yesteryear but rather a tidy car crafted from the same svelte hardware that the CTS sedan was wrought. It rides atop the same 113.4" wheelbase and from the B-pillar forward the Sport Wagon and the sedan are identical. Cadillac touted their ability to push the envelope for sheetmetal stamping when the sedan came out with its deep draw front fender, and it appears that same ingenuity and determination found its way into the rear fender design as well. That massive expanse of sheetmetal Cadillac calls a D-pillar is a stunning visual statement from either a front or rear three-quarter view. The chrome "roof rails" neatly flow into the taillights, which themselves are crafted into a pair of elegant fins, standing tall and proud they look absolutely brilliant illuminated against the night sky. Our particular model came equipped with the optional and highly desirable 19" wheel package. Not only does this include a sharp set of dual 7-spoke polished alloys, but the rolling stock is a sticky set of 245/45ZR19 Z-rated Continental ContiSportContact 3 summer tires. Your mom's station wagon didn't have gumption like this.
      Executive Editor Dye poured out praises on the interior design of his CTS sedan back in 2008, but it is worth revisiting a few points here. That interior had a warm, inviting and an almost romantic ambiance to it, while the Ebony interior of our Sport Wagon is all business. Sapele wood inlays, chrome trim, and ambient lighting confirm that this is an executive class cabin. The center stack's painted plastic inlay is a bit chintzy feeling, but that is nitpicking because the rest of the IP is simply elegant. The switchgear is top notch and smooth in operation. The nav screen neatly stows when not in use leaving enough display space visible for radio settings, or a classy wreath and crest when the system is off. HVAC controls are fairly simple with little tiny readouts for each front seat occupant located near the occupant's knee. The gauges are simple, clear, and elegant.
      What isn't so elegant, however, are the seats. They are well dressed with aggressive looking bolsters down low and a beautiful V-motif, but they are stiff as boards with a bottom cushion that is too short for most. My small frame and lack of mass hardly compressed the cushion rendering the lateral bolstering all but useless. The back seat looks roomy, but editors Dye and Gernand tell a different story. Short sculpted bottom seat cushions and a tapering roofline do not make a welcoming perch for the 6-foot plus crowd. Junior Executive Editor In Training Miles Muxlow also complained about not having enough room for his car seat. The front passenger's seat had to be slid all the way forward in order for the rear to swallow said large baby carrying apparatus, leaving my wife in a bit of a mood. About that time I was being reminded that this sort of thing wouldn't be happening in a minivan. (Gah! She said the cursed word!) Either way, my shorter and lighter frame fit just fine behind a driver's seat adjusted for myself. As for the lack of headroom, you'll have to settle for less than the Premium trim level to fix that issue and avoid the accompanying giant sunroof. I will say though, it does provide a perfect panoramic view of the sky when you recline the seats back. Just don't call it a Vista (Cruiser) roof because that copyright now belongs to Ford. Where you won't get such a great view is out the back, due to the aforementioned beautifully massive D-pillar. Get good at watching your mirrors and make use of the backup camera.
      But all this can be forgiven because this is a wagon. As such there is 25 cubic feet of cargo space behind the second row, or 53.4 cubic feet with the seats folded, standing by to swallow whatever bounty you feel like stuffing back there. You might want to mind your treasure's dimensions, however, because that sloping roofline ends in a rather small liftgate, making stuffing in tall objects a conundrum. And forget hauling messy gardening supplies or risk spoiling the well-trimmed carpets. This is, after all, a Cadillac.
      But while you're second guessing what you stow back there you won't have to second guess how hard you can drive the Sport Wagon. Remember, this hauler is based upon a sports sedan tuned to handle the Nürburgring. The same 3.6L direct-injected V6 from the sedan sends 304-hp and 273 lb-ft of torque to the rear wheels. Sadly, the manual transmission didn't make the cut and as such our only option is the 6-speed auto with the flappy paddles. Forget using those as the tranny is plenty responsive in Drive and especially so in Sport. Put your foot down and 6th gear turns to 2nd gear, and 45 mph turns to 75 mph pretty quick! The 19" wheel package and FE3 suspension upgrade made our roughly 200-lb heavier Sport Wagon easily out handle the softer sprung FE1 equipped sedan we tested earlier. There is a touch of understeer, but overall the car remains confidentally composed through the corners. The bigger set of discs and calipers all around didn't hurt matters any when it came time for stopping. There is even a set of cooling ducts integrated into the front fascia to direct fresh air to the front brakes.
      In summary: we love the car. As she sat our car rang the register to the tune of $51,215 plus $825 for delivery. If you live in snowy climes, you will need to purchase a set of winter tires to make this particular car a year round commuter. Skip the underhood appearance package and save yourself $100. The three extra pieces of black plastic you get aren't worth the markup. With the V6 our car was rated at a not-too-shabby 18 city and 26 highway mpg. It may not haul the kids quite like that teetering SUV your neighbor purchased, but it will haul bacon around a corner and look good doing it. This is how you make a sports sedan better!
The Good:
Stunning good looks, superb handling, smart 6-speed auto, it's a wagon!
 
The Bad:
Stiff seats, rear facing infant seat consumes all the room in the back, hatch opening is small, headroom a bit tight.
 
The Verdict:
A fun to drive car for dad!